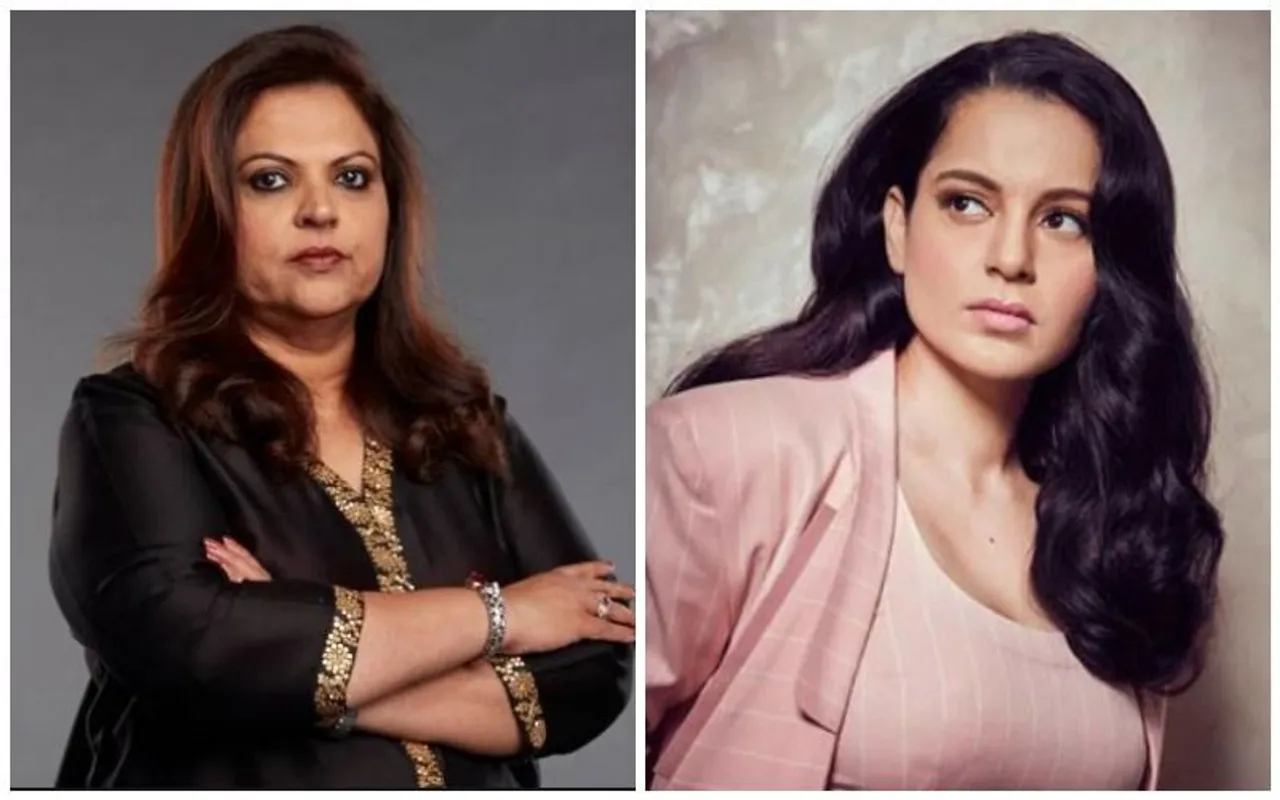 Kangana Ranaut, who prides herself on being a self-made woman appeared on a news channel (on September 16) where she likened the demolition of her office space to being raped. The interview, which aired on Times Now with Navika Kumar as the host, ran for over an hour. During this show Ranaut alluded to her own "mental and emotional rape" more than once. And as she drove these false analogies home repeatedly, for me, Ranaut grazed a new low as a woman and the beacon of empowerment she claims to be.
The content of the two women's conversation ranged from Ranaut's recent tussle with Shiv Sena, the Brihanmumbai Municipal Corporation (BMC)'s demolition of her Mumbai office citing "illegal" construction, to Sushant Singh Rajput's death and the alleged "drug nexus" within Bollywood. While these are all topical issues that some may deem pressing or even worthy of being discussed at length, the way in which the interview panned out - liberally interjected with Ranaut's insensitive statements about rape - was downright irresponsible.
Here's a clip of the video in question:
This is shameful @KanganaTeam, @navikakumar pic.twitter.com/gB7IhIuLRt

— Tanvi Akhauri (@akhauri_) September 17, 2020
Also Read: Will Bollywood biggies work with Kangana Ranaut? Vikram Bhatt speaks up
Can The Strength Of A Rape Survivor Be Built Back Up Again, Once Broken?
In trying to find congruence between the demolition of her office building and the idea of rape, here's what Ranaut did: she detracted from the trauma, experience, and courage of every rape survivor who carries a story. And even from those who don't carry one anymore, on account of having succumbed to death after being subjected to the crime.
By likening rape to the partial breakdown of a lifeless building, Ranaut made a mockery out of every woman, man, queer person who has been a victim of this tragic misfortune.
Ranaut intended, perhaps, to say that in demolishing her building, the BMC chipped away at her honour or dignity or hard work. But a person's pride is not housed under the roof of an office building, especially at the expense of other people's tragedies. A building is all cement and bricks and can be built back up again. The fortitude of a rape survivor to continue living, on the other hand, is something that exceeds value. Neither can it be understood by an onlooker, nor built back up once crushed.
Also Read: Will Keep Office Ravaged As A Symbol Of A Woman's Will, Says Kangana Ranaut
Using "Rape" So Matter-Of-Factly Diminishes The Threat Of The Crime
NCRB's latest data shows that 33,356 rapes were reported in 2018. And this year, despite the coronavirus pandemic, the count hasn't curbed. In Uttar Pradesh's Lakhimpur Kheri district, as many as three rapes of minor girls were reported in a mere span of one month between August and September, 2020. A few days ago a 90-year old woman was raped in Delhi, and only yesterday, a woman gang-raped in a moving car in Meerut. In the face of these alarming figures that posit a fatal risk to the lives of women in India, can anyone, especially a public personality like Ranaut who holds massive sway over public imagination, afford to make such careless remarks about rape?
In 2016, another Bollywood celebrity had committed a similar mistake. Salman Khan, while shooting for Sultan, in which he played a wrestler, had told reporters, "When I used to walk out of that ring, it used to be actually like a raped woman walking out." Khan had faced huge backlash then, with the National Commission for Women as well as the common public demanding an apology for his immeasurably insensitive remark.
Also Read: Bollywood's Silence On Rhea Chakraborty's Media Trial Is Deafening
Ranaut's comment was different, but equally corrupt of sensitivity. It was deeply problematic that she irresponsibly used the term "rape" so matter-of-factly multiple times throughout the interview, almost instantly diminishing the significance and weight that it carries. Moreover, in drawing a distasteful comparison between a woman and a ruined building, did Ranaut not misappropriate the experiences of thousands of women? Did she not, possibly, even endanger other women's voices from coming forward to talk without fear about their own assault or harassment?
Ranaut Calls Urmila Matondkar A "Soft Porn Star"
In the same interview, Ranaut made another tasteless remark, where she went on to call actor Urmila Matondkar a "soft porn star" in front of the national audience. Earlier in the day, Matondkar in an interview with another channel had slammed Ranaut's recent stance against the film industry and its alleged "drug mafia," while saying, "Does she (Kangana) know Himachal is the origin of drugs? She should start from her own state." In an NDTV interview, she further said that there "comes on a point when you cannot cross a line."
In response to her, Ranaut said to Navika Kumar on TimesNow, "Urmila Matondkar, she is a soft porn star. I know it's very blatant… But she's not known for her acting for sure. What is she known for? For doing soft porns right?"
Her claims weren't countered even once by her interviewer Kumar, who simply sat listening without objecting to Ranaut's manner of trying to talk down another woman. Aside from being a misdirected statement - since Matondkar is widely known for her superior acting record right from classics like Rangeela to Satya – it was also highly offensive how Ranaut clearly tried to relegate soft porn artists to a tier lower, and more dishonourable, than mainstream actors. Together, she robbed Matondkar as well as porn artists of respect.
Also Read: Hunt News, Not Women: Over 2500 People Sign Open Letter Slamming Media Coverage Of Rhea
Industry Backs Urmila Matondkar And Jaya Bachchan
Several from the industry showered Matondkar with support and praise after Ranaut's comment on her, while also hailing film veteran Jaya Bachchan who had recently spoken in Parliament about how the image of the industry should not be tarnished and to which Ranaut, as mentioned in her interview as well, had tweeted, "Jaya ji would you say the same thing if in my place it was your daughter Shweta beaten, drugged and molested as a teenage..."
While actor Swara Bhasker listed out films from Matondkar's successful career in a show of solidarity, director Anubhav Sinha, wrote, "Just felt like saying this to one of the most beautiful, elegant, evocative, expressive actresses ever. Sending you love @UrmilaMatondkar."
Also Read: Books, Chess, And Faux Pas: A How-NOT-To Guide By Bollywood
Art director Smriti Kiran also named actors like Bachchan, Hema Malini, Matondkar, Taapsee Pannu and others, calling them "Women of Courage" for raising their voices "against an establishment driven hate campaign."
While it's heartening to note that celebrities are calling out Ranaut, given the gravity of her statements this time around, will anything ever change until Ranaut herself realises this?
To her, she is waging a lone war against all that is wrong with the film industry or state government. But being a crusader of justice comes with the responsibility of being held accountable for your words. Ranaut should issue an apology - not as much to the film industry as to the countless rape survivors who, when Ranaut made her remarks, were made to feel diminished in their experience. And also to those victims who unfortunately aren't alive anymore to take her apology.
Views expressed are the author's own. Have an opinion and want to share it? Send it to stories@shethepeople.tv