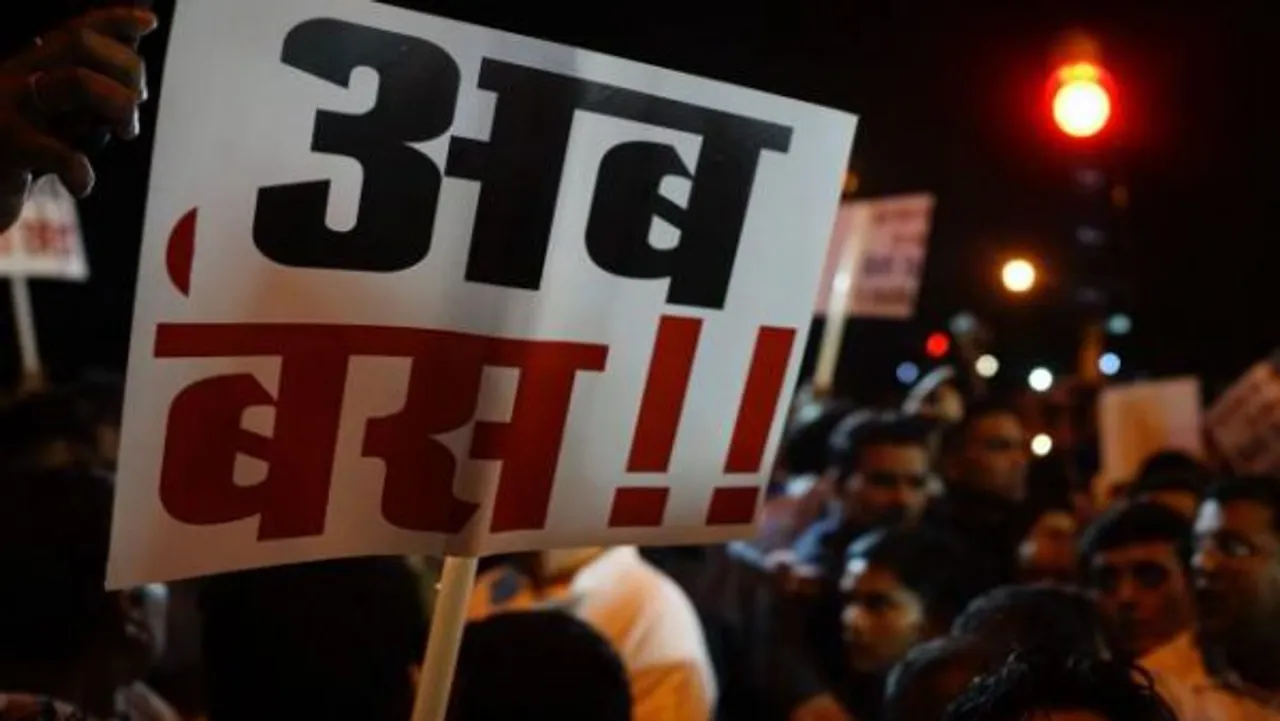 India has been buckling under the fatal spread of COVID-19 ever since the first case was detected on January 30, 2020 in Kerala. The meter currently stands at a staggering 3.3 million total cases, with deaths touching almost 60,000, making India the third-worst affected country in the world behind USA and Brazil. But in the shadow of this newer pandemic looms an older, more persistent one that has been around for years. Rape.
One would think that in a time when the entire country is under lockdown and streets are relatively emptier, this particular gender-based crime against women would have shown signs of eradication. But no. Every new morning brings reports of fresh rapes, murders, and mutilations of women. And as a woman, I'm terrified. The hopelessness of the situation begs me to ask: If women aren't safe from rape even amidst a life-threatening pandemic, will they ever be?
Also Read: Today On Women's Equality Day, Let's Ask: How Far Have We Come In the Fight for Equality
From North To South, Rapes Continue
It was reported recently that a 17-year old girl was brutally raped and killed in Uttar Pradesh's Lakhimpur Kheri, the second of two such similar crimes from the district in a matter of a mere 10 days. The first one occurred on August 15, the day we celebrate the country's Independence, when a 13-year old, allegedly a Dalit, was raped and thrown in the fields with her eyes gouged out and tongue slit. News of another rape came from UP's Sitapur area where three teenage boys were charged with raping a teen girl on August 17. And these are only the reported cases. Heaven knows how many more lie unreported.
Meanwhile, in its neighbouring state of Haryana, which according to NCRB data had the third-highest rape count in 2018 behind only Assam and Madhya Pradesh, violence against women is proving to be a virus far deadlier than any other. The Tribune reports that the state "has recorded 66 rapes, 62 cases of abduction and 142 incidents of molestation in April this year." Out of 66, as many as 17 have been gang rapes.
This is just north India. Data by The New Indian Express indicates that between March and May, there were a total of 64 rape cases and 716 molestation cases in Karnataka. This morning, it was reported that three migrant workers from UP were arrested for allegedly gangraping a 14-year old minor in Kerala.
Also Read: Sex On The Pretext Of False Promise Of Marriage Not Rape: Orissa HC
Reports Of Fathers Raping Daughters
NCRB data showed that out of the 33,356 reported rapes in 2018, offenders were known to the victims in "almost 94 percent cases." This alarming fact is ringing truer than ever during the lockdown. As many as five cases were reported between the months of March and May where fathers had raped their daughters, including one incident involving a 75-day-old baby girl.
These are rape cases. Data for domestic violence, sexual and otherwise, is telling a whole other horror story. Complaints of domestic violence were reported to have reached a 10-year high during the lockdown. A study published by the US National Bureau of Economic Research in June, with help from NCW data, registered that there was a whopping 131 percent increase in complaints of domestic violence in May 2020 in red zones (COVID-19 hotspots with stricter lockdown measures).
Women are often disapprovingly told to stay home and not venture out onto the streets at night, for fear of losing their lives, or worse, the honour of the family. But what could the danger of an unknown street be compared to their own unsafe houses? Women aren't safe from violence even within the sanctuary of their homes - could there be a bigger indicator of the disadvantage that our gender is at?
Also Read: Tripura: Online Protests Erupt Following Gang-rape Of A 17-year-old Girl
Who Is Accountable?
As the count of coronavirus cases keeps mounting, so do cases of crime against women. That we women don't have the luxury to call ourselves safe even as the world is battling a health emergency is indicative of a larger collective legal and administrative failure. Whom should we hold accountable? Even if we do, is there a guarantee that safety measures will be put in place? Is anyone even listening to us?
Image Credit: Hindustan Times
Views expressed are the author's own.