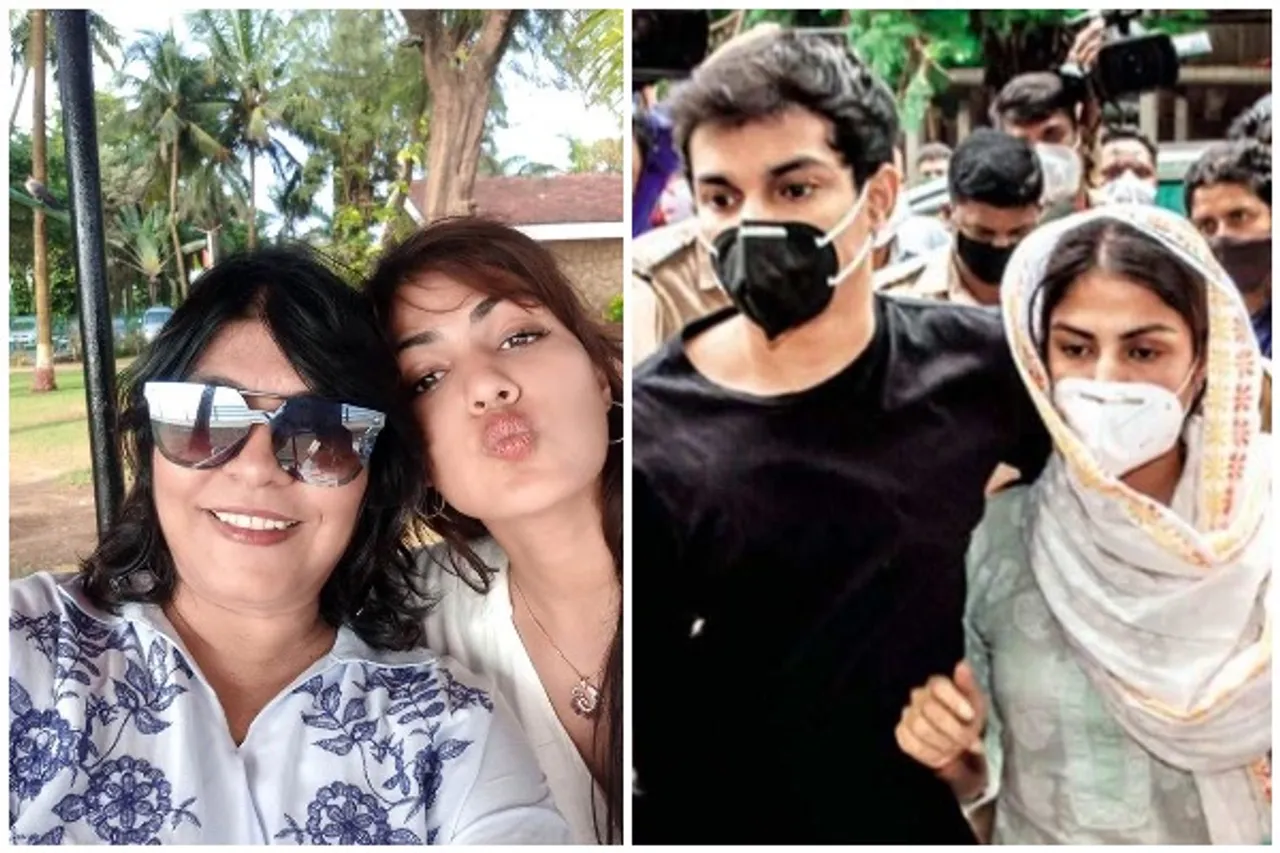 Last evening, Rhea Chakraborty walked out of Byculla jail after almost a month in judicial custody. Her brother Showik, however, is still not out. Thanking god Sandhya Chakraborty, Rhea's mother reacted to the news saying, "What she has gone through... how will she heal from this? But she is a fighter and she must be strong." Rhea's mother Sandhya, is a former schoolteacher and now a homemaker.
Sandhya further added that she is grateful that her daughter is out of prison but she also worries about her mental health. Sandhya told TOI, "I'll have to put her on therapy to help her get over this trauma and reclaim her life."
Talking about her son Showik, Sandhya said, "My son is still behind bars and I'm paranoid about what tomorrow will bring." When asked about how the family has been holding up all this while, Sandhya revealed that at one point she thought the only way to end it was by ending her life.
Here's a throwback picture of the mother and daughter:
Family's anxiety
Talking about Rhea's father's situation, Sandhya explained how he "was on the verge of collapse" earlier this week. According to reports, Rhea's father Indrajit Chakraborty was a surgeon with the armed forces for 24 years. Currently, he is Head of Admin Kohinoor Hospitals. Meanwhile, a special NDPS court had extended Showik's custody by two weeks, TOI reported.
Sandhya further said her daughter has to recover from the "slander" first. She stressed that Rhea had gone through enough of this nightmare, of "being lynched" by the country. She is also aware that a long legal battle still awaits. "While it's a relief she's out of prison, it's crazy it's still not over."
Additionally, she called an eyewitness' recent claim about actor Sushant Singh Rajput and Rhea being seen together on June 13 as"baseless". She reflected, "We know this neighbour. She was a huge fan of Sushant's who came over to our place to meet him once. Why she'd say something like this without proof is beyond me. One just has to look at Sushant or Rhea's cellular location to know this whole thing is just another lie."
Also Read: Bollywood Reacts After Rhea Gets Bail, 'Please Leave Her In Peace,' Says Shabana Azmi
Harassment faced by the Family
Earlier, Rhea had in an interview with NDTV said that her "entire family is going through scrutiny." She had claimed "it is really difficult" to carry on with their lives when the media is tarnishing her image. She had said "there's a mob outside my gate. My dad, the watchmen, people in the building. What are you doing to my family? Why can't you wait for results to come? We have faith in the system. My father served in the army for 25 years."
The "witch-hunt", she had said is destroying a "simple, innocent, middle-class family."
"People judge depression so poorly that people find it difficult to communicate. Person going through it feels misunderstood. In Sushant's case, I don't understand why he would do this. His condition had worsened in the lockdown. Contrary to what people think, people who are depressed can laugh," she had earlier said about the actor's death.
The CBI is investigating the actor's death. Sushant was found dead in his Mumbai apartment on June 14. He was 34.