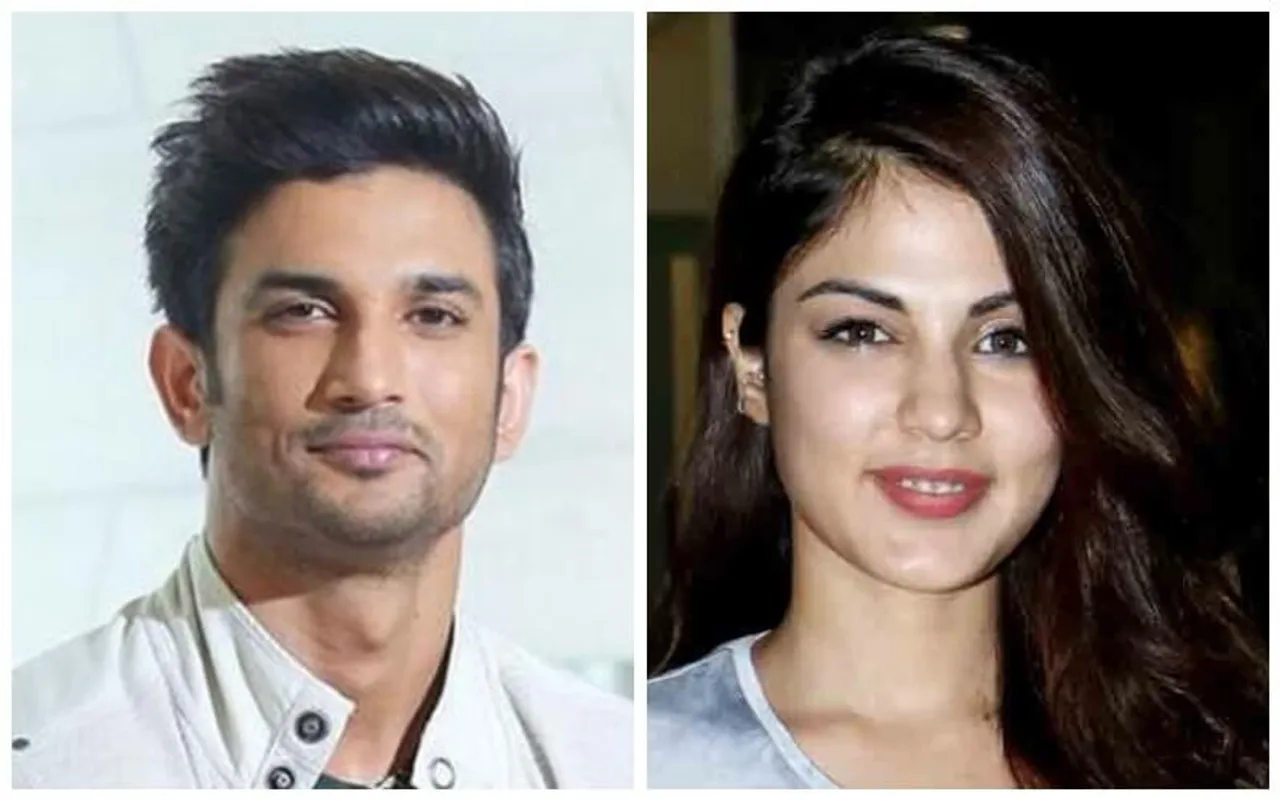 Rhea Chakraborty, who is being investigated in the Sushant Singh Rajput death case, on Thursday in an interview with NDTV, said that the actor's family was aware of his condition that he was fighting depression. She said that she had told the actor's family that he needed help. Rhea also said his family was not around when he was depressed. Reacting to that comment, Sushant's sister Shweta Singh Kirti today tweeted, "Family was always there standing rock solid for him."
Here are the top highlights of Rhea Chakraborty's interview:
She denied Sushant's father's allegation
Rhea said that people have been questioning her aukat but she "loved" Sushant. "My aukat is Sushant Singh Rajput loved me," Rhea said adding that she did not isolate him from his family. Sushant's father KK Singh and sister have alleged that Sushant was "drugged, confined and isolated" by the actress. His sister also claimed that Rhea even forced Sushant to cut short his visit to Chandigarh where he had gone to meet his family. "It is extremely hurtful from someone (Sushant's father) going through a loss this big. I loved his son, looked after him. At least have humanity. If not for me, for him," Rhea mentioned in the interview.
Rhea said she never took drugs
Rhea is also accused of mentally harassing him, taking his money and driving him to suicide. "They (allegations) are completely baseless," she claimed. Talking about the latest allegations of using drugs, she said, "I have never spoken to a dealer or taken drugs in my life. I am open to a blood test."
Claiming that she was trying to get Sushant to quit drugs, she further added, "I wanted his memory to be pristine. He smoked marijuana and I tried to control him, to stop. My family's mental health is being destroyed."
Her family is being harassed
Talking about the challenges she is facing right now, Rhea said that her "entire family is going through scrutiny." She said "it is really difficult" to carry on with their lives when the media is tarnishing the image of her. She claimed that people look at her differently and that "there's a mob outside my gate. My dad, the watchmen, people in the building. What are you doing to my family? Why can't you wait for results to come? We have faith in the system. My father served in the army for 25 years."
She never took money from Sushant
Asking her if she ever used Sushant for his money, Rhea claimed, "Never took a single rupee. I am being probed by the Enforcement Directorate. His bank statements are in public domain. We had a company where we were equal partners."
She alleged that the Mumbai Police were treating her and her family very harshly. "I want the truth to come out but not by targeting me. As much as I want to know the truth, why is no one talking about his sister Neetu who was with him that week? If he was unwell, why did she leave?" she questioned.
Talking about the WhatsApp chats that are out and being investigated, Rhea said that those personal exchanges were given to only agencies but since all of those are now accessed by the media her friends are also being harassed. "My friends' numbers are being flashed on TV. That's why I decided to speak up. The one-sided narrative is destroying my family. The Enforcement Directorate wants to know the financial details. I am willing to cooperate with everyone. All I ask for is a fair trial," she reflected.
Our relationship was like a fairy tale
"I still cannot believe it (that he died by suicide). He was absolutely the best guy and beautiful person I have ever met. He wanted to do charity. He was the greatest boyfriend ever. He looked after me. He always advised me. I was proud of him, of how much he has achieved coming from a small town. We bonded over this. Since I am also an outsider and have grown up all across India. Our relationship was like a fairy tale. Yes, we had problems," she said about the actor's death.
Also Read: NDTV's Nidhi Razdan quits Television, heads to Harvard to Teach
Things changed after MeToo allegations
Reportedly, Rhea dated the actor in his last few months and a sexual harassment allegation on the set of his last movie Dil Bechara took a toll on him in 2018. Later his co-star Sanjana Sanghi clarified that the allegations were baseless. "I feel the MeToo allegations are what started the pressure. He believed someone was behind it. He used to refer to the people as 'them'. I don't know who they are. He believed someone was behind Sanjana Sanghi," Rhea revealed.
"It is a difficult industry. The ups are up and the downs are really low. Certain things affected him and his mental health. One of them was the Me Too allegations that were later cleared up. He is not that kind of a guy. He was the most respectful person. His co-star Sanjana Sanghvi was not clearing it up. He thought it was part of a larger nexus by Rohini Iyer - his 'friend'. I have told this to the police and Enforcement Directorate," she explained.
On depression
The "witch-hunt", she said is destroying a "simple, innocent, middle-class family." She has been accused by his family of mentally harassing him and "poisoning" him. "People judge depression so poorly that people find it difficult to communicate. Person going through it feels misunderstood. In Sushant's case, I don't understand why he would do this. His condition had worsened in the lockdown. Contrary to what people think, people who are depressed can laugh," she said.
The CBI is investigating the actor's death. Sushant was found dead in his Mumbai apartment on June 14. He was 34.
Also Read: I Thought My Struggle With Depression Was Over. And Then Lockdown Happened
Feature Image Credit: TOI