The Captain of Indian Women's Wheelchair Basketball team -- Vinolia Violet – led the team for the first time at the 4th Bali Cup International Tournament and claimed a Bronze. The team also represented India at the Asian Para Games qualifiers, held in Bangkok in March 2018.
Needless to say that Vinolia's three-year-old team defied all odds to achieve niche feats and hopefully will pull off many more firsts in the coming years. Currently, the team lacks financial security, lack of publicity and even basic amenities such as sports wheelchairs. Despite the improved opportunities offered to women in sports, Wheelchair Basketball still remains neglected. They were the least experienced team, but have been in the limelight since Paralympics 2016. Having played using basic sports wheelchairs, the players exceeded all expectations.
When asked about the challenges they face, Vinolia said that the lack of communication holds them back as a team besides facing issues with basic infrastructure. All the team members speak in different languages and that creates a gap.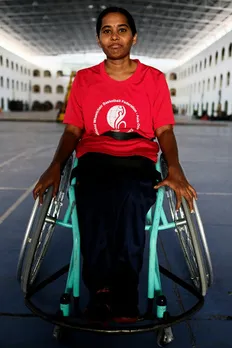 Vinolia Violet, Captain of Indian Women's Wheelchair Basketball team
Vinolia comes from Trichy, Tamil Nadu and currently works in Chennai. SheThePeople.TV had a pleasant chat with the Captain about her experiences on the international platform and on the avenues for differently-abled sportspersons, women specifically, in our country.
How was the team formed?
All thanks to Madhavi Latha who founded the team and is now the president of the Wheelchair Basketball Federation of India.
What inspired you to choose basketball, why not any other sports?
Since my school days, I have been fascinated by basketball. Badminton is one of my favourite games.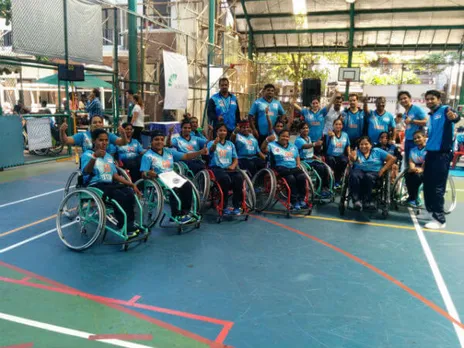 Who was the inspiration behind the team?
Our team coach Thayumana Subramaniam. He taught us the essence of the game. A basketball player himself, Subramaniam Sir would play his games through the weekdays and volunteer to teach us on weekends.
READ: Meet Pooja Harsha, The Kickboxing Star Who Is Rocking The Sport
Who inspired you to take up the sport despite the societal constrains?
A few of my colleagues insisted me to watch the game. Initially, I was sceptical but one day I accompanied them. It was love at first sight. After that day I regularly attended the games. We had the practice sessions at Jawaharlal Nehru Stadium outdoor gate.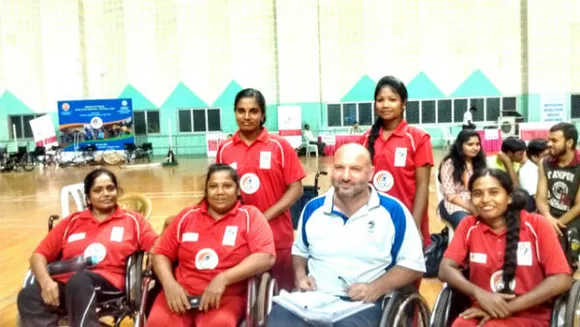 Coach Thayumana Subramaniam with the team
Take us through your daily responsibilities as a captain?
First, I interact with my teammates, their likes, dislikes and how they are feeling. If they do not feel good, we meet and discuss further. One of my biggest jobs is to search Wheelchair basketball related workouts and exercises on YouTube. I try them first then share them with my teammates.
I believe, to form a team, as a Captain, one really needs to be among them, assisting them and catering to their needs.
Speaking of workouts, tell us about your fitness and exercise routine
Now I am going swimming to maintain the fitness level. And, among other things, Dumble and ball practice are alternate exercises.
READ: Meet Nadiya Nighat, Kashmir's First Female Football Coach
Any deterrents?
We don't have an indoor court for regular practices. Now we do outdoor practice which is impractical for long durations. We have to keep changing the wheelchair tires. We have been practicing for the last three-and-a-half-years for the game individually. Many of the players do not have proper courts to practice and some of them do not even have proper wheelchairs. So some of them just do ball practice. We need equipment like special wheelchairs which are not available in India and we need to import them.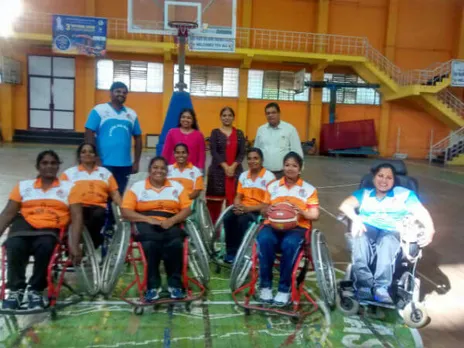 The team just represented India in two big events. After seeing other international teams, what do you think India lacks in terms of appreciating all kinds of sports?
During our first international match in Bali, players had given their best till last moment. We tried hard but we need to work on understanding and communication between the players. We need high-quality sports wheelchair like other international teams. In Thailand, they brought sports wheelchairs specially designed for the games. New teams like LAOS, Cambodia also came with good quality Wheelchairs.
There's no space for discrimination in Wheelchair basketball. We strike and thrive and endeavour to be the best team in this country. Why making gender a big deal?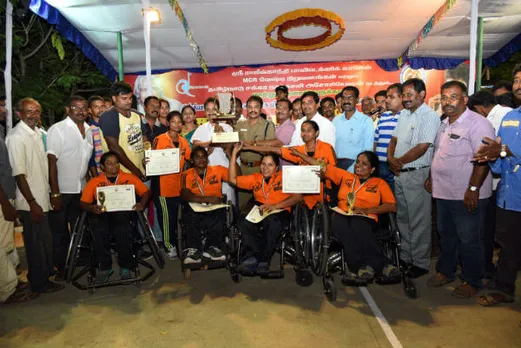 How does it feel to finally be recognized as sportsperson in the country? 
Speechless of course! Representing the country is like having a dream comes true. Even though I am not a household name, but Wheelchair basketball team is famous in every nook and corner of the country. I learned so many things from Asian Para qualifiers tournament. It teaches you to practice harder with more dedication.
READ: Achieving Glory Despite Odds: Meet these Seven Women Paralympians
Do you face any struggles for sponsors to continue with your passion?
Yes, I am one of the members of the TN state association. We are looking for sponsors for every state match. Mostly we hear them saying, 'sponsors for Wheelchair Basketball? Sorry, we only fund cricket because that's what people watch'.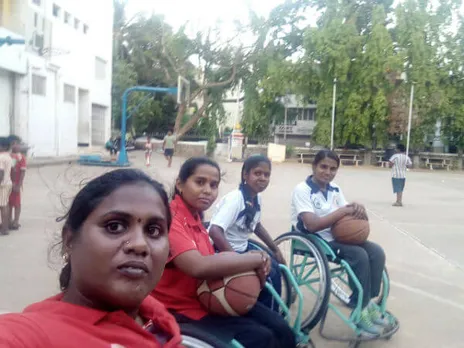 We keep conducting our state meets with the support of various organisations. They supported our game for a long time. Before the world stage, it was the Australian consulate which had stepped in to sponsor the girls' team as we were struggling to generate funds. We are still trying to get sponsors for at least low-cost, quality high-performance sporty wheelchairs.
We are requesting our government to provide accessible indoor basketball court with accommodation for players from other cities and employment opportunities for national and international representing players and coaches.
What are your biggest challenges come on your way?
Fitness. We require an accessible gym to work on our fitness regime.
Vinolia with family
What would be your advice for the aspirant girls?
When we play a team game, our fitness level improves. So if you think you have the mental stability and the knack to acquire the game's strategies, take the leap. A game can solve a lot of problems in life.
Usually the sport is considered masculine but this norm is changing.
READ:When Sportswomen Made Us Proud In 2017​
READ: Meet Soliha Yousuf, Captain Women's Rugby Team, J&K