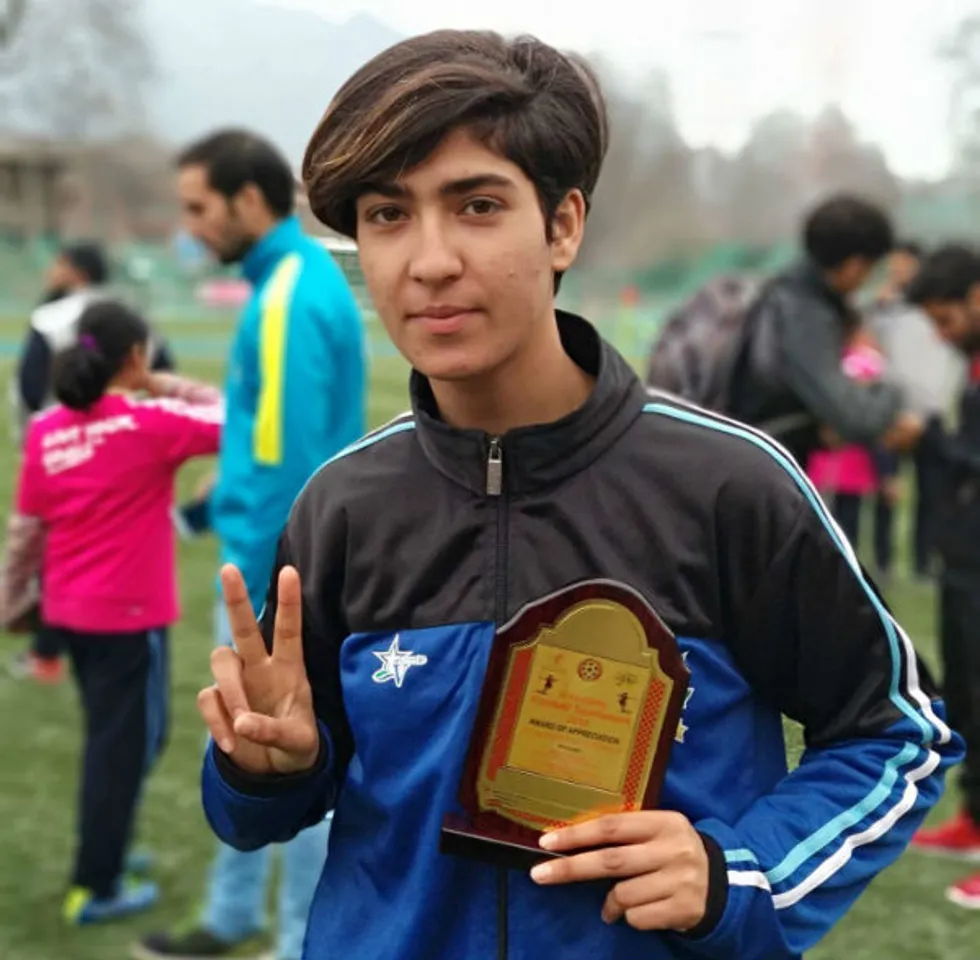 Twenty-year-old Nadiya Nighat has been in the spotlight as Kashmir's first female football coach. Born and brought up in a middle-class Muslim family from Rambagh, a locality 2 km away from of Srinagar city, Nadiya found her true calling in football back in 2007.
"Being in a conservative society, I grew up in the company of my neighbourhood children, of which majority are male," Nadiya shares. When she failed to find the same enthusiasm for the sport among girls, she turned to playing with the boys. At 10, Nadiya enrolled herself in Amar Singh College Academy for football coaching. She was the only girl among 47 boys.
What inspired you to choose football, why not any other sports?
All girl students from my locality were least interested in any sport. So, I turned to the boys who always talked football. At times they would discuss the matches they witnessed in Bakshi Stadium which is less than 1km from my home.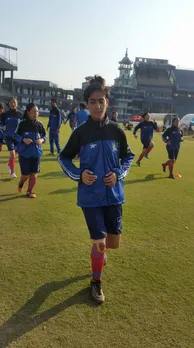 Nadiya Nighat Practicing
READ: Meet Soliha Yousuf, Captain Women's Rugby Team, J&K
I heard them talking and they would forget their studies, regular calls from their parents. I got closer and closer to the game and started accompanying them to practice and friendly matches and at times joined them as a Goal Keeper.
I felt proud when I discussed football with my teammates. I felt joy in discussing the games when I served as a Goal Keeper.
Who was the inspiration behind the team?
In our neighbourhood there is a retired football coach of the Unity of Kashmir, he saw me playing. Later, he called me and suggested that I collect interested girls in my neighbourhood and schoolmates from the nearby locality to form a team.
Nadiya, till now, has received 10 national and state level awards. She presently runs a football academy in Rambagh and trains more than 30 children, including three girls.
Tell us about taking up the sport and the constraints you faced from the society.
I was very young when I started playing, so no one took it seriously and did not object. Yes, it did invite criticism as we remained busy in football. People talked when we played matches and mixed with boys.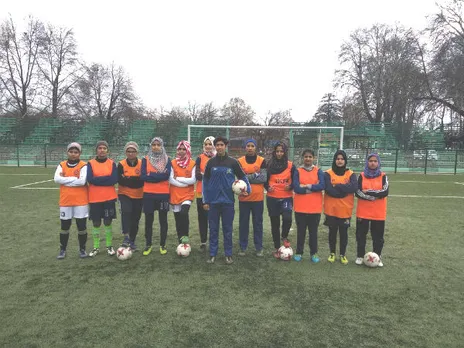 Coach Nadiya Nighat
In your football academy in Rambagh, how many kids do you train? How many girls are there?
After a period of 6-7 months, I did realise that I was performing well as compared to other girls.  My coach also took special interest, in me and I jumped up to the idea of repeating his lessons, demonstrations to other girls when he was not present.
I started with 5-6 students and it grew up to more than 18-20. I have represented the state in U-15, U-16 and Senior during my last 2-year tenure.
Tell us about your fitness and exercise routines.
The coach took extra care in my routine as I was training to repeat his lessons to other. I made it a point to carry out proper and effective warm up and also my exercise.
Being the first Kashmiri female football player and coach. Share your strategies for the game and insights.
I cannot put the extra load on my colleagues or trainees as they try to skip it. I explain to them that it is harmful. I have to extract it from them by making them play football-related exercise.
In our state, we need more infrastructure for football. 70% footballers from the state are poor and 28% belongs to the middle class.
What are your biggest challenges come on your way?
Due to the topography of our state, we can play for only 7 months a year. We need all-weather surfaces for playing, and that starts from futsal to full field for football. Establishing a sports school for boys and girls is very necessary. Football is the most liked sport in J&K and we need to look after it from all angles.
What are your core passion and long-term vision?
I feel happy to be recognized as a Football coach or player of J&K. It really makes me proud and honoured at the same time I want to climb up this ladder and achieve the highest levels in Football for the country.
Also Read: Crowdfunding ensures ₹3 million for Indian Women's Ice Hockey Team
What has been your most touching moment?
It has to be when the boys from my club, whom I raised as players and also are from my locality and neighbourhood, earned Runners Up Position in their first competition.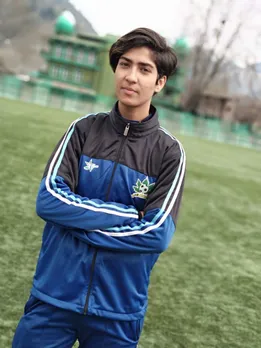 Do you face any struggles for sponsors? 
No one wants to sponsor big and reputed clubs in J&K. They prefer to pay Rs 50 as tip to Hotel Bearers who salutes them in and out but not spare a Rupee for Sports.
What and how do you think the government should support your team for the betterment of the sport?
Encouragement both financially and in the shape of facilities is key. By providing facilities in the shape of infrastructure sports material Good and Sufficient Coaches exposure to see and play against and with senior and to players.
In my community, I face more hurdles not because of gender, but because of illiteracy and less support from people who matter in the society.
How has sports in general liberated women in the area? Do women now seek to take up the sport professionally?
Females lack support to take up sport because of backwardness and illiteracy.
In my State majority of people, even women feel they should not encourage such activities. It is not the same in urban areas. Ironically, our state is only 15% Urban.
Could you briefly tell us about any upcoming tournaments you're aiming at?
I recently returned after taking part in two important Women Football Competitions the I-League for Women and Nationals of Women J&K. It is a very long way for females of J&K to dream for improvement. We have to work very hard and at the grassroots level.
What future looks like for aspirant girls? And what would be your advice for the girls who aspire sports?
The future honestly looks Very bleak, it needs mountains of efforts on all sides. Still, I would suggest them to keep on trying and who knows some miracle may happen.
Usually, football is considered a masculine sport. Do you think this norm is changing?
It is a masculine sports no doubt. But for states like J&K we always have been lacking behind in all spheres of life. In this case we are miles behind and we may remain so, even the men.
READ:When Sportswomen Made Us Proud In 2017​