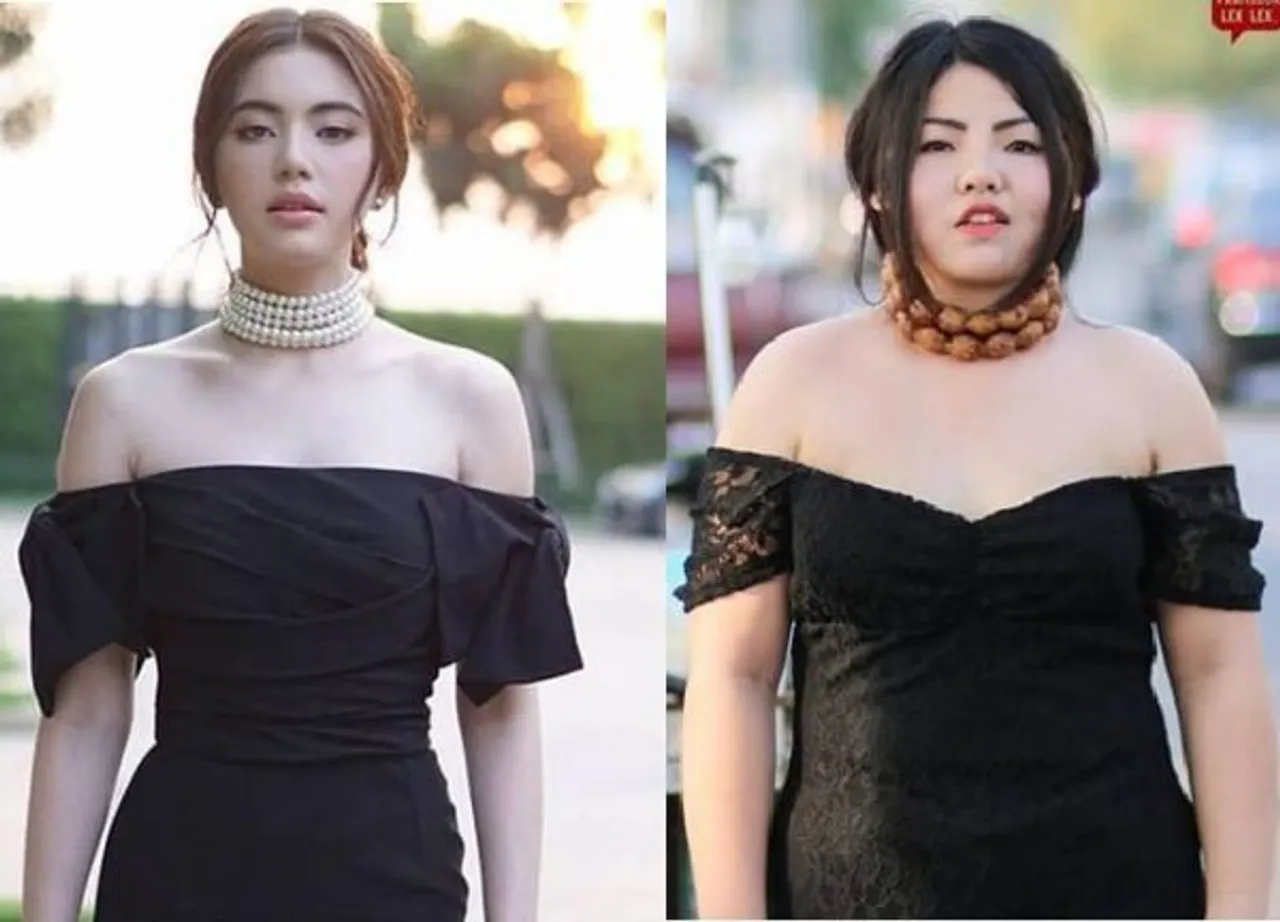 Fashion and food have come together in a Thai woman's homemade outfits. Benjaphorn "Sine" Chetsadakan is a plus-size model who recreates red carpet looks out of food. The 22-year-old lives in Ratchaburi, west of Bangkok. Sine is also the owner of a plus-size clothing store in Bangkok.
She derives inspiration from Hollywood's most fashionable women. From Rihanna's red carpet look to Wonder Woman's heroic ensemble, she has recreated iconic looks with food. Sine uses deli meat, durian, mushrooms, potato chips and coffee sachets to create works of wearable and edible art.
The model first went viral two years ago after she recreated a dress using prawn crackers. The dress she created was a parody of Thai actress Chompoo Araya which she wore to the Cannes Film Festival. Instead of spending thousands on that same designer dress, the model recreated the dress. She filled clear plastic bags with prawns, shrimp chips and gave the same textured effect of the original outfit. It is the creation that Sine says is her favourite.
Also: Rihanna's Upcoming Lingerie Line Is Plus-Size Inclusive
Sine now has over 162,000 facebook followers and is somewhat of a celebrity herself in Thailand. She has taken cosplay to a whole new and delicious level.
Sine said, "I like to eat and like to dress up. So I combined the two things I like to do."
She refabricated Rihanna's Met Gala outfit this year. It was a masterpiece where she recreated the look with a basket of spices on her head.
Sine's creative outfits are getting viral. She didn't intend to become famous. It all began when she started posting her outrageous creations online in order to promote her online shop, Framsook Lek Lek.
Also: Fashion Brand Relaunches 'Beach Body Ready' Campaign For Plus-Size
A few weeks ago, Chinese actress Fan Bingbing regrammed her cosplay of the outfit she wore to Cannes.
She's cosplayed some really iconic characters, like Disney's Princess Ariel. Sine's work is beyond any kind of transformations. She spiced up her red hair with red pepper in place of a wig, to recreate the mermaid Ariel.
Apart from celebrities, she's also recreated fashion editorial shoots straight off magazine pages. Like the way, she created puffer coat made from potato chip bags.
"I like to observe what I eat, the colors and the shapes," Sine said. "It gives me ideas."
In one of her looks, she used durian fruit. "That was my record-breaking dress. It costs THB15,000 (US$480). I bought the durians from a wholesale market near my house. Then after the cosplay, I ate the durians," Sine said.
The young woman is talented and fashionable too. Her interpretation is beyond amazing. It is inspiring to see her pushing boundaries with her whimsical creations.
Picture credt: www.nextmag.com.tw
Also Read: Beauty standards broken by plus-size Cuban ballerina dancers
Deepali Is An Intern With SheThePeople.TV