An e-commerce company is selling plus-size tights. But weirdly, it is promoting the products by choosing normal-size models for it. Yes, thin models are flaunting over-sized tights! They really overdid the whole concept and ruined the actual selling point.
Online company Wish came out with a range of product shots for different types of plus-size tights. But instead of endorsing those with the actual body type, Wish showed thin models stretching out tights over their entire bodies, besides just keeping it till their thighs
According to the company, they apparently used the models to demonstrate how big and stretchable the product is.
Look at some of the photos: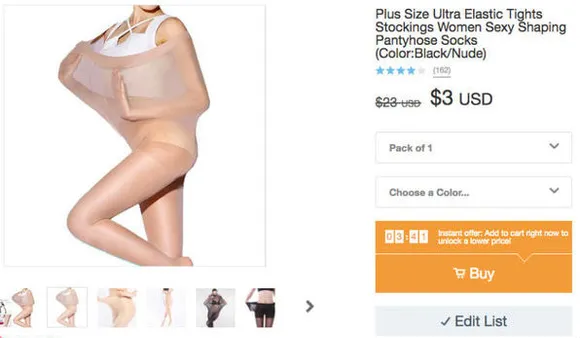 Wish tights
PC Wish.com
By doing just so, are they trying to being one of those advertisements that read -- want to loss weight? Try xyz and see the result by yourself -- "Before" & "After" ???
Well, calling it just a demonstration won't change the fact that ad world loves to show off so-called perfect bods (pun intended) even if the target audience is the opposite of it. Yes, women love sexy-shaping stockings. And, we will love them no matter how unrealistically you present it.
READ: Avenging Sexism: Women's Suit Ad Uses Nude Men As Props
In these photos, the models showcase the depth of prejudice, fitting in both her legs into one leg of a pair of tights.
People aren't happy with how this website is advertising its plus-size tights https://t.co/7Z1ACHYTQ3 pic.twitter.com/vacBkxxyZJ

— TODAY (@TODAYshow) December 8, 2017
Naturally, upset Twitterati called out the stereotypical mindset and blasted the company:
This seems fine pic.twitter.com/AA7YTUpYmj

— Helena Bottom-Farter (@solikebasically) December 5, 2017
I love figuring out my size by conceptualizing how many skinny people will fit in my clothes https://t.co/671yBwB1Sq

— molly (@mollyxflanagan) December 10, 2017
"instead of showing what the tights will look like on plus size bodies, let's put them on size two women in an entirely unhelpful way."

"you're a goddamn genius Jim. Have a promotion." https://t.co/daWynjJtSl

— nick carragay (@local_mistake) December 10, 2017
Wish, an app-based fashion seller, is a San Francisco-based company that sells Chinese merchandise to American consumers at extremely low prices.
This is a really ballsy way to advertise plus size tights. "These thin women can fit their whole bodies in them, surely you can stuff your ham hock legs in there!" pic.twitter.com/vC8I4k2iHb

— Lord Single Malt (@Singlemaltfiend) December 10, 2017
To add more fuel to the topic, they even demonstrated the products as durable and flexible and called it "magic tights".
But not only Wish, but FUNOC's Super Elastic Stockings Nylon Magical Tights and Moca's Super Elastic Magical Tight Silk Stocking illustrate the same photos when searched online.
it would have been so much easier to hire plus size models for this. it's an unrealistic advertisement as well because there is no indicator of how it looks on a plus size body. it's inefficient as well as distasteful.

— emily angelica (@existentiaIly) December 9, 2017
When asked, the spokesperson of Wish justified the ad by saying, "The products listed on Wish are sold by stores from all over the world, and these stores are in charge of their own inventories. Whatever information you see in the description is what we know about the product. If you place an order with a specific store, you will then have the opportunity to contact that store directly for more information about the product", HuffPost reported.
READ: Axe effect no more: Unilever drops sexist ad campaigns, will others follow suit?
It is HIGH time we give plus-size women the comfort they want while browsing clothing for themselves. Let's not use descriptions such as "fat" and "fatter" or " for those sexy curves", "for your perfect thin lines". It is offensive.
Also Read: Femfresh Ad Banned For Objectifying Women
Also read: Breaking away from conventions: The new wave of bold commercials 
Feature Image Credit: harpersbazaar.com
Also Read: 'Da Da Ding' and get sporty: Nike tells Indian women