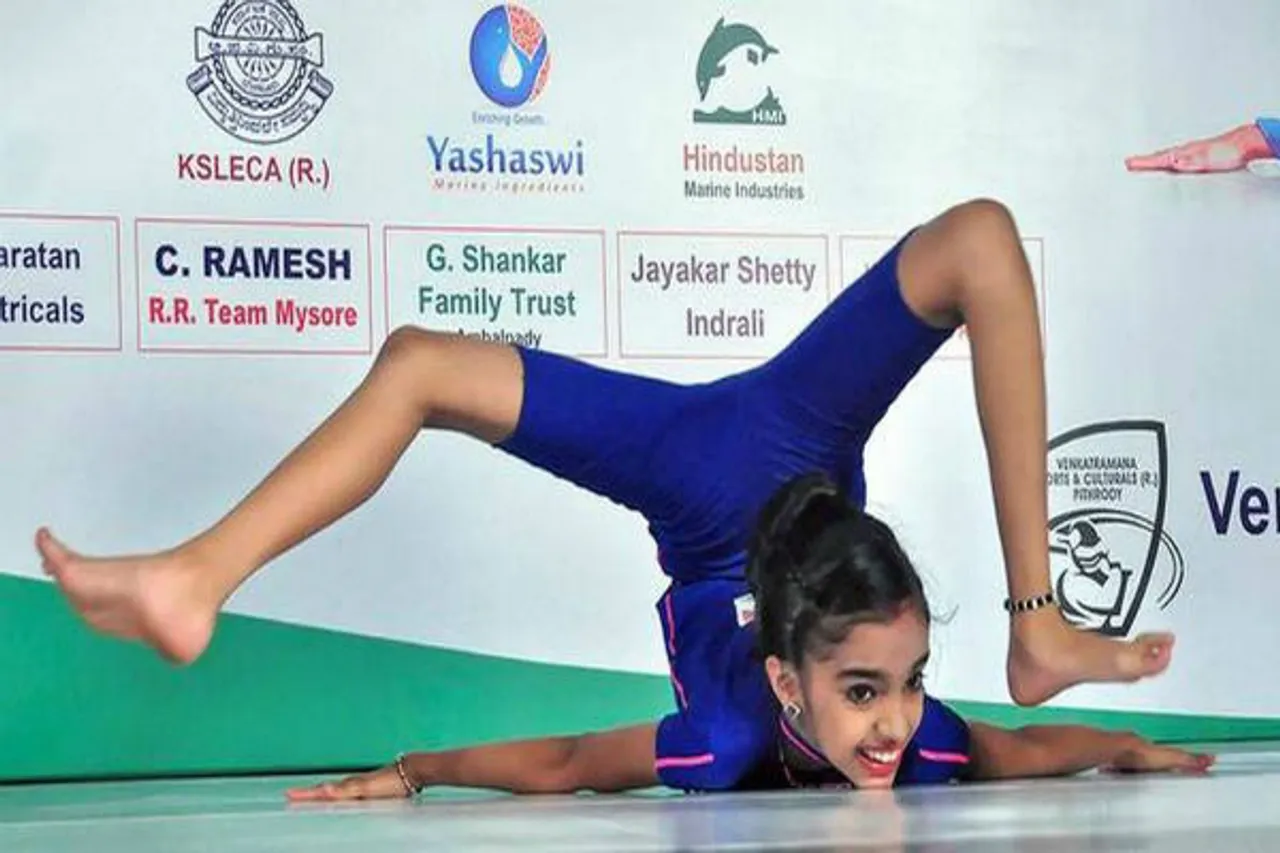 A nine-year-old girl has set a new Guinness record with 42 full-body revolutions in one minute. The prodigy, Tanushree, is from Udyavar near Udupi. The record is for most full-body revolutions upholding a chest stand position. She created this record on 7th of April, 2018.
Her performance was recorded at the Ammanni Ramanna Shetty Hall in Udyavar. Swapnil Dangirkar, official adjudicator of the Guinness World Records, affirmed the feat.
The previous record was that of 38 revolutions in one minute.
Also: Class V Girl From Udupi Sets Guinness Record In Yoga
Tanushree managed to break the record set by a 13-year-old boy from Palestine. Mohammed Alsheikh had accomplished 38 revolutions in a minute on February 8, 2017
Dangarikar talked of Tanushree's incredible efforts and performance. He said: "I am happy to announce that Tanushree has broken the record. She has done so by a huge margin of four revolutions... one has to put in a lot of effort and energy to complete the revolutions. I congratulate her. We at Guinness World Records like to say 'she is officially amazing'."
Tanushree, a class 4 student, is elated with her achievement. She revealed that she had learned to perform body revolutions by watching videos on YouTube.
Also: 12-Year-Old Aims To Sing In 85 Languages For Guinness Record
Tanushree speaks of how her parents have always encouraged her. She said, "I used to practise the revolutions in the morning, evening and night. My father Uday Kumar and my mother Sandhya Kumar encouraged me."
A Bharatnatyam student, Tanushree also likes practising yoga.
"I dedicate my Guinness record to my country," - Tanushree
Tanushree's proud father Uday Kumar is an electrical contractor. He revealed that Tanushree had been practising body revolutions daily for the past four months.
He said, "I and my wife were very happy with our daughter's achievement as it has brought fame to our place (Udyavar), our district and our country. In the future, we would like her to represent our country in yoga."
Last year, Tanushree's name was added to the Golden Book of Records when she performed the 'Niralamba Poorna Chakrasana' 19 times.
Picture Credits: The Hindu
Also Read: Age no bar: At 67, this woman set a Guinness Record
Deepali Is An Intern With SheThePeople.TV