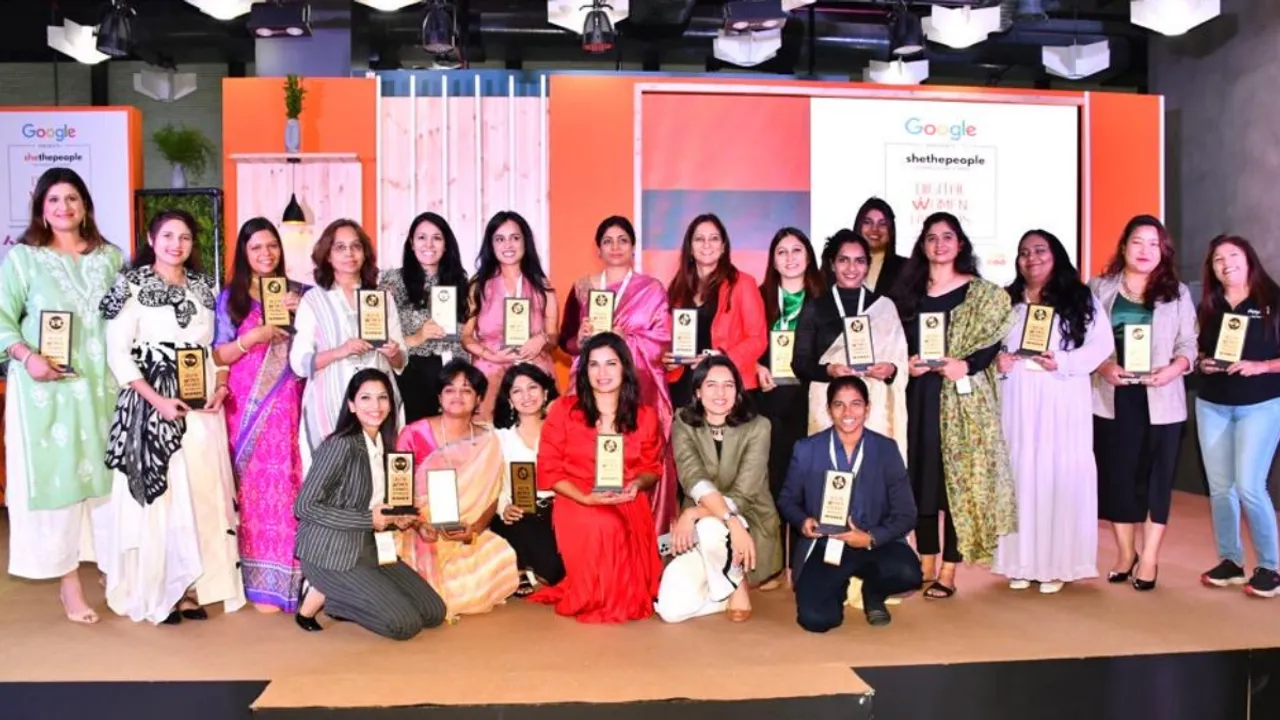 The Digital Women Awards 2023 was a celebration of women entrepreneurs who have harnessed the power of technology and AI to achieve remarkable success in the digital domain. With 'Access To Success' as its theme, the event which took place at T-Hub, Hyderabad, put a spotlight on the inspiring stories of women who have used the power of digital to make significant contributions to technological advancements in the country through their innovative ventures.
Over the last eight years, Digital Women Awards has successfully provided a platform for women entrepreneurs from diverse cities, like Salem to Siliguri and Bathinda to Bengaluru. This united forum allows them to interact, connect, and collaborate, sharing their unique experiences, challenges, and triumphs. It has fostered a supportive community that transcends geographical barriers, encouraging women entrepreneurs to strive for excellence and innovative solutions.
Following are the winners of the Digital Women Awards 2023
Marketing
Kamna Hazrati
Hazrati is the founder of AndPurpose, a modern strategic marketing consulting firm. AndPurpose is a dynamic communication and marketing consultancy that partners with organizations to empower them to reach their customers effectively and convey their core missions and values. 
Bhavana Pandey
Pandey is the founder of Wytti, a firm that specializes in creating witty, tailor-made, and objective-driven content for B2B businesses. At Wytti, they create witty stories for B2B businesses, helping them meet their business objectives through content marketing. 
Leadership
Alka Mehta
Alka Mehta, founder and CEO of PayAid Payment, comes with over 31 years of experience in sales and customer service. Through her brainchild, Mehta brings to the table, her expertise in Payment Solutions in B2B and B2C segments on both issuance and acquiring.
Meghna Agarwal 
Agarwal, founder and CEO of IndiQube, is deeply committed to supporting companies by offering the best coworking space. They align with the national policy and government guidelines they also have progressively resumed operations in a graded manner adhering to global best practices.
Solopreneur
Shikha Shah
Scrapshala is a women-led conscious Indian brand with the purpose of making premium, environment-friendly alternatives available to everyone. They are achieving this by sustainably reviving traditional Indian handicrafts using the approach of upcycling. Their product basket consists of premium-quality decor, lifestyle, gifting, and festival products.
Shaan Khanna
Networking Now India is a vibrant community designed to elevate your networking game and unleash the full potential of your business. They are a thriving network of entrepreneurs and freelancers who gather twice a month in Mumbai to exchange ideas, forge meaningful connections, and learn from industry experts. With a focus on individuals in the 0-3 stage of their business journey, they provide a proven positive networking experience that fuels growth and success.
Shruti Thakker
Shrustar.com is a fashion jewellery brand. They curate lined fashion jewellery which is handcrafted by Karigars across India. Their delivery network helps us deliver to clients all over India. The customers love their jewellery and delivery experience. They have had 0% returns.
Nidhi Jain
German Gyan by Jain is a venture that caters to individuals of all age groups aspiring to learn the German language for self-development, be it for educational or career purposes. This platform offers a comprehensive learning experience, guiding students through the entire process, from mastering the language to eventually exploring opportunities in Germany. The core philosophy of German Gyan is to make education accessible to as many people as possible. 

Jamana Mahajan
Satvic Foods aims to create 100% original homemade seasonings and herbs. Their primary purpose is to avoid preservatives and chemicals from their healthier food ranges and ensure everyone gets natural products.
Content
Shivani Goswami
Goswami is a content creator and the brain behind Asli Craft Shala. With hundreds of hearts on Instagram, she loves to make and encourage people to make crafts by teaching the importance of leisure activities.
Diksha Singhi
Singhi creates content on Instagram on body positivity and runs her handmade jewellery business, A Little Extra. She has also been awarded for body positivity by Dainik Jagran New Media and has been nominated for the Cosmopolitan Blogger Awards 2023 under the body-love category. She was also the face of Dove's TVC campaign: Body Love, Har Body ko Pyaar ka Haq.
Shivi Jalota
With over three years of experience in content management, influencer marketing, and social media, Jalota has developed a strong skill set in helping individuals and businesses establish their unique identities and connect with their target audience. Currently serving as the Head of Personal Branding, Content, and B2B Influencer Marketing at Stori, she leads a team of seven in creating distinctive content and social media strategies that drive results.
Ashima Arora & Rasmeen 
Ashima and Rasmeen, founders of Aroosi, turned their love for creativity and structures into what sets us apart as wedding designers and architects. Aroosi specialises in redefining the wedding industry. They feel proud of themselves for creating personalized wedding experiences.
Arpita Pithava
Pithava, 34, is the mother of two beautiful daughters. She started her YouTube channel 'First Time Mom' and Instagram handle to share and spread the right information about baby, mother, and pregnancy care, and new parents started following her. She has a total audience base of more than 3 lacs on Instagram, YouTube, and Facebook. She is also a certified positive parenting coach.
Bhagyashree Thakkar
Thakkar is a chartered accountant and a passionate finance content creator. Her journey began with a strong foundation in finance, honed through rigorous CA training. However, she soon realised that numbers and financial concepts could be made more approachable and engaging. With this vision, she ventured into the world of content creation. Her mission is to demystify finance, making it accessible to everyone. 
Aparna Thyagarajan
Thyagarajan is the Co-founder and chief product officer at Shobitam, a D2C online platform that democratizes ethnic fashion globally. Their primary purpose is to keep the authentic traditional couture alive.
Rima Kapadia and Rashi Maniar
Kapadia and Maniar, sisterpreneurs and founders of Oceana Clutches stand out as a vision: to create a brand that would not only produce exquisite clutches but also uplift and empower women in the process. They emphasize creating exquisite yet environment-friendly totes and clutches.
Sathya Raja
Raja, founder of iBots, is transforming the technology by making IOT and wireless modules. Through iBots, she aims to provide a larger audience with high-tech devices at an affordable price.
Dr Lalitha Palle
Lalitha Palle is a highly accomplished medical professional who holds multiple degrees in the field of healthcare. Her ventures address and provide solutions to the various health and wellness needs of people. They offer services in the form of doctor consultations and curated products for various issues.
Teertha Anil
Talisman is a jewellery store specialising in the sales of trendy and elegant, affordable, non-tarnish and waterproof stainless-steel jewellery.
Gauri Gopal Agrawal
Agrawal is the founder and director of Sirohi.org, a social enterprise providing tech-based design support and global market linkages to artisans across India. 
Palak Moondhra
Moondhra's desire to design ensembles that could blend the traditions of Indian textiles and indigenous art forms with everyday dressing led to the birth of Ambraee. They always love to experiment and test market requirements for the betterment of customer satisfaction.
Akanksha Arora
At Barker's Dozen Pet Bakery, Arora's business specialises in creating human-grade treats and cakes tailored exclusively for pets. They take great pride in crafting delicious, wholesome goodies that are not only safe for our furry friends but also a true delight for their taste buds. Their mission is to provide pet owners with high-quality, pet-friendly treats made with love and care.
Disruption
Midhula Devabhaktuni
Devabhaktuni's Mivi is an audio electronics company that presents omnichannel with a primary focus on e-commerce. Their portfolio includes speakers, earbuds, earphones, soundbars, chargers, cables and adapters. It is the fastest-growing audio brand pan India.

Jayanti Bhattacharya
India Hemp and Co. makes nutritious hemp-based food. They have two verticals: hemp for people and hemp for pets. The company and its products are FSSAI-registered.
Drishti Gupta and Bani Singh
Now&Me is a community for those seeking mental health support - allowing them to chat with peers and professionals about their problems.

Zaiba Sarang
Founder and CEO of iThink Logistics, which offers an online platform that can be integrated with marketplaces/online stores via APIs (for importing orders) and has in-built connections with multiple carriers and carrier companies. It also allows users to subsequently book parcel shipping services and print labels.
Dr Rajul Patkar
SoilSens© stands as a beacon of innovation in precision agriculture, offering a comprehensive, cost-effective, and farmer-centric solution. Their integrated platform provides farmers with an end-to-end solution, covering every aspect of precision agriculture, from data collection to analysis and actionable insights.

Tanya Shah
Co-founder of Toycra, Shah started one of the largest kids' speciality brands in India with a focus on play-based education. They specialise in providing developmental and educational toys, games, and books that nurture essential skills right from early childhood. 

Impact
Rinju Rajan
Rajan is the Founder & CEO of Tech4Good Community which works towards strengthening the tech capabilities of locally rooted nonprofits solving development challenges across climate, health, education, policy and livelihoods with cross-cutting areas of gender and communities.

Pavani Lolla
Lolla is a student turned entrepreneur who transformed the segregation of waste management. Her venture Future Step creates an impact by recycling organic waste. With the help of customers and composting facilities, they have recycled approximately 100 lakh kg of waste to compost and stopped that waste from going to landfills.
Nengneithem Hengna
Hengna is the founder of Runway Nagaland GTJ Nagaland Jewellery. She also co-founded HM Pvt. Ltd., Runway, and The Banana Co. She is an avid lover of handmade art; she believes every piece of art is valuable, has a story to tell, and must be treasured and preserved for future generations. 
Namrutha Ramanathan
As the founder of Upcyclie, Ramanathan is passionate about building a sustainable future for the next generation through her fabric waste conversion start-up. Established in 2021, the company makes a variety of bags and accessories out of fabric waste for eco-conscious consumers all around the world.
Akitha Kolloju
Kolloju is the co-founder and CTO of Heamac which is an empathy-driven company that provides user-centric and design-driven solutions catering to the unmet needs of neonatal and maternal care. The main vision of Heamac is to provide solutions with zero separation between the child and the mother.
Gunjali Kothari
Kothari is the founder and CMO of Flashaid, a health tech startup whose mission is to make every Indian free from worries about financial health.
Megha Das
Das is a textile enthusiast who started her company, Amounee, with the vision to create a digital platform to conveniently buy authentic handloom and handicrafts. She also aims to preserve rural craftsmanship. 
Kanchan Garg
Founder and CEO of Haxor, India's first and foremost adaptive clothing brand, dedicated to providing functional and stylish clothing for people with diverse mobility needs. Their journey began with a simple yet powerful vision - to make dressing easier and more comfortable for everyone, regardless of age or ability. They believe in breaking barriers and embracing inclusivity.
Artificial Intelligence
Nidhi
NEMA AI is an innovative platform that combines neuroscience and AI to provide consumer insights while also prioritizing mental health. It utilizes EEG-based technology, making it the first patent-pending platform of its kind. NEMA AI specifically focuses on assisting students with Neurodiverse conditions such as Autism, ADHD and Down syndrome. 
Sandhya Agarwal 
Agarwal is the brain behind SalesJarvis, a cloud-based sales automation platform for enterprises. 
---
Suggested reading: 9 Years Of Digital Women Awards: Of Change, Impact And Progress