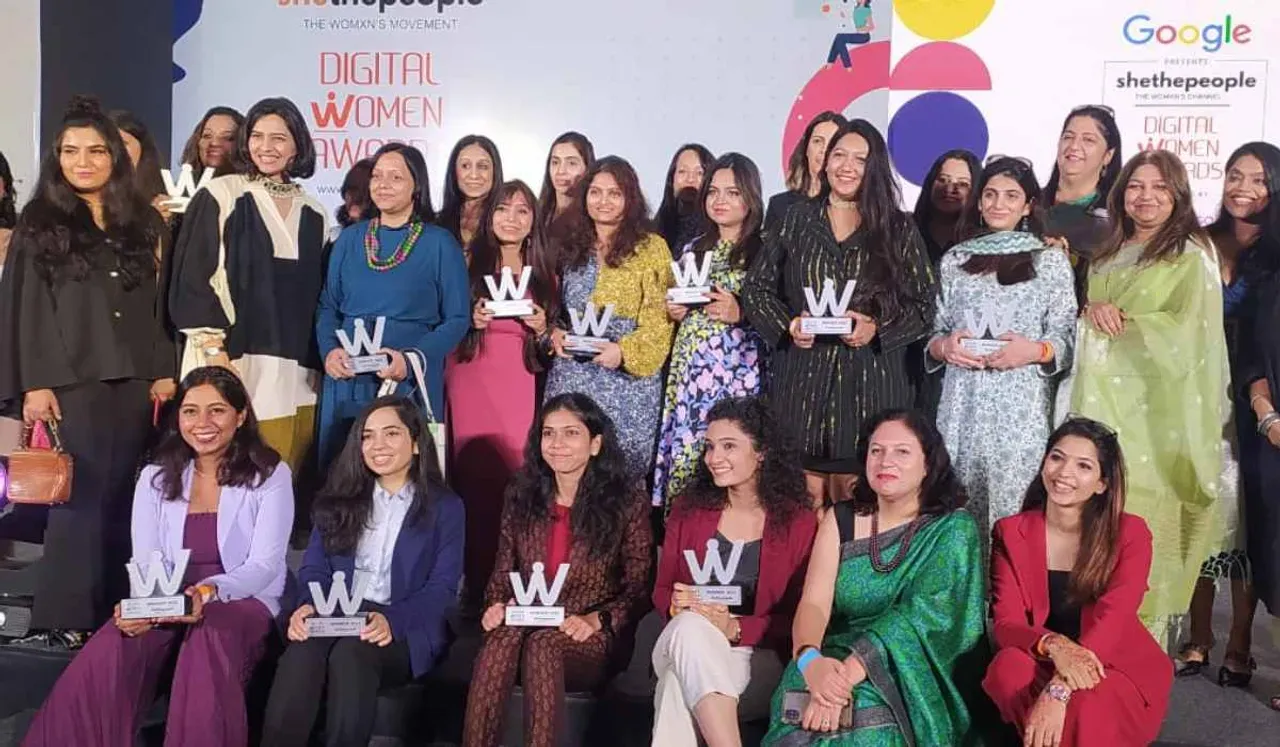 2023 marks the ninth edition of the Digital Women Awards. The annual event which has taken place for the past eight years is a testament to the power of women's entrepreneurship.
As major contributors, women entrepreneurs are not just changing the present but also the future of India's economic growth and DWA's mission is linked to the success stories of women entrepreneurs who are levering technology in a way that they are not just putting food on their table, enabling countless employment opportunities, but also changing people's outlook towards how women approach business. 
According to a report by McKinsey Global Institute, it was found that advancing women's equality in the economy could add $12 trillion to the global economy by 2025. In a best-case scenario, that number could jump to $28 trillion. 
Our past winners include pastry chef and entrepreneur Pooja Dhingra, Nykaa's founder Falguni Nayar, Founder and Creative Director at Heads Up For Tails, Co-founder of Mamaearth and The Derma Co Radhika Ghai, and Pilot and Digital Creator Ritu Rathee Taneja, among several others. 
Established in 2015 with a vision to recognise and celebrate women entrepreneurs, DWA has become the platform's integral medium that fosters collaborations, partnerships, and mentorship opportunities. As we approach the awards' ninth edition this year, here's tracing the highlights of the last eight years, and the change we brought through the power of digital. 
This year, we're going to Hyderabad to further our agenda of bringing more women entrepreneurs at the forefront. Find all the details about Digital Women Awards 2023 here.
DWA 2022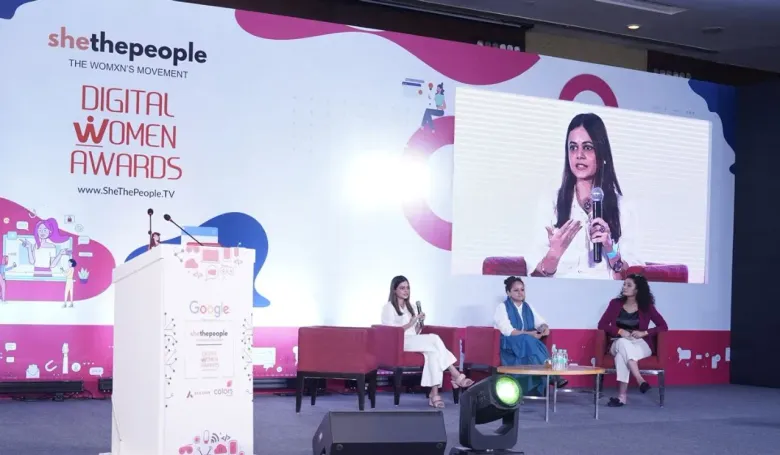 From scaling up for consumer businesses, gender equality in business, prioritising women's healthcare, and encouraging solopreneurs, the eighth edition of Digital Women Awards' spotlight was Storm 'The Norm' where we felicitated women entrepreneurs who have been building businesses and breaking the stereotype one at a time.
Calling this a substantially unique partnership, Rajiv Anand, Deputy Managing Director of Axis Bank reflected, "I am delighted to be part of 'SheThePeople Awards', which has taken the mantle of recognising and felicitating the incredible work done by women leaders. We strongly believe that women entrepreneurs have the potential to change society while enhancing and catalysing the business environment with their unique perspectives, ideas and indomitable spirit.''
The event provided access to resources, knowledge-sharing, and networking opportunities that enabled women entrepreneurs to overcome challenges and achieve economic independence.
Some of the winners cross categories included Prachi Bhatia of Chokhat, Bisma Shaikh of The Speaking Mommy, Anushka Iyer of Wiggles and Mallika Tomar of Revamp among others. Rashi Narang led the Jury that comprised Akila Urankar, Leeza Mangaldas, Nirmika Singh and Deepshikha Chakravarti alongside other names.
The event also put a spotlight on a topic that is often brushed under the carpet - healthcare for women. Recalling her conversations with women over the years,  Shaili Chopra shared how she found the missing link that led to her starting Gytree, a platform dedicated to connected healthcare of women.
DWA 2021
COVID pushed people to think 'disruption' and women showed great agility and flexibility in taking on change by switching to digital and using it for enterprise and small business growth. We recognised women who used the power of automation and digitalisation in growing their businesses despite the setbacks that came with the pandemic. Digital Women Awards were held virtually in 2021.
The Jury included Rajiv Anand, Sapanjeet Rajwant, Aparna Hegde and Shaili Chopra among others. Some of the winners included Khushboo Jain of Impact Guru, Elisha Sehgal of ELSOL India Consultants, Anumita Jain of A Clay Story, Malaika Shivalkar of Project Pahunch, Pragya and Divya Batra of Quirksmith and Shirin Mann of Needle Dust Juttis among others.
DWA 2020
The pandemic may have put a halt on the usual course of life but it didn't stop us from continuing our efforts of bridging the gender gap in the business ecosystem; only this time, we made it happen virtually.  
Digital Women Awards were held virtually in 2020. Celebrating talent, entrepreneurship, innovation and creation by and among women who are building businesses using the internet, we commemorated the spirit of female entrepreneurs that only grew by leaps and bounds in 2020, unfazed by the pandemic.
The Jury comprised names like Devita Saraf, Annie Dube, Aditi Mittal, Elsamarie Dsilva, Sharin Bhatti and Akila Urankar. Some of this edition's winners included Shagun Singh of Home Work, Pooja Doshi of Miraya Arts, Shraddha Patil of Spoina, Neha Kanodia of Go Ga Ga App, Neha Rastogi of Agatsa and Priya Florence Shah of Naaree.
DWA 2019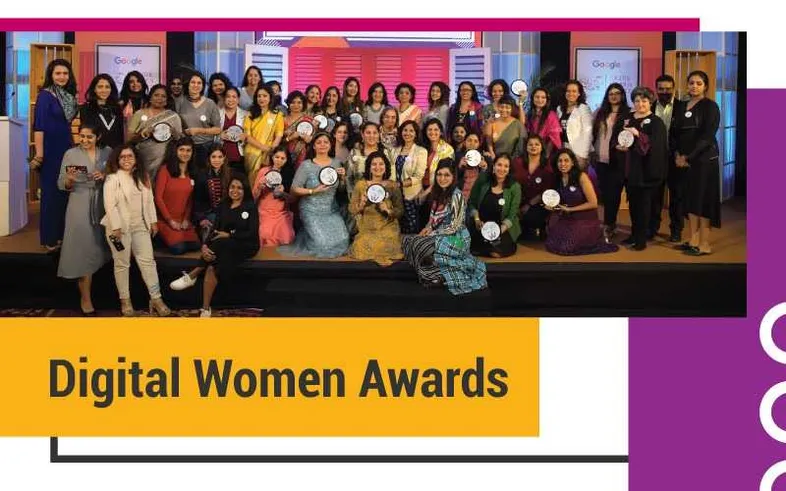 The power-packed event saw India's top digital start-up stars come together to celebrate the finest women entrepreneurs who risked everything to launch a new enterprise by leveraging the power of digital. Among the awardees was a woman who used digital to create a mobile game to build ecological awareness among the youth of the islands of the Indian Ocean and across Africa. 
The Jury for the Digital Women Awards was led by a panel of strong industry names such as Shivya Nath, Travel Blogger, Elsa Marie D'Silva, Founder of Safecity, Akila Urankar, President of Business Standard, Deepali Naair, Director (Marketing) at IBM and Shaili Chopra, Founder of SheThePeople.TV and Gytree.com. The combined expertise of the jury members in the spaces of tech, digital and consumer offerings brought invaluable insight into the judging process. 
One of the winners, Sahee Wasaan of Mooi Box, who won an award in the e-commerce-commerce category, reflected, "It feels great to win the award under the e-commerce category. A big thank you to SheThePeople for recognising Mooibox's work and encouraging and motivating budding women entrepreneurs across the country."
DWA 2018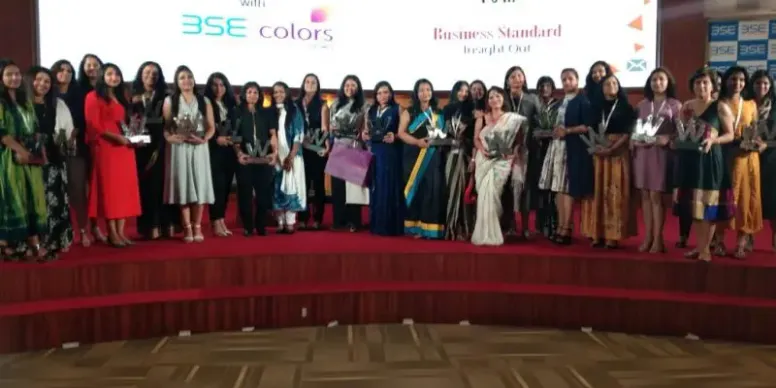 Great energy, stories of self-made women, and tremendous support for one another - the Digital Women Awards 2018 held at the Bombay Stock Exchange marked a revolution in itself as it was the first such women's initiative to be held at the country's biggest symbol of capitalism, Dalal Street. The famous and historic Rotunda Hall resonated with talent and ideas breaking new ground in the world of digital.
Shivya Nath, who was part of a crucial panel discussion on content and storytelling, emphasised the power of digital saying, "Digital has been empowering personally. We've always been told the home is the most important and only space for us. With technology's power of narrative, I can proudly work from anywhere in the world without having a permanent address."
The event put the spotlight on some great ideas about business through digital. A credible jury led by Amitabh Kant of Niti Aayog selected the winners.
DWA 2017
The third edition of the Digital Women Awards marked another important day to celebrate women industry leaders and digital minds. From women who were working at a village level, and establishing small-scale businesses to those who were taking their work across global waters, the tremendous rise in women-led businesses was something DWA aimed to celebrate in 2017. 
The Jury, sponsors, nominated entrepreneurs, and the women in attendance, all became part of the force that was moving the needle, and moving it significantly. With newly launched startups and rural entrepreneurship at the helm of India's economic progress, recognising the female power within it was the agenda of the evening too. 
The event also marked an important discussion on switching gears and making technology an enabler in bridging the digital divide gap between rural and urban India. From Farhana Haque representing Vodafone India to Rajiv Anand of Axis Bank and Sapna Chadha, head of Marketing South Asia at Google, the panelists discussed the growing trends of digital transformation in the country and how women can be the catalyst in driving that change in the next decade. 
DWA 2016
In its second edition, the Digital Women Awards focussed on women entrepreneurs who successfully launched their ventures by using digital mediums. From an e-commerce award to a creative disruptor recognition, the event put a spotlight on women who not just launched their businesses but also became trailblazers in their respective fields. 
The internet and app universe was ushering in a new era of progress at this stage, giving a foundation to digitised India. From new opportunities, startup blood was marshalling our new way of life. These awards brought to the stage women who were part of that journey. 
As Dr Rajashree Krishnaswamy, founder of Catalyze Centre, had rightly put it, "Progress is actually following your dream and making it happen. Sometimes, you have to be persistent and stick to the dream and that's a huge part of growing." In 2016, she also predicted that the online tutoring and education industry was capable of becoming a billion-dollar industry by 2020. It's not news that it did, and how the potential of women in changing the face of education unravelled is a success story in itself.
DWA 2015 
SheThePeople started Digital Women Awards in 2015 with the notion that if India is to become a 10 trillion dollar economy by 2030, it cannot do so with half its population. The flagship event saw hundreds of women entrepreneurs in its first edition itself. Amitabh Kant kicked the evening off with a speech, which was followed by crucial panel discussions; one of which was led by Facebook's Ankhi Das. 
Mohandas Pai, founding member of Infosys, led the Jury which had trailblazing women from their respective fields - Ankhi Das, Meenu Handa, Deepali Naair and Akila Urankar. Naair asserted, "DWA is a great initiative which celebrates these women leaders and their achievements in the digital arena; so that they can inspire scores of women across the world. SheThePeople is the first Indian platform to take the lead in bringing these women achievers to the fore and I am proud to be a part of this journey."
Find all the details about Digital Women Awards 2023 here.
---
Suggested reading: Digital Women Awards Felicitates Women Entrepreneurs Breaking Barriers