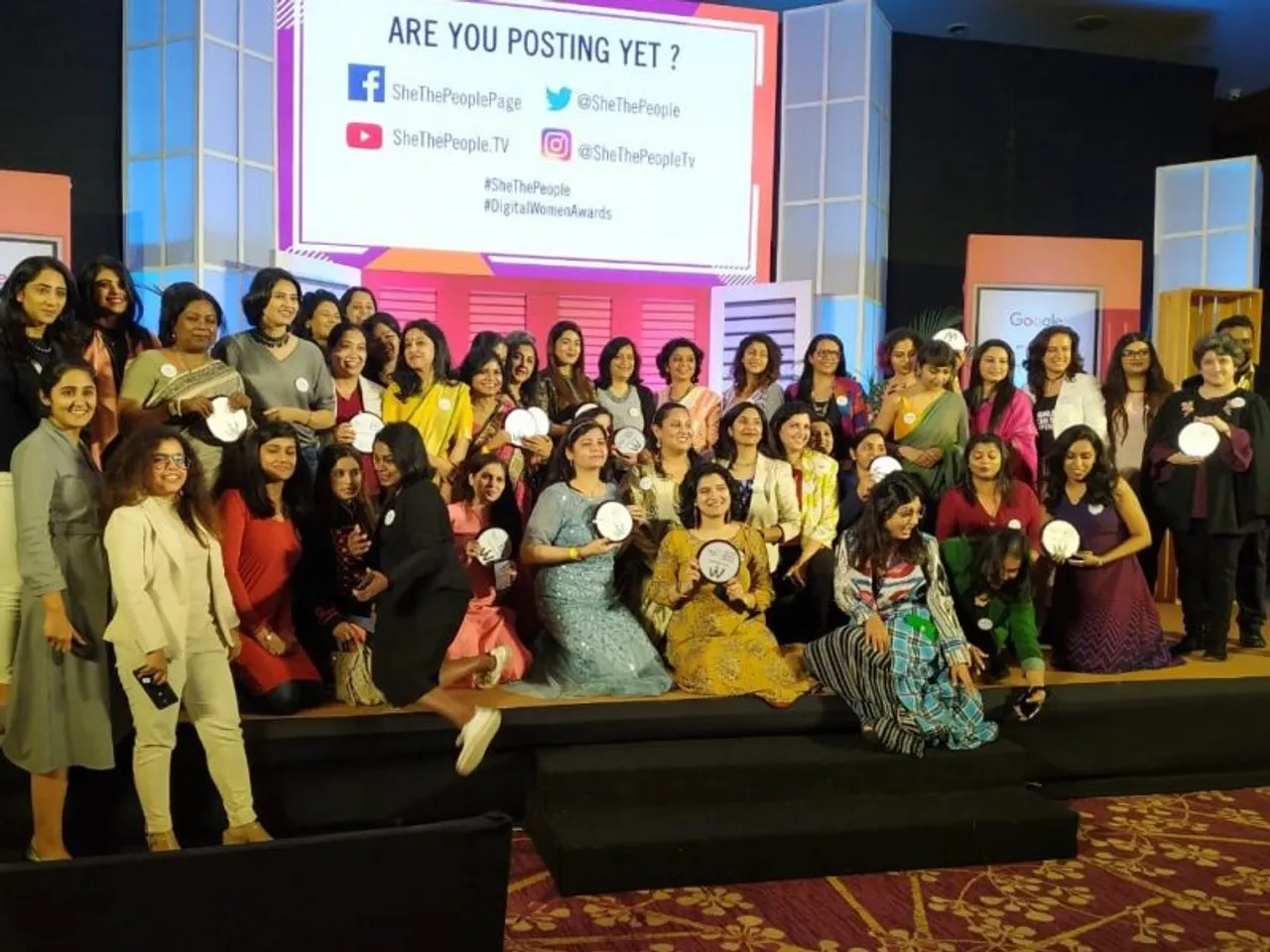 At the 2022 Digital Women Awards, Shaili Chopra asked the audience who they thought the chief guest was at the event; confused, all women seated looked around to see if there was a more 'prominent' personality sitting amongst them. Chopra said affirmatively, "You are the chief guest, each one of you." I have followed, and attended, the Digital Women Awards for the past five years now and this feeling of empowerment in the atmosphere at this event has resonated with me too, year after year.  
My first experience at DWA was in 2018 at the Bombay Stock Exchange at Dalal Street in Mumbai. I came across a tribe of women who stood in solidarity, supporting each other and hyping up one another. To see a platform, a full-blown event, where women were not just recognised but also celebrated deemed inspiring for me as a 24-year-old. Today, five years later, as I await the ninth edition of these awards, I look back at the event that commenced in 2015, which consistently commits to growing and helping women dream bigger and better.  
What DWA Means To Me As An Attendee
DWA has worked in sync with changing the future as well as the present of women entrepreneurs. From solopreneurs to entrepreneurs who have been in the game for decades, from women who restarted their careers or those who bravely switched from a comfortable 9-5 to a risk-involved business, women have done it all and DWA's drive at bringing this female power together, year after year, from across the country is a story of progress in itself. 
Women, from across fields, are leveraging technology in a way that they are not just putting food on the table, giving employment, and changing the way people think about their approach to business. From Solopreneurs to those who are running big businesses these women are highlighting how technology is a leveller, and how these women are a step ahead when it comes to delivering and creating business growth.
In 2020, COVID pushed us to seek solutions that aligned with technological advancements. DWA resonated with that by adapting virtual reality and bringing women from across the country on one screen. What inspired me most was the recognition of women from remote corners of the country, some even unheard of. As a woman from a hill town, the event increased my faith in the platform's commitment to expanding horizons. 
Find all the details about Digital Women Awards 2023 here.
Role Models and Champions
In 2022, as the DWA was back as an on-ground event, I travelled to Gurgaon to attend it wishing to network with a bunch of inspiring women. What I witnessed was an altering experience for me in more ways than one. I saw a bunch of men in the audience, some who participated in panel discussions, a few who accompanied the women nominees, and some who attended to absorb the power of the show. This made me realise that while we women are looking for role models, we do need male champions too. 
I took back a lot of learnings from DWA but I particularly loved what Deputy Country Representative at UN Women India Kanta Singh said on stage while heading a panel discussion. When asked about how can companies acknowledge the contribution of women and how to move forward with it, she said, "If every girl from any corner in this country is asked what they aspire to be or what they want to do in life, everybody is more interested in what a boy wants to become in life, when it's a girl's turn nobody wants to invest in it. If we change this, which we have to some extent, a lot of workforce issues will be solved, to begin with."
Why community matters
I also remember speaking to Sonal Agarwal, a content creator and entrepreneur, at one of the events. I identified a lot with what Agarwal said. She shared that while content creation today is pumped considering the algorithms of social media platforms like Instagram with brands on board like never before, it's still important constantly make newer discoveries and shifts in the content that catches up to the present. "I'd also advise that it's important to go beyond the notion of only building your brand without caring about the community altogether. Glorifying solo brand building won't help, it's important to be aware of what's happening around and support each other as creators too." This is something a lot of creators can take heed of considering we're living in a world which, to some extent if not more, is coexisting with Artificial Intelligence.
My interaction with an award winner, Madhuri Balodi, empowered me to dream bigger. Balodi shared that she started her small business with Rs. 2000, and today her company has reached a revenue of Rs. 2 crores. She added that her business has no funding and is all hit-or-miss. According to her, most ventures begin with hits and trials, and consistency is what matters.
I recently read a report which stated that our nation's economic product could add 770 billion dollars to its GDP by 2025, most significantly by offering equal opportunities to its female workforce. It studied how women's involvement in entrepreneurship can boost the economy by 18 percent or more, which is why making workspaces equal is an urgency we must not ignore. Attending the DWA, I have witnessed the force women bring to the table, especially in this digital age and enabling their success is what will help us get far.
Find all the details about Digital Women Awards 2023 here.
---
Suggested reading: Digital Women Awards Return With A Focus On 'Access To Success'