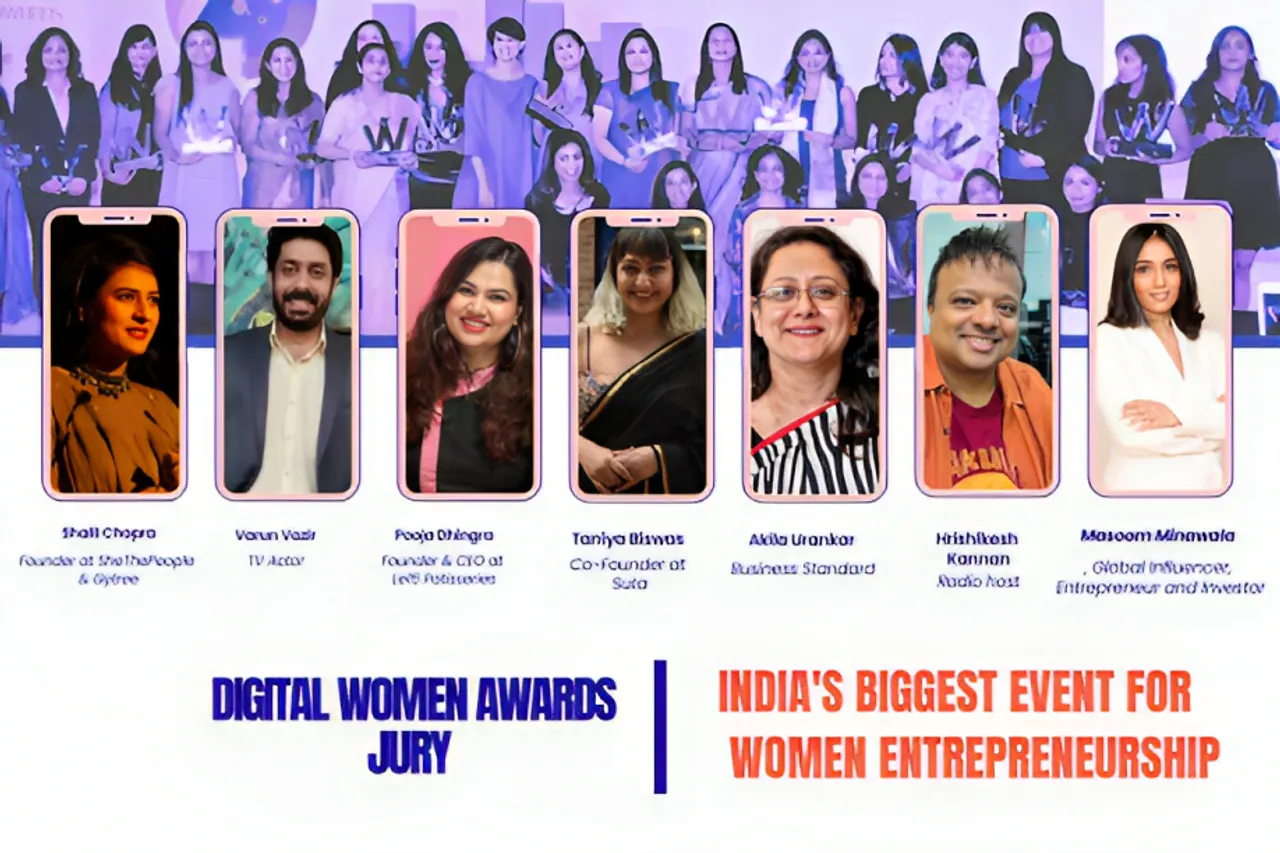 We are thrilled to unveil the esteemed members of the jury for the ninth edition of SheThePeople's Digital Women Awards, an event dedicated to honouring the accomplishments of women who embody excellence in digital innovation, entrepreneurship, and leadership.
Our prestigious jury panel includes
Pooja Dhingra: Founder and CEO at Le15 Patisserie
Pooja Dhingra, Founder & CEO of Le15 Patisserie, is a renowned pastry chef. Trained at top culinary institutes, she brought macarons to India with Le15's inception in 2010. Recognized as an INK Fellow and Forbes 30 under 30' awardee, Pooja has authored seven cookbooks, including the award-winning 'The Big Book of Treats.' Her podcast, NoSugarCoat, delves into entrepreneurship's raw ingredients.
Hrishikesh Kannan -  National Brand Head for RadioOne India Network.
Hrishikesh Kannan, widely recognized as Hrishi K, is a prominent figure in the world of radio as the Radio Host and National Brand Head for RadioOne India Network. With his engaging and charismatic presence, he has captivated audiences across India, making him a celebrated voice in the country's radio landscape.
Akila Urankar: Director at Business Standard 
In her role as the President and Director of Business Standard, Akila Urankar led the newspaper's remarkable growth, making it the country's second-largest business publication with a net revenue exceeding 100 crores. She also served as President of the Indian Newspaper Society in 2017-18 and currently holds the position of Independent Director on the Board of Kotak Mahindra Prime Limited.
Varun Vazir -  TV actor
Varun Vazir is a theatre actor who began pursuing acting right during his childhood. He has currently been the face of more than 75+ ads. He was last seen in the movie Mrs. Chatterjee VS Norway. He's been an entertainment journalist in the past with the Times of India and moved on to work in an Advertising agency as well where he headed several brands across digital platforms. He currently spends his free time teaching theatre to children in various schools and works in corporate training as a communication and drama facilitator.
Taniya Biswas - Co-Founder at Suta
Taniya, who wears several hats as an entrepreneur, TEDx speaker, change-maker, and vocal advocate for mindful fashion, is the co-founder of Suta. She has an engineering degree in ceramics from the National Institute of Technology, Rourkela, and an MBA from IIM, Lucknow. She was associated with IBM as an associate consultant, worked as a production manager at Tata Refractories, and was a marketing consultant with Seed Fund's investee firm, before co-founding Suta with her sister Sujata.
Masoom Minawala - Global Influencer, Entrepreneur and Investor 
Masoom, a Global Fashion Icon and Face of Indian Fashion, is a Digital Content Creator, Entrepreneur, and Investor with a vast audience of 1.3 million followers across her social media platforms. Notably, she spearheads the #SupportIndianDesigners campaign, aiding over 700 brands. Her venture, Empowher, uplifts women-led Indian brands onto the global stage. As an Investor, she backs pioneering companies like The Betel Leaf & Co, One Impression, Blissclub, Kuku FM, All Things Baby, and FrontRow. Masoom actively contributes to Women India Chamber Commerce & Industry, the India-Austria Bilateral Business Council, and is a UN Women Generation Equality Ally. She has also ventured into talent management with MMaximize.
Shaili Chopra: Founder at Gytree and SheThePeople
Shaili Chopra is the founder of SheThePeople.TV passionately championing stories of women and their real efforts across India. She is the driving force behind the Digital Women Awards. She is also the founder of Gytree, a platform that provides women with better health outcomes by working with experts and using technology to provide personalized journeys.
These individuals bring diverse expertise to the jury, ensuring a thorough and fair evaluation process for this celebration of women's achievements. If you are a woman running your own business and growing it using digital, APPLY NOW
The 2023 Digital Women Awards theme, "Access to Success," is a celebration of women entrepreneurs who have harnessed the power of technology and AI to achieve remarkable success in the digital domain. This event aims to shed light on the inspiring stories of women who have embraced the digital landscape and made significant contributions to society through their innovative ventures.
Categories

The ninth edition of the event aims to foster collaborations, partnerships, and mentorship opportunities, providing resources and support to empower women entrepreneurs. The awards' categories include Ecommerce, Impact, Solopreneur, Disruption, Marketing, Content, Leadership, and Artificial Intelligence.
Read more about Digital Women Awards 2023 here.
More about Digital Women Awards
Established in 2015 with a vision of celebrating and recognising entrepreneurs, Digital Women Awards is putting the spotlight on women leveraging innovation to build ideas on the internet.
In the last seven years, we have brought a diverse range of firebrand women, all united by their success in and passion for digital from all across India. From Salem to Siliguri, Bathinda to Bangalore, these awards are diverse and bring entrepreneurs across big and small cities to one forum to interact and connect over shared problems and successes.
In the last eight years, the Digital Women Awards has received a whopping 170,000 applications from across India and had 1,670 amazing speakers participating in 8 editions. The awards have witnessed a remarkable reach of 5 trillion on the internet. SheThePeople, a platform where we highlight all these stories, attracts an incredible 30 million viewers every month. We are proudly leading the women's movement in Asia, supporting and empowering women in a big way. 
If you are a woman running your own business and growing it using digital, APPLY NOW
---
Suggested reading: Digital Women Awards Welcomes T-Hub, WE Hub As Innovation Partners