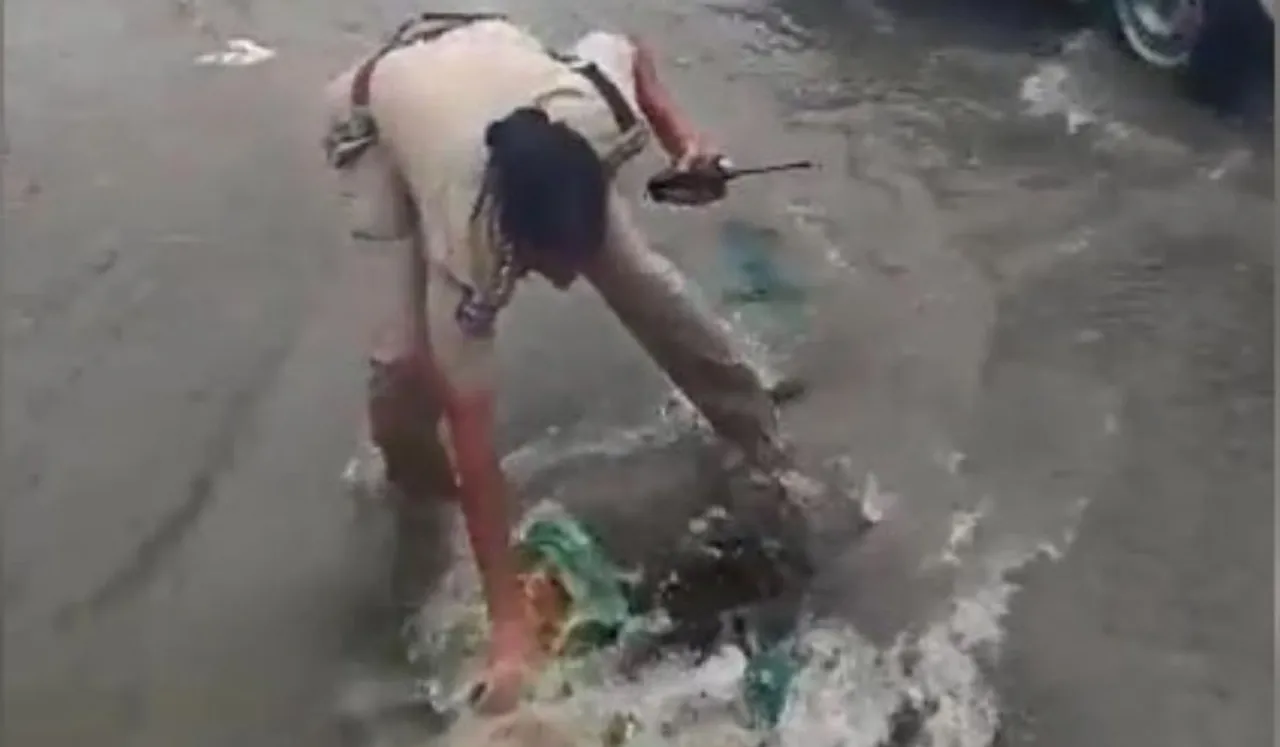 Police officers are not just people who protect us but also professionals whom people look up to. A film where the protagonist plays a straightforward and compassionate cop is much loved by people because of the inspiration viewers derive from it. Naturally, people expect the same from real-life cops.
Recently, a woman cop in Hyderabad proved to be nothing short of an inspiration by showcasing her dedication and humanity. The cop, Dhanalaxmi, cleaned a clogged drain with her bare hands near the Tolichowki flyover in the south-west zone of Hyderabad.
Woman Cop Cleans Drainage With Hands
On seeing that the blocked drain was causing flooding in the area, which caused inconvenience to commuters, the Assistant Commissioner of Police (ACP) promptly took the responsibility to clear it herself.
A video of the incident was captured and shared by the Hyderabad Traffic Police on September 5, 2023. The viral video won millions of hearts on social media, and the cop was bestowed with wishes.
Sharing the video on their X (formerly Twitter) handle, the Hyderabad police wrote, "Smt. D Dhana Laxmi, ACP Tr South West Zone, cleared the waterlogging by removing the clog at drain water near Tolichowki flyover.
#HYDTPinfo
Smt. D. Dhana Laxmi, ACP Tr South West Zone, cleared the water logging by removing the clog at drain water near Tolichowki flyover.@AddlCPTrfHyd pic.twitter.com/lXDLix6dMp

— Hyderabad Traffic Police (@HYDTP) September 5, 2023
The video amassed over 250,000 views, 4000+ likes, and several comments lauding the cop for her dedication.
One might wonder if this is really such a big deal considering that sewage workers do the same on a regular basis, but their work goes unrecognised. True, but how many cops in ACP Dhanalaxmi's place would have done what she did? Forget cops; how many of us commoners would have taken the responsibility to clear the blocked drainage with our bare hands?
Maybe we would have called the concerned department in the corporation and arranged for it to be cleared. Only a few people would exhibit such a selfless act without even a moment of hesitation in order for commuters to travel without hindrance. Such incidents need to be recognised, and cops like Dhanalaxmi deserve the appreciation that she's receiving.
---
Suggested Reading: Former DGP Politician Argues With IPS Sweety Sahrawat: What We Know