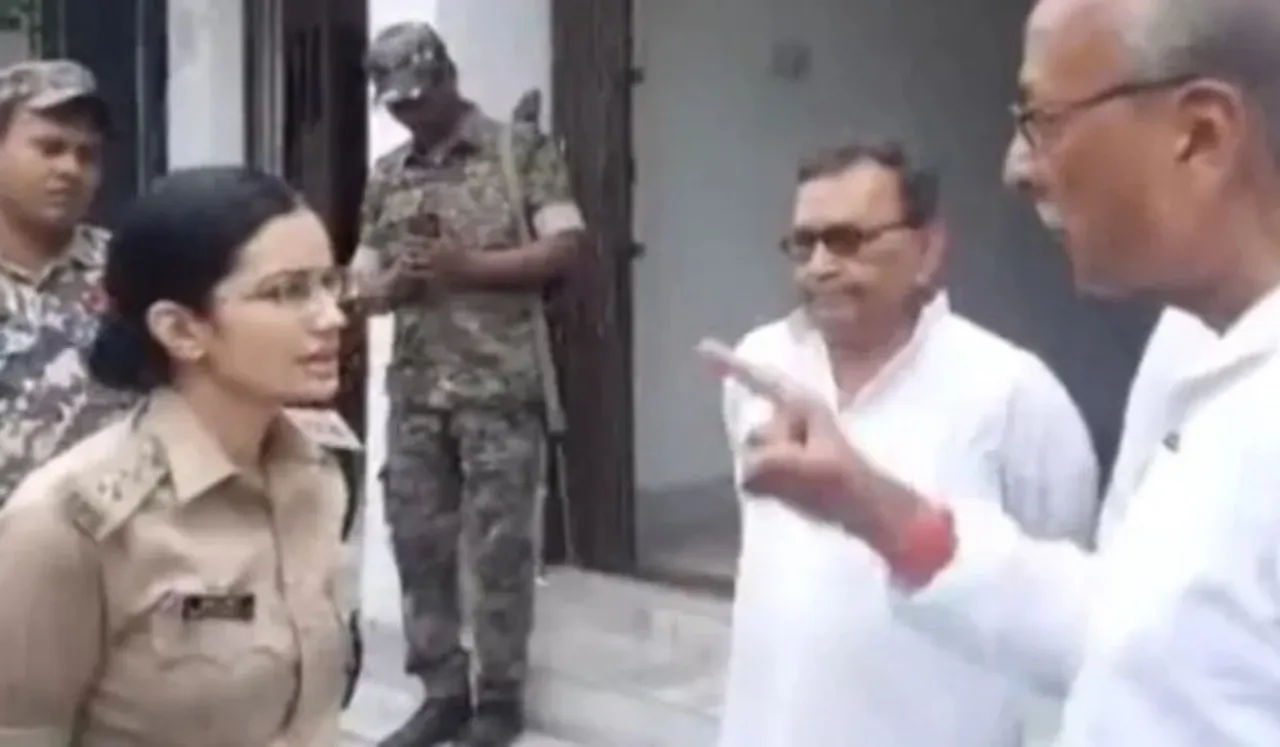 A video of former deputy general of police (DGP), former MLA, and former governor Nikhil Kumar shouting at IPS officer Sweety Sahrawat went viral on social media. The former police officer and politician was asking why no action was being taken in the consequent theft cases and why she was refusing to meet them at her residence.
Reportedly, Kumar attempted to contact Sahrawat on her phone but was unable to reach her. He wanted to discuss the increasing number of thefts in the area with her. So he went to her residence early in the morning with some people whose homes had been robbed. The security personnel outside her home informed her that she was getting ready.
Former DGP And Politician Argues With IPS Sweety Sahrawat 
After waiting for 45 minutes, the ASP came out around 10 am and headed to her vehicle. An individual who accompanied Kumar informed her that Kumar was waiting to speak with her. However, she informed him that since her residence was her "personal space," she said that Kumar could meet her at her office. This enraged Kumar, who began lecturing her on the matter.
While Kumar was seen speaking harshly to her, Sahrawat remained calm and composed throughout the incident. When he asked why she wouldn't meet him at her residence, she calmly explained, "I have my personal space." In response, Kumar argued that it was her duty as an IPS officer to meet people day and night and address their issues.
Sahrawat claimed that if he had informed her prior to arriving, she would have reached her office earlier, and they could have discussed the issue. This further angered Kumar, who asked her what preventive measures were taken to stop the thefts and what steps had been taken in the registered cases. When Sehrawat said they could speak at her office, Kumar further argued with her in a loud voice and pointed fingers.
However, the person who was robbed had already met with her at her office, and Sahrawat changed the investigating officer in the case at his request. She was seen calmly explaining that the investigation was ongoing to Kumar.
The viral video received divided responses on the internet. While one group of netizens agreed that her personal space shouldn't be disturbed, another claimed that public servants were not entitled to enjoy a private space. Sahrawat was appreciated by a large number of netizens for gracefully handling the situation.
"मैं आवास पर नहीं मिलती, हमारा भी एक पर्सनल स्पेस है"

औरंगाबाद की ASP स्वीटी सहरावत ये बातें पूर्व राज्यपाल, पूर्व सांसद और पूर्व DGP निखिल कुमार से कह रही हैं. शहर में बढ़ती चोरी की घटनाओं को लेकर कुछ लोग निखिल कुमार के पास गये थे. उन्होंने ASP को कॉल लगाया लेकिन बात नहीं हुई.… pic.twitter.com/1fcGlHI1GF

— Utkarsh Singh (@UtkarshSingh_) September 4, 2023
Who Is IPS Sweety Sahrawat?
IPS Sweety Sahrawat is a Bihar cadre officer who cleared UPSC and ranked 187 in the All India Rank. She is currently serving as Assistant Superintendent (ASP) in Aurangabad, Bihar.
After graduating with a B. Tech degree in ECE from Delhi Technological University, Sahrawat was working as a design engineer at NXP Semiconductors, Delhi. She later resigned from her job to fulfil her father's dream of seeing her become a civil officer.
Her father, Dale Ram Sahrawat, was a head constable with the Delhi police who died in a road accident in 2013. He was 51 years old when he passed away. He joined the police force in 1989. She lives with her mother, Kamlesh, and brother, Harish, in Rohini, Delhi.
IPS Sahrawat said in an interview that it wasn't easy as the subjects were new and different from what she studied in school and college. She was initially studying at an institute in Rajender Nagar and made her first attempt in 2018. After that, she quit coaching and began studying on her own. She studied humanities, geography, and world history by herself and cleared the IPS exam in 2019.
---
Suggested Reading: Meet Aparajita Rai, Sikkim's First Woman IPS Officer