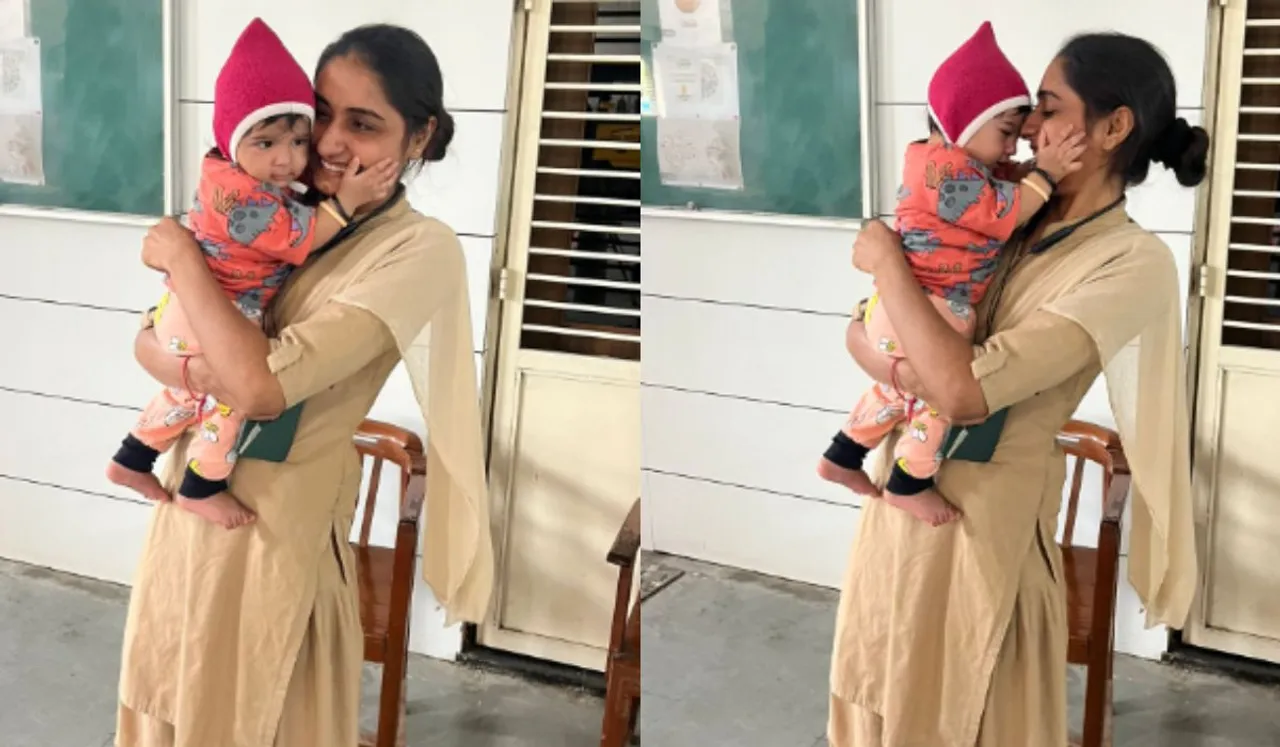 A woman constable in Gujarat is receiving praise for taking care of a baby while the mother was writing the Gujarat High Court's Peon recruitment examination on Sunday at Odhav.
The pictures of the woman constable taking care of the baby were shared on Twitter by the official Twitter account of the Ahmedabad police. The woman constable, Daya Ben, is seen holding and playing with the six-month-old baby.
Gujarat Woman Cop Takes Care Of Baby
The caption of the post revealed that a woman reached the Odhav examination centre with her six-month-old baby to appear as a candidate for the post of peon in the Gujarat high court. With the examination about to begin in a few minutes, the baby started crying continuously. That's when the female constable offered to look after the baby while the mother attended the exam without any hassle.
Ahmedabad police wrote that the child of the woman who came to attend the exam at Odhav was crying, and the police constable stepped in to help so that the woman could take up the exam without wasting any time and could "give the exam in an orderly manner."
ઓઢવ ખાતે પરીક્ષા આપવા માટે આવેલ મહીલા પરીક્ષાર્થીનુ બાળક રોતું હોય જેથી મહિલા પરીક્ષાથી નું પેપર દરમિયાન સમય બગડે નહીં અને પરીક્ષા વ્યવસ્થિત રીતે આપી શકે તે સારું મહિલા પોલીસ કર્મચારી દયાબેન નાઓએ માનવીય અભિગમ દાખવી બાળકને સાચવેલ જેથી માનવીય અભિગમ દાખવવામાંઆવેલ છે pic.twitter.com/SIffnOhfQM

— Ahmedabad Police અમદાવાદ પોલીસ (@AhmedabadPolice) July 9, 2023
Photos of the female constable holding and playing with the baby went viral on social media, and many netizens commended her for her heartwarming gesture.
One user wrote how proud they were of her. Another commented on how Daya Ben, the female police officer, stepped in to help a mother take up her exam by taking care of her child. A third netizen said that this was the identity of real police and pointed out how some parents threaten their children by saying that police would come and catch them if they were being mischievous. Many other comments poured in, saluting the Ahmedabad police family for their commendable work and praising the female police officer for being exemplary for mankind.
---
Suggested Reading: Chennai Woman Constable Saves Couple From Drugged Addicts