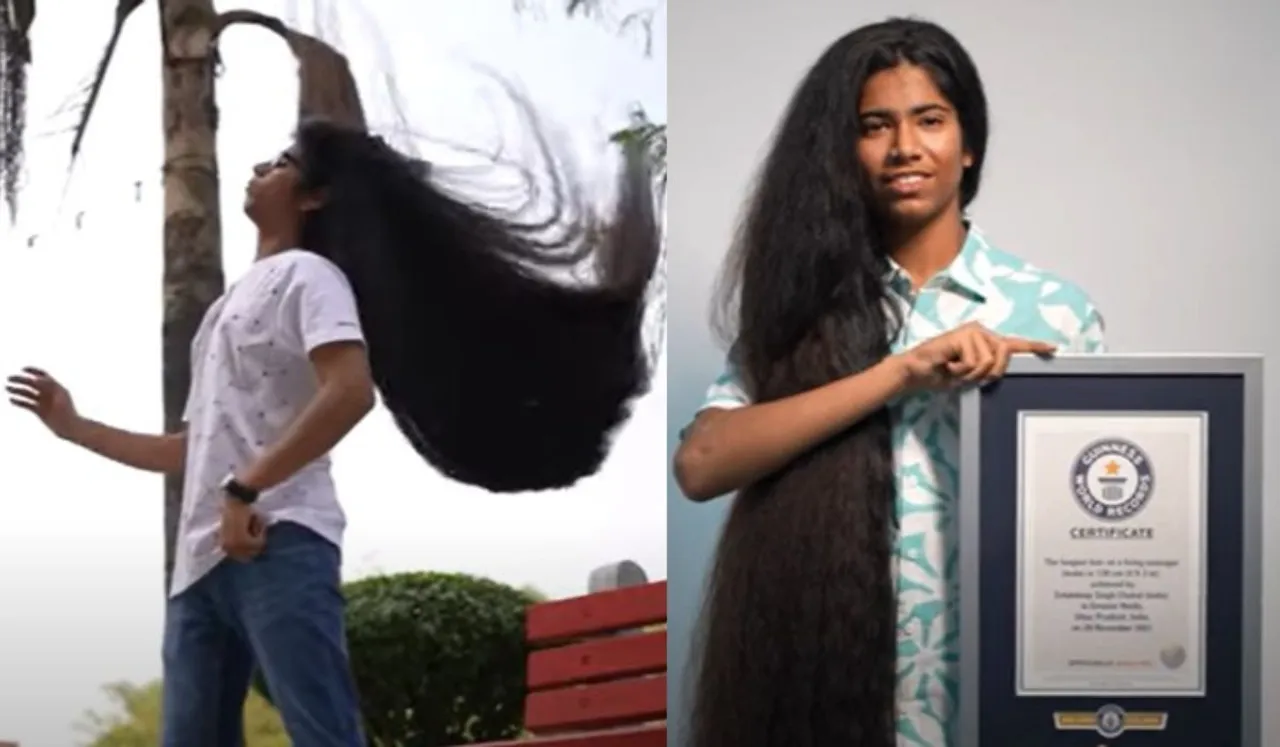 A teenager from Uttar Pradesh's Greater Noida has bagged the world record for having the longest hair. The 15-year-old will be featured in the Guinness World Records 2024 book for breaking the record. Meet Sidakdeep Singh Chahal, the teen who holds the world's record for the longest hair on a male teenager.
The Guinness World Records (GWR) took to its official YouTube channel to share a video of Sidakdeep Singh Chaha. In the video, Chahal is seen explaining how, as a child, he was unhappy with his long hair and "begged" his parents to cut it off as a result of being bullied by his friends.
However, as he grew older, he began embracing his long hair and realised it's a part of who he is, and he plans to keep it this way. Chahal, who follows Sikhism, has never gotten a haircut done in order to honour his religious beliefs. Currently, the length of his hair is 130 cm (4 ft. 3 inches).
UP Teen Bags World Record For Longest Hair
The video begins with glimpses of Chahal's mother helping him wash and dry his hair and then moves on to Chahal introducing himself while flaunting his long hair. He shared that people say that his hair is very long, thick, and voluminous and express their desire to have hair like his.
Chahal further elaborated on his haircare routine in GWR's YouTube video. "Washing my hair takes about 20 minutes and takes another 30 minutes to dry. After that, brushing my hair takes about 10–15 minutes." He said his mother helps him wash and comb his hair, adding that it would take him an entire day if it weren't for his mother's help. He credited his record-breaking achievement to his mother, for it would have been impossible without her help.
When not washing or drying his hair, Chahal usually ties his long tresses in a bun and keeps his head covered in a "dastar" (turban), as followed by Sikh customs.
The 15-year-old teenager said that people were initially shocked when he opened up about him bagging the GWR. They thought he was pulling their legs, and it took some proof to convince them. He also expressed how ecstatic he is to be a part of the Guinness World Records 2024 Book.
---
Suggested Reading: 6-Year-old Indian Origin Girl Becomes World's Youngest Game Developer