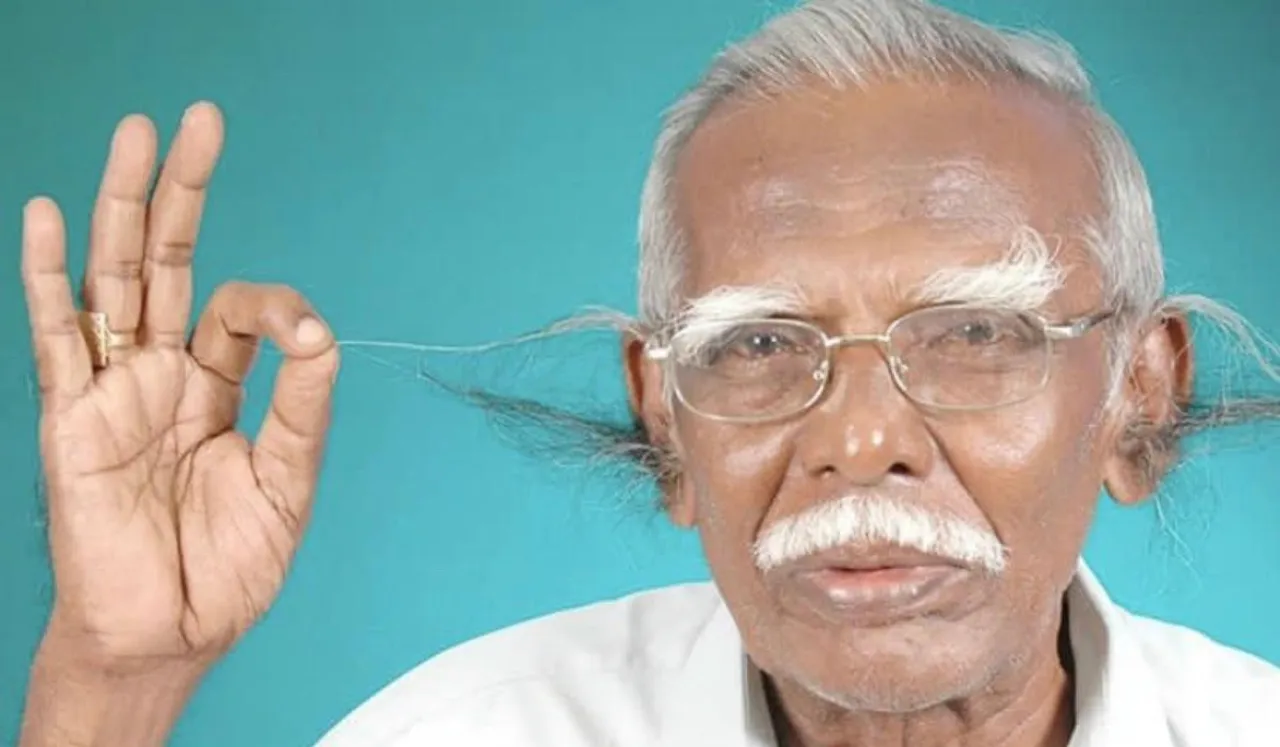 The Guinness Book of World Records holds narratives of diverse titles, a lot of them unheard of, from around the world. People have versatile talents, transformations and whatnot. In the latest title announced by Guinness recently, a man has made it to the record book for having the world's longest ear hair. Yes, ear hair, not hair. And it's none other than a person from our very own land. A Madhurai-based retired school headmaster has made it to the popular record book and the internet has gone all frenzy over the news.
Popularly known as the 'ear-haired teacher by most people around him, Anthony Victor's ear hair measuring 7.12 inches, a record which was set in 2007 and remains intact till this day, has made it to the Guinness Book of World Records 2023.
---
Suggested Reading: Argentina Couple Sets World Record For Most Body Modifications
---
World Longest Ear Hair Record
Anthony Victor worked as a teacher at a school in Madhuri and eventually became a headmaster. Now retired, Victor is still famous among his students and colleagues for his unique body feature. Victor always had long ear hair; how long? no one knew. However, he was always referred to as the 'ear-haired teacher.
On Thursday, the Guinness World Records announced through their social media page that Anthony Victor has made the record for having the world's longest unbroken ear hair. The ear hair measures 7.12 inches (18.1 centimetres) at its longest length point. Interestingly, according to the Guinness World Record, Victor holds the record since 2007, and he has gone unbeaten ever since.
Sharing Anthony Victor's photo, where he can be seen holding his ear hair length, Guinness Records wrote, "Anthony Victor's unbroken record for having world's longest ear hair. A retired school headmaster from India, Anthony Victor has hair growing from the middle of his outer ears. It measures 7.12 inches at this point. Victor's record was first set in 2007 and still remains intact to this day."
Victor's achievement of making it to the world record has left the internet in splits. "My entire life goal is to beat this record," joked an Instagram user. "Next record will be about the longest nose hair then," commented another.
A few days back, another record was the highlight of the internet when a couple from Argentina made it to the Guinness World Record for having the most body modifications. Gabriela Peralta and Victor Hugo Peralta set the record with several tattoos, piercings and implants done on their bodies out of the passion they carry for the same.