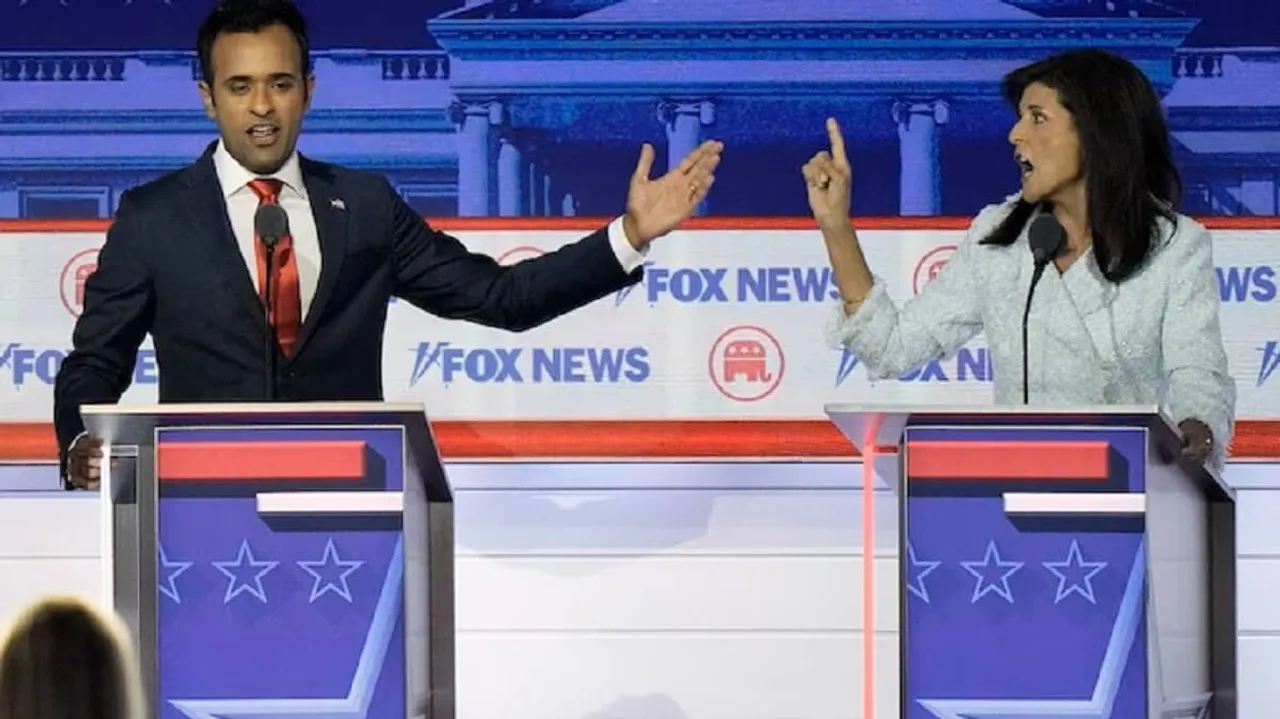 As many as seven Republican Party leaders participated in the Grand Old Party's (GOP) second debate for its 2024 US presidential election nominee pick. However, candidate Vivek Ramaswamy has caused a major uproar after stating "transgenderism, especially in kids, is a mental health disorder."
Ramaswamy further said that more than 50% of kids with gender dysphoria have considered suicide. "And yet politicians reject a law that would require schools to inform parents if their kids change their gender identity at school."
He then cites the example of two young women in their 20s, Chloe and Katie, whom he met during the campaign. The Republican presidential hopeful said that they regret getting a double mastectomy and a hysterectomy. "One of them will never have children. The fact that we allowed that to happen in this country is barbaric," he said, adding that he will ban genital mutilation and chemical castration.
More than 50% of kids with gender dysphoria have considered suicide. And yet politicians reject a law that would require schools to inform parents if their kids change their gender identity at school. Parents have a right to know about their kids: that shouldn't be controversial.… pic.twitter.com/AzvT2Pq8Om

— Vivek Ramaswamy (@VivekGRamaswamy) September 28, 2023
On August 23, the GOP's opening presidential primary debate took place for the 2024 United States Presidential Elections. Indian-American entrepreneur Vivek Ramaswamy garnered attention. The 38-year-old biotechnology entrepreneur unexpectedly became a prominent subject of interest for his views on the 9/11 attack, abortion, and his stance on the queer community.
The Debate About Abortion
When given the chance, the Republicans on the stage made no effort to downplay their firm opposition to abortion rights. However, a clear division emerged among the candidates regarding whether to advocate for a nationwide abortion ban.
Ramaswamy opposes the idea of a nationwide ban on abortion, stating that he believes "the federal government should refrain from intervening." Nevertheless, he has advocated for six-week abortion bans at the state level and characterised his stance as "unapologetically pro-life."
Nikki Haley urged her fellow competitors to be forthright with voters, acknowledging that a federal law enforcing a universal abortion ban across all states would probably face challenges in the closely divided Congress. She suggested returning the matter to the States and personally appealed for a more balanced approach.
"We should avoid demonising this issue," Haley stated. "We won't be sending a woman to prison... should she decide to undergo an abortion."
Ramaswamy said, elaborating, "Considering that laws concerning murder are typically within the domain of states, and given that abortion is regarded by the pro-life standpoint as a form of murder, it's inconsistent for this issue to be the sole federal regulation."
The Queer - The Third Gender?
Ramaswamy contended that the LGBTQ rights movement draws its foundation from beliefs rooted in faith rather than factual evidence, as its fundamental principles are inherently contradictory.
He pointed out certain aspects of the movement, such as the dynamics between lesbians and gay men, as well as the distinct nature of transgender identities. He emphasised that the movement asserts the inherent nature of sexual orientation from birth, despite the lack of a definitive "gay gene." 
Simultaneously, it claims that gender is entirely fluid throughout one's life, even though biological sex is determined by definitive chromosomes. 
According to Ramaswamy, the Pride flag serves as an example of "symbology" and "idolatry" that bolsters the "religious" convictions held by individuals within the LGBTQ community or reflected in the LGBTQ rights movement. He went on to suggest that the creation of the Progress Pride flag, could be viewed as the development of a "golden idol" stemming from these beliefs.
The Other Candidates On Abortion
On the opposing end, Pence, a devout evangelical Christian with a lengthy history of advocating against abortion rights, took a stand. Both Pence and Scott openly supported a national prohibition on abortions after 15 weeks, at the very least. 
"It's not solely a matter for individual states," he contended.
DeSantis, who recently signed a 6-week abortion ban into law in Florida, didn't explicitly express his stance on a federal ban when directly questioned. He did express pride in endorsing his state's stringent abortion ban, which is among the most restrictive in the country.

The Democrats likely found satisfaction in the discourse. They have already strategised to make abortion a pivotal focal point in the upcoming general election next fall.
---
Suggested Reading: Who Is Vivek Ramaswamy? Indian-American Announces 2024 US Presidential Bid