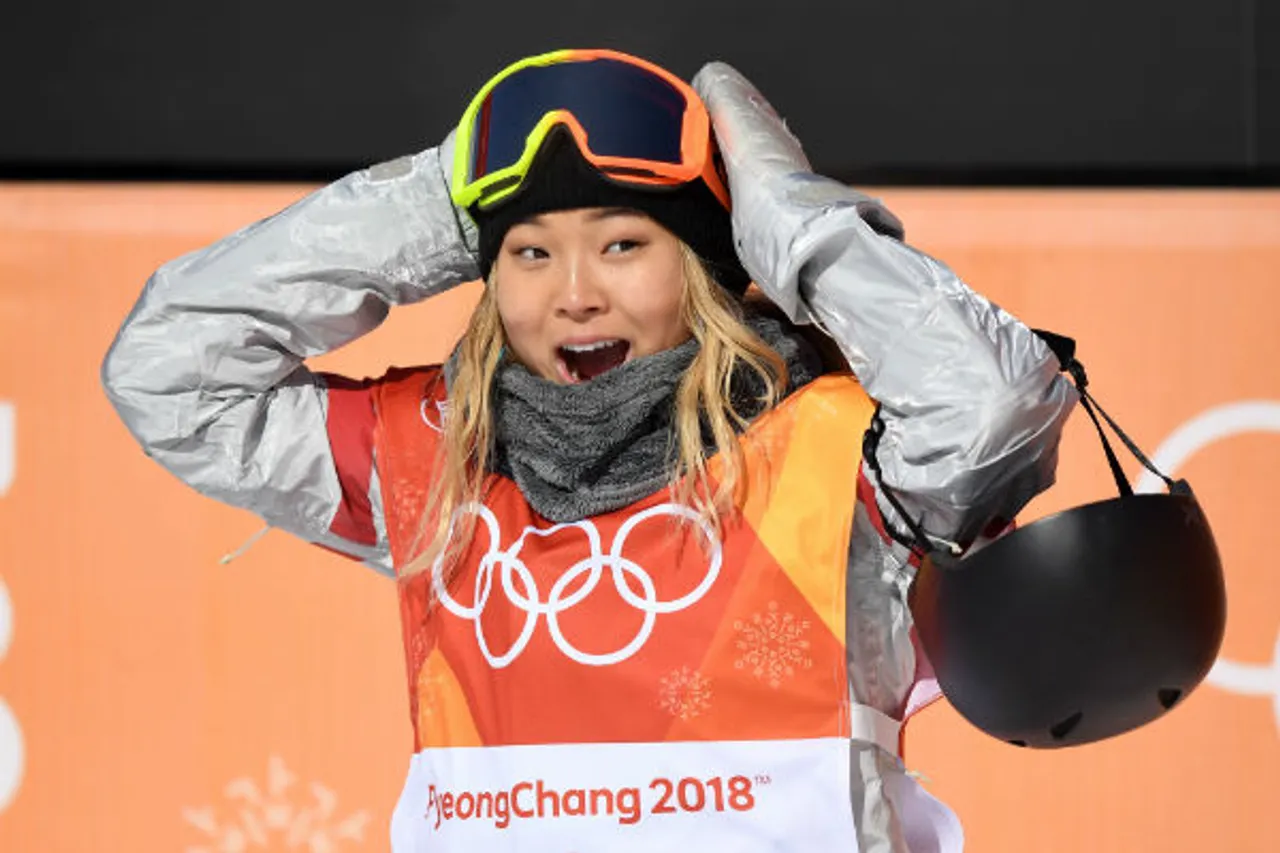 Chloe Kim was already an Olympic champion when she entered the competition even before becoming a star at the Winter Olympics. The 17-year-old snowboarder cemented her name in the history when she won the halfpipe gold medal at the Pyeongchang Olympics on Monday. Now with this feat, she is the rising American Olympic star with her dominating performance in the ladies' halfpipe.
Chloe Kim has won halfpipe gold at the Winter Olympics aged just 17!

So why are teenagers so good at snowboarding?

Find out here👇https://t.co/uyjUlH8Fzz#Pyeongchang2018 #bbcolympics pic.twitter.com/BbQ6v5SoUv

— BBC Sport (@BBCSport) February 13, 2018
After securing the gold medal in her debut Winter Olympics, the teenager threw down back-to-back 1080s, becoming the first woman to do so in the Olympics and scoring an inevitable 98.25.
Chloe won gold in the women's snowboard halfpipe final, making her the youngest female snowboarder to win an Olympic medal.
After winning Kim tweeted:
I hate crying but I'll give myself a pass for this one. Thank you everyone for the love! Stoked to bring home the gold pic.twitter.com/vxApf1lxbI

— Chloe Kim (@chloekimsnow) February 13, 2018
Californian Kim dominated the frozen field, championing a dozen riders as she launched out of a halfpipe, delivering on her long-due hunger for an Olympic gold medal.
READ: Sanya Richards-Ross Had Abortion A Day Before Flying To 2008 Olympics
Not only Kim showed a visually stunning performance but this Los Angeles' athlete earned a score of 93.75 in her opening run to clinch the gold, and had a near-perfect mark of 98.75 on her third and final attempt to remain the only female rider to have landed in competition.
Amongst the supporters, her dad had also taken up the front seat. 
jong jin kim cheering on his daughter.

the korean-american dream, y'all ???? pic.twitter.com/8czhPTKcS0

— Joon Lee (@iamjoonlee) February 13, 2018
Ultimate dad move by Chloe Kim's father to laminate his sign pic.twitter.com/EFYfiWvvwj

— SI Extra Mustard (@SI_ExtraMustard) February 13, 2018
Watching Chloe Kim is breathtaking. Watching her dad watch her IS LIFE. pic.twitter.com/c7nO78Pckn

— Richard Kim (@RichardKimNYC) February 13, 2018
With Kim taking up the top position, Liu Jiayu won the silver with an 89.75 to become the first Chinese snowboarder to win an Olympic medal while Arielle Gold of the United States took the bronze with a mark of 85.75 on a clutch final run.
READ: Friday Motivation: Inspiring Quotes From Sportswomen We Adore
"I don't really know what's happening right now," Kim said from the hill after her stunt. "This is the best outcome I could ever ask. It's been such a long journey and just going home with the gold is amazing."
Chloe Kim and Red Gerard are the two youngest snowboarding gold medalists in Olympic history at 17 years old.

What were you doing when you were 17? pic.twitter.com/0CJjCwp2KF

— SB Nation (@SBNation) February 13, 2018
She further added, "It means a lot just being able to do it where my family is from. A lot of pressure, but I'm happy I was able to do it here and do it for the fans and the family. It was a really fun moment for everyone."
Quick facts:
Chloe Kim started snowboarding when her father decided he wanted to learn -- and by age 5, he says she was already better than him. https://t.co/T8BbCTGnqb pic.twitter.com/QcbY9L9OHF

— NBC News (@NBCNews) February 13, 2018
GOLD for Chloe Kim! The 17-year-old has done it for Team USA in the women's snowboard halfpipe! #BestOfUS #WinterOlympics https://t.co/D65Nuoyydu pic.twitter.com/PtMvQ45SLh

— #TokyoOlympics (@NBCOlympics) February 13, 2018
Chloe Kim wins gold in women's halfpipe and turns her coronation into an exclamation point 🏂 @willgravesAP #Olympics More on @chloekimsnow: https://t.co/0m3ZIv1JBM pic.twitter.com/TDq2RG9xNg

— AP Sports (@AP_Sports) February 13, 2018
Snow Queen: American Chloe Kim dominates to take gold in women's halfpipe @WillGravesAP https://t.co/2CkBBXckyv pic.twitter.com/ljw7A7WOM3

— AP Sports (@AP_Sports) February 13, 2018
Snowboarding prodigy Chloe Kim landed a gold medal in women's halfpipe in Pyeongchang, South Korea, becoming the the youngest woman to win an Olympic snowboarding medal. https://t.co/0ClDI6VCO0 pic.twitter.com/A5tZifXMQT

— Fox News (@FoxNews) February 13, 2018
17-year-old @chloekimsnow is the daughter of Korean immigrants. Today she made history as the youngest woman to win a medal in snowboarding at the #Olympics. She won gold. pic.twitter.com/iF7dksgM52

— Women's March (@womensmarch) February 13, 2018
.@chloekimsnow's 1st hug with her mom and dad as an Olympic gold medalist. 🙌🥇 🇺🇸 #Pyeongchang2018 #Olympics pic.twitter.com/AtaCVfdiO8

— Coy Wire (@CoyWire) February 13, 2018
Congratulations Chloe, the new Olympic hero!
READ: Gabrielle Daleman Bags Canada's First Gold Medal In Figure Skating
Feature Image Credit: Time
Also Read: Meet The First African-American Woman In US Olympic Speedskating