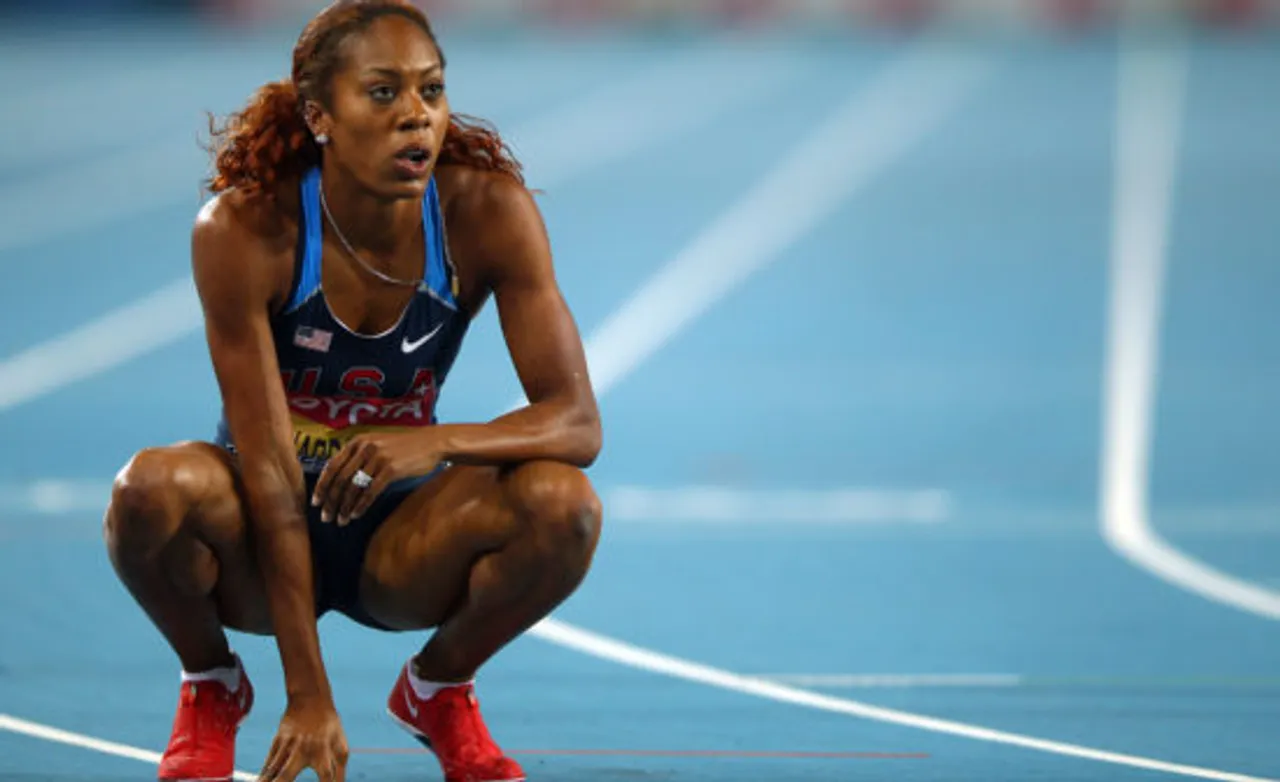 It was the 2008 summer Olympics. Olympians were flying off to Beijing to mark the day memorable. Olympic Gold Medalist Sanya Richards-Ross was fighting her own private battle.
The five-time Olympic medalist Richards-Ross has just released a new memoir in which she mentioned about having an abortion just weeks before sprinting in the 2008 Summer Olympic Games. The memoir, Chasing Grace: What the Quarter Mile Has Taught Me About God and Life reveals that before going for the gold, Richards-Ross had to make this personal choice, which in her own words had "cost her more than a gold medal".
There is no stone anyone can throw or any words anyone can say about me that I didn't feel about myself. I choose love and healing over hate

— Sanya Richards-Ross (@SanyaRichiRoss) June 7, 2017
"Over the phone, we didn't go into details," the 32-year-old US Olympic sprinter writes about the decision she made with football champion fiancé (now husband) Aaron Ross. "As if not saying it would alleviate some of the guilt and the shame," she adds.
During the time, the runner was engaged to Aaron and the couple had plans to marry in 2010. But the sudden pregnancy made it more difficult, especially as they both were budding athletes. Jamaican-American Richards-Ross was eyeing the Olympic gold.
"The culmination of a lifetime of work was right before me," she wrote in the book. "In that moment, it seemed like no choice at all. The debate of when life begins swirled through my head, and the veil of a child out of wedlock at the prime of my career seemed unbearable. What would my sponsors, my family, my church, and my fans think of me?"
READ: Athlete Rachita Mistry Won 20 Of Her 25 Medals After Childbirth
All the pressure went on her and even Ross couldn't able to be by her side because of training camp, while she underwent the procedure and boarded a flight to China the next day. The sprinter admitted that it was a decision that "broke" her, a scar that could never be healed. "Abortion would now forever be a part of my life," she described. "A scarlet letter I never thought I'd wear. I was a champion— and not just an ordinary one, but a world-class, record-breaking champion. From the heights of that reality I fell into a depth of despair."
Ultimately, the athlete found herself "broken, physically and emotionally" and took home the gold with her team in the 4 x 400 metres relay., However, she got a cramp in her hamstring and came in third and won bronze in the 300 metre race.
Since then, she had made a name for herself in the industry, celebrating triumphs in her athletic career and becoming the world champion in the 400 metre race the next year.
"I always harboured some resentment toward Ross. It was our mess-up, but I felt abandoned in the decision," she explained. "It was like by not saying anything, neither agreeing nor opposing, he kept his conscience clear, but it wasn't fair. We were in it together."
" explained to me that he was just as burdened by the decision as I was," Richards-Ross added. "He believed that our child in 2008 was a blessing we had rejected by always wanting to be in control."
"Many parts of our lives have felt like a fairy tale, but this is our biggest blessing yet," the couple told People. "We are so excited to start a family and can't wait to begin this new adventure!"
Now, as the couple is expecting again, she shared how the decision never left their sight and always haunted them even though both the players are in their careers' best. "This book is my personal anthem and I hope readers realize they have greatness within to outlast the challenging stretches of every journey.  I hope to encourage people to stay the course and achieve their highest potential," she explained when asked why she chose to write about her decision to have an abortion.
Also Read: Deepa Malik becomes First Para Athlete to Endorse a Soft Drink Brand
Feature Image Credit: Women's Sports Foundation
ALSO READ: Sportswomen Who Made India Proud In 2016
Join Us on https://www.facebook.com/SheThePeoplePage
Follow Us on https://twitter.com/SheThePeopleTV