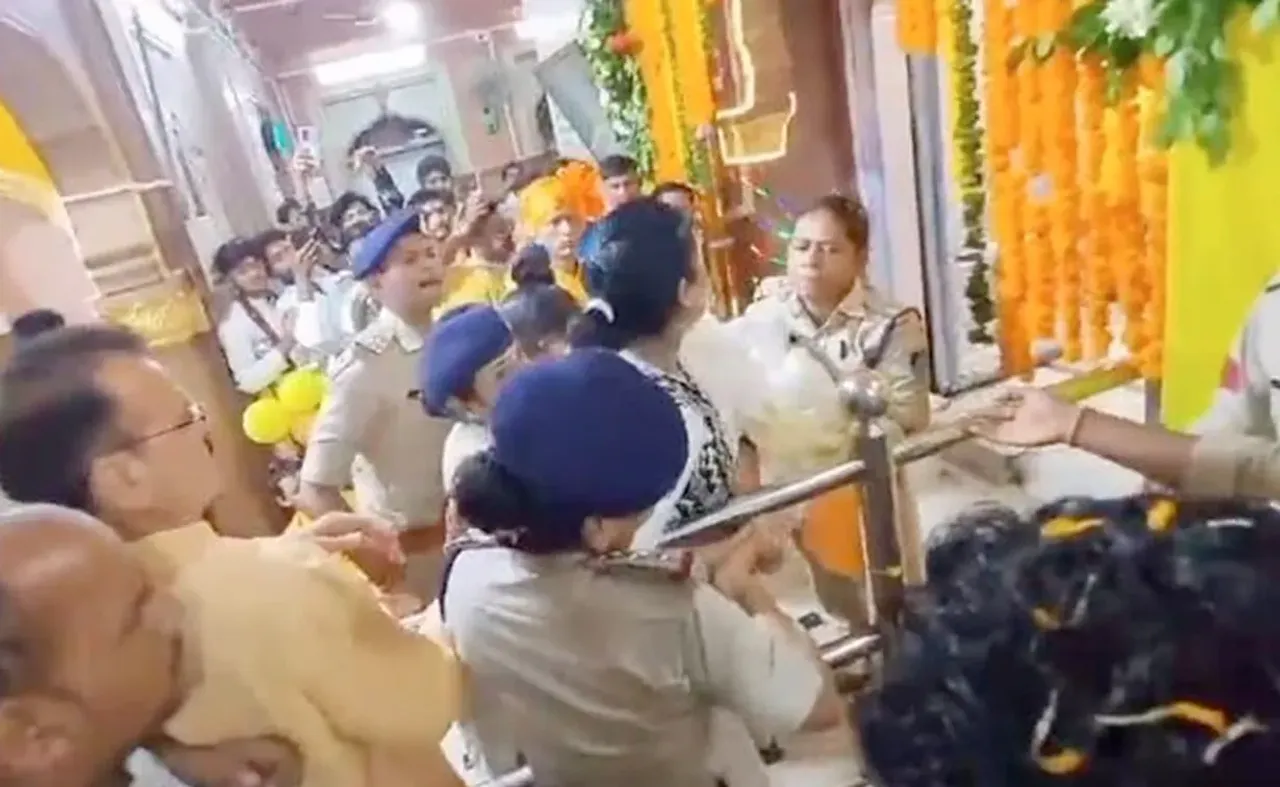 The Janmashtami celebrations at the Shri Jugal Kishore temple in Panna, Madhya Pradesh, took an unexpected turn when Jiteshwari Devi, a member of the region's erstwhile royal family, was arrested amid allegations of violating temple customs. 
The incident has sparked controversy, leaving many perplexed and raising questions about the circumstances surrounding her arrest.
The Janmashtami Celebrations
Each year, the birth anniversary of Lord Krishna is marked with great fervour at the Shri Jugal Kishore temple, an important religious site in the Bundelkhand region encompassing the Panna district.
This year was no exception, with the customary midnight celebration in full swing.
According to temple officials, the controversy arose when Jiteshwari Devi purportedly attempted to disrupt the temple rituals by insisting on conducting the 'aarti' herself. 
Matters escalated when she sought entry into the temple's sanctum and, in the process, tripped and fell. 
The ensuing commotion prompted the intervention of local law enforcement.
A video capturing the incident quickly went viral on social media, revealing a heated exchange between Jiteshwari Devi, temple authorities, and the police. 
Local witnesses present at the temple have alleged that she was inebriated and engaged in a physical altercation with the temple authorities.
The Arrest
In a dramatic turn of events, Jiteshwari Devi was physically removed from the temple premises by police personnel. 
Panna Superintendent of Police Sai Krishna S Thota explained that, traditionally, only male members of the royal family are responsible for performing the "Chaanwar," a ritual involving the use of a broom, during Janmashtami. 
As her son was unable to attend the temple, Jiteshwari Devi reportedly assumed this role herself.
Following her arrest, Jiteshwari Devi levelled serious allegations against the Madhya Pradesh government. 
She claimed that a staggering ₹65,000 crore had been embezzled from the Defence Welfare Fund in Panna, and she believed her arrest was a direct result of her outspokenness regarding this alleged scam.
As investigations unfold, the incident continues to attract public attention and scrutiny, leaving many to ponder the complex intersection of religion, royalty, and allegations of corruption in the heart of Madhya Pradesh.
---
Suggested Reading: In Attempt To Save Son From Attack, Man Beaten To Death With Bricks
---