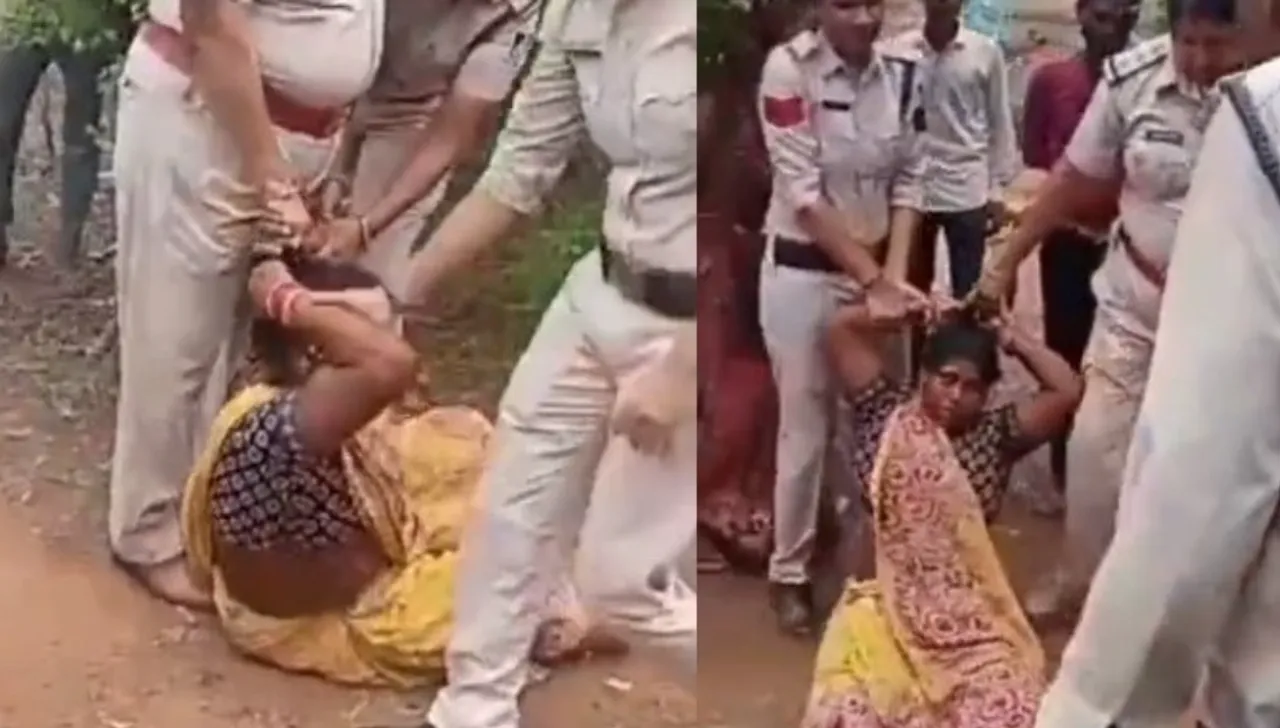 A woman in Madhya Pradesh was subjected to an alleged assault, mistreatment, and forceful hair-pulling by female police officers. This incident occurred after she was denied permission to set up a power tower on her farm in the Katni district.
What Was The Incident?
According to local accounts, this incident took place on July 6 this year. However, it wasn't until recently that a video of the incident went viral on social media after the woman filed a complaint with the collector. 
Chainabai Kanchi (45), from Bahoriband tehsil, Katni district, said that she was opposed to the installation of an electricity tower on her farm, for which she was unprepared.
On the said date, without prior notice, SDM Pradeep Mishra, Tehsildar Shashank Dubey, and a contractor arrived at the scene accompanied by the substantial police force. They proceeded to break into the farm using a JCB. When the woman voiced her protest, the police resorted to physical violence, including beating her, forcibly dragging her by her hair, and subjecting her to verbal abuse.
MP | Brutality |

कटनी ज़िले की चैनाबाई कांछी (45) के खेत में कथित बिजली का टावर लगना था जिसके लिए वो तैयार नहीं थी।

बिना सूचना के 06-07 - 23 को SDM प्रदीप मिश्रा एवं तहसीलदार शशांक दुबे और ठेकेदार पुलिस बल के साथ JCB लेकर आए और बाउन्ड्री तोड़ने लगे।

जब महिला ने इसका विरोध किया… pic.twitter.com/bt2qCDQgmk

— काश/if Kakvi (@KashifKakvi) August 16, 2023
In response, her two daughters also joined the protest, only to be met with the same mistreatment—being dragged by their hair and subjected to physical assault.
Following this, both Chainabai and her daughter Poonam were taken into custody under CrPc Section 151, which pertains to arrest without a warrant in anticipation of a potential crime. They were detained in jail for a period of two days.
What Happened Next?
Several individuals present at the scene captured videos of the incident, although these videos were subsequently deleted by the police. Nonetheless, one video remained and has since gained widespread traction across social media platforms.
Women Lodges Complaint
After their release from jail, the woman lodged a complaint with the collector three days after the event, on July 7. Despite her efforts, no action was taken. She renewed her complaint on August 10, this time with the video as evidence, yet still encountered a lack of response.

However, following the viral dissemination of the video depicting the incident, the police have challenged her claims as being 'unfounded'.
Police's Response
Labelling the police intervention as 'lawful', Manoj Kedia, the ASP of Katni, asserted that the woman was objecting to the tower installation and is currently disseminating inaccurate information.
'The issue revolves around land encroachment. The Power Transmission Company is in the process of erecting towers for the 132KV line. This task has already been accomplished in certain areas. The woman depicted in the video was protesting against the installation, prompting a response from the female police personnel in accordance with legal provisions,' he stated.
He added that the woman was aware that actions were being taken to address the encroachment matter, but is now propagating falsehoods.
Suggested Reading: Outrage In MP As Released Rape Convict Repeats Heinous Crime