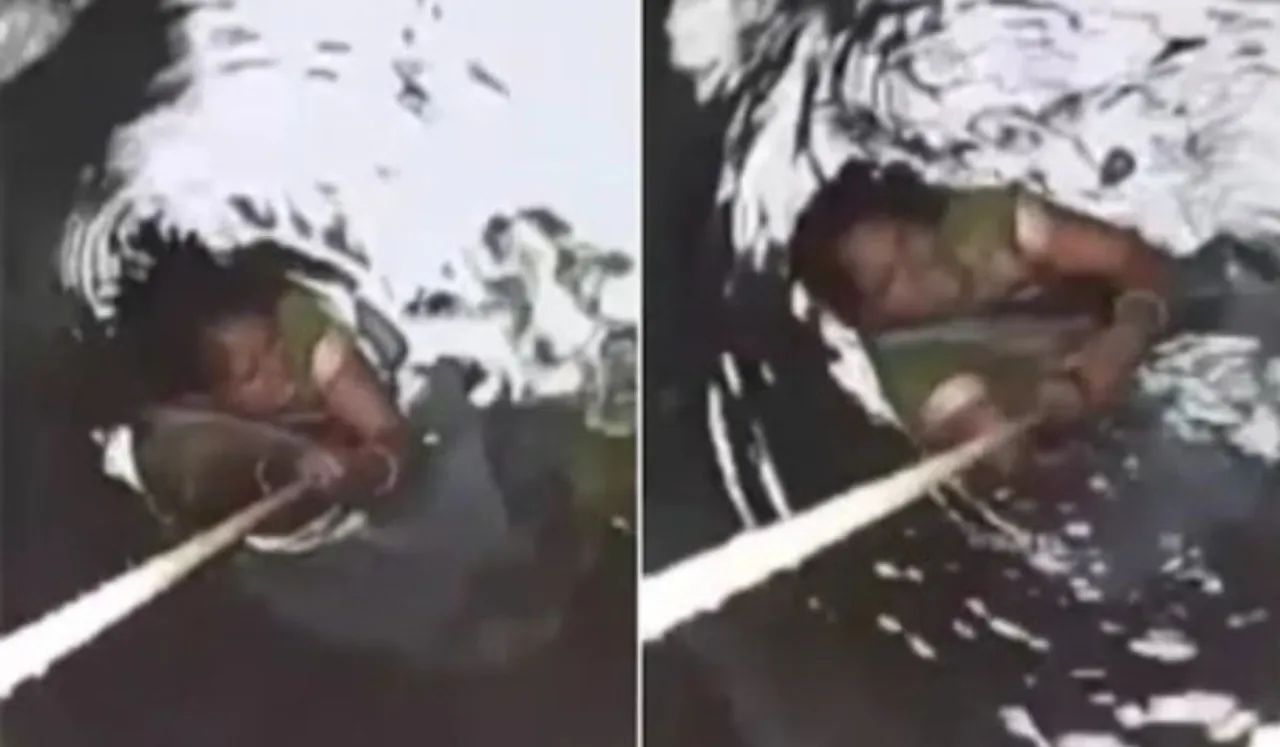 Madhya Pradesh police have arrested a man for hanging his wife in a well in demand for dowry. The horrifying incident happened in Neemuch on August 20. The man identified as Rakesh Kir hanged his wife, Usha, in a well and filmed it. He sent the video to her family, demanding dowry.
The video shows the aggrieved woman hip deep into the well, hanging by a rope tied to her hand, while the man is filming the inhumane act. The woman's family immediately contacted some people from the village and requested that they save their daughter.
MP Man Hangs Wife In Well Demanding Dowry
The issue was reported to the police, following which Rakesh was arrested. Police officials stated that the accused had demanded a dowry of Rs. 3 lakh to 5 lakh from the woman's family.
Despite dowry being deemed illegal, government reports indicate about 20 women die every day in our country as a result of dowry-related harassment between 2017 and 2021. Data shared by Union Minister of State for Home Ajay Kumar Mishra revealed that 55,493 dowry deaths were reported between 2017 and 2021. Uttar Pradesh had the highest number with 11,874 dowry deaths, followed by Bihar with 5,354, Madhya Pradesh with 2,859, West Bengal with 2,389, and Rajasthan with 2,244.
Reason Behind The Alarming Numbers
This number is extremely worrying given that the Dowry Prohibition Act has been in motion since 1961. 40 years down the line, this number is highly alarming. Why is the practice of dowry still at bay in our country? Unfortunately, despite laws that criminalise dowry, it is a matter of pride for both the bride's family and the groom's family.
In a patriarchal society like ours, the groom's family values the bride based on how much dowry she brings, and the bride's parents take pride in sending their daughter a good amount of dowry. Today, dowry is disguised as "gifts," but in some cases, it turns out to be the starting point of harassment. Dear parents, once you start giving, there's no going back, and it's only going to entrap your daughters into life-threatening situations.
Start Saying "No!"
So, what is it going to take to prevent the unfortunate deaths of women due to dowry-related harassment? It definitely calls for a change in society's attitude. Only when parents with daughters stop feeling the necessity to send their daughter to her marital home with "gifts" and start turning down dowry demands will parents of sons begin to stop making demands. How much longer are parents going to pay a man and his family to get their daughter married? How shameful is it to determine your own daughter's value with money?
---
Suggested Reading: Woman 'Sends' Baraat Back Over Dowry Demand, Spearheading Action Against It