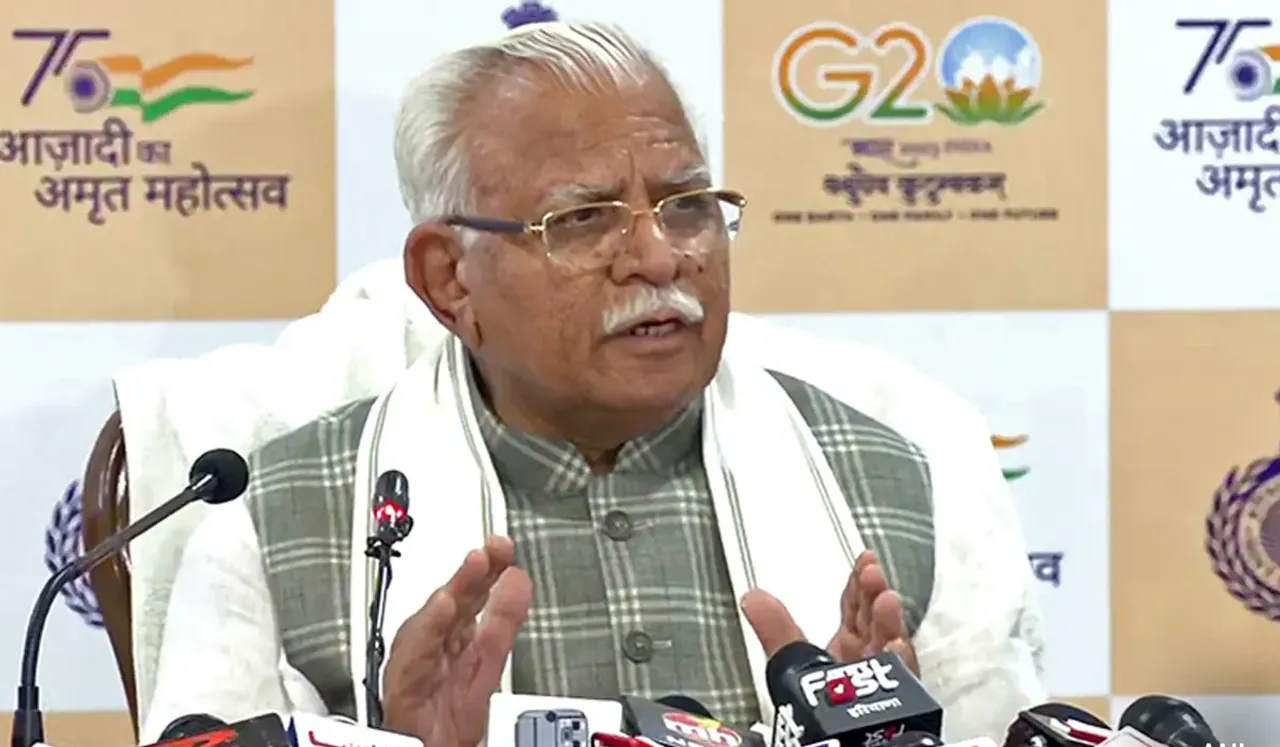 Haryana Chief Minister Manohar Lal Khattar faced criticism for his response to a woman's request for a factory in her neighbouring village during a public event.
Reportedly, he made a comment suggesting that she would be sent on the Chandrayaan-4 mission in the future.
In an unverified video that gained widespread attention, the woman can be heard requesting the establishment of a factory in the nearby village to create job opportunities for women.
In the video clip, Khattar's purported response was, "Agli baar chaand ke upar ek aur jo jayega na Chandrayaan-4, usme bhejenge. Baith jao. (Next time, when we send someone on Chandrayaan-4 to the moon, you will be sent. Please have a seat.)" Following this incident, opposition parties, including the Congress and AAP, condemned Khattar's remarks.
Here's everything to know about the controversy:
-The exact location of the public gathering in the video is unclear, but Khattar was reportedly in the Hisar district as part of his Jan Samvad program. The brief video clip was shared on social media by some leaders from the Congress and AAP in the state, leading to criticism.
Senior leaders like Randeep Singh Surjewala, Deepender Singh Hooda from Congress and Anurag Dhanda from AAP expressed their disapproval of Khattar's comments.
"The BJP and RSS exhibit a consistent pattern of disdain and disregard for women. The Chief Minister of Haryana from the BJP, driven by a sense of entitlement, shamelessly exhibits this same regressive attitude towards women. When a woman requested the establishment of a factory in her locality to create job opportunities for herself and others, CM Khattar publicly and mockingly responded, 'Next time Chandrayaan goes to the moon, I will send you there.' This is deeply troubling," Surjewala expressed on X in Hindi.
महिलाओं के प्रति तिरस्कार और अपमान का भाव, भाजपा/RSS के DNA में ही है !

हरियाणा के भाजपाई सीएम सत्ता के अहंकार में, उसी "महिला विरोधी सोच" का प्रर्दशन बेशर्मी से कर रहे हैं !

एक महिला के ये कहने पर कि- उसके क्षेत्र में फैक्ट्री लगा दी जाए..ताकि उसे और वहां की महिलाओं को भी… pic.twitter.com/jWGaIXET7O

— Randeep Singh Surjewala (@rssurjewala) September 7, 2023
-In a social media post, AAP's Anurag Dhanda expressed his disappointment, stating, "It's unfortunate for Haryana to be under BJP rule." He further criticised the Chief Minister, saying, "It's a shame that elected officials who are meant to serve the public are now making a mockery of them."
महिला - फैक्ट्री लगवा दीजिये ताकि हमें रोजगार मिल जाए|

मुख्यमंत्री खट्टर - "अगली बार चंद्रयान 4 जाएगा तो उसमें तुमको भेजेंगे"

वाकई ये हरियाणा का दुर्भाग्य है कि यहां बीजेपी का शासन है| pic.twitter.com/7386oAKhgF

— Anurag Dhanda (@anuragdhanda) September 7, 2023
- Congress leader Deepender Hooda remarked how mocking the sentiments and demands of the public, particularly women, during public events has sadly become a regular practice for Chief Minister Khattar.
सार्वजनिक कार्यक्रमों में जनता, खासतौर पर महिलाओं की भावनाओं और मांगों के साथ भद्दा मजाक करना मुख्यमंत्री खट्टर साहब की दैनिक दिनचर्या हो गई है।

मेरी बात नोट करके रख लीजिए, इस बार इनका ये अहंकार बुरी तरह टूटने वाला है। pic.twitter.com/dXSJ5Py5Ip

— Deepender S Hooda (@DeependerSHooda) September 7, 2023
---
Suggested Reading: 9-Year-Old Girl Dies While Watching Dahi Handi As Balcony Collapses