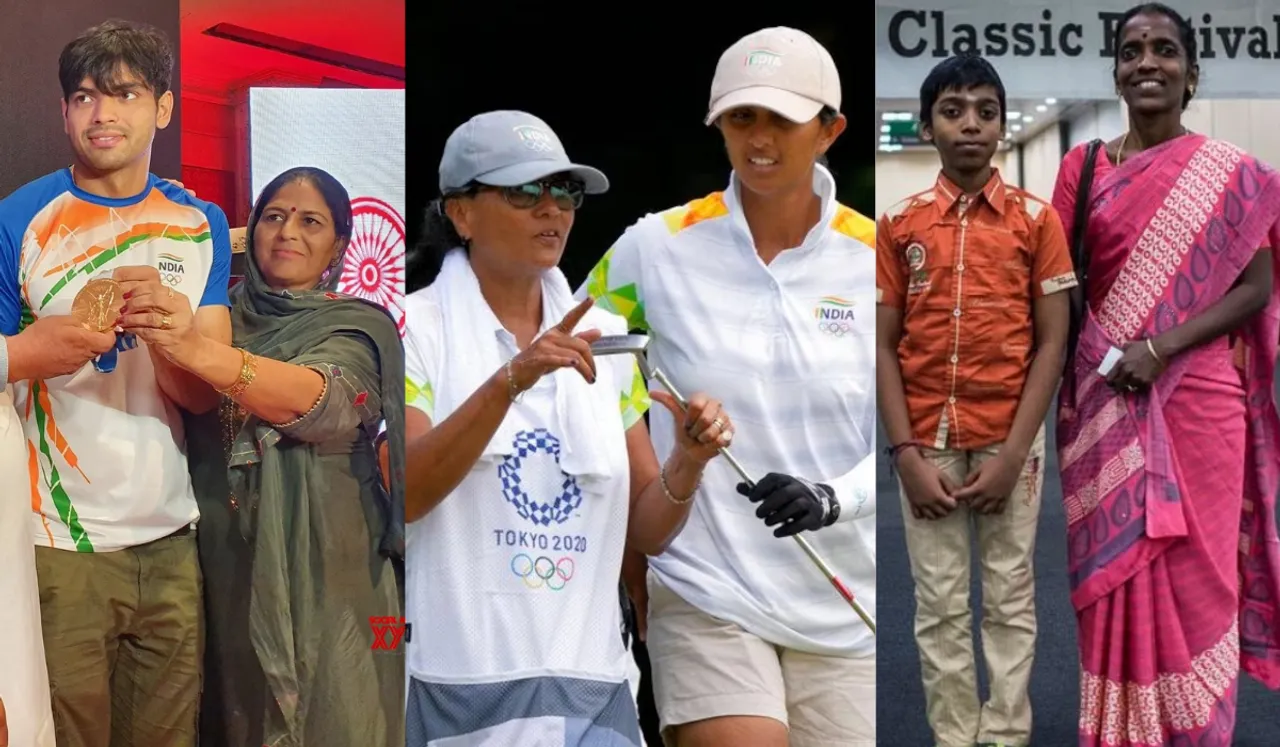 As National Sports Day 2023 unfolds, we step into a realm pulsating with dynamic athleticism, where Major Dhyan Chand's legacy merges seamlessly with the modern sports spirit, uniting generations. This harmony resonates powerfully with the recently held 2023 World Athletics Championships, a canvas of passion where athletes, including India's own, shattered borders in their quest for victory.
Athletes from all corners, including Indian representatives, transcended boundaries to chase victory and their journey resonated with shared dreams and emotions, encapsulating the unity and passion that defined this extraordinary event. Amidst the cheers and challenges, there's a common force that drives every athlete forward: the unbreakable support of their mothers.
Behind every athlete's remarkable journey lies an unsung hero: their mother, the backbone that provides unwavering support, fierce determination, and boundless love. Here are a few inspiring instances where athletes and their mothers illuminate the path to triumph:
Neeraj Chopra and Saroj Devi
In a historic moment, the 'Greatest of All Time,' Neeraj Chopra, achieved a stunning triumph in the javelin throw competition at the 2023 World Athletics Championships in Budapest. Securing the first-ever gold medal for India in the tournament, the 25-year-old showcased the skill that earned him Olympic glory.
The victory stirred immense joy across India, particularly due to his win over a Pakistani opponent, sparking nationwide celebrations. What truly captured hearts, however, was Chopra's mother, Saroj Devi's, response to a reporter's question about her son's victory over a Pakistani rival.
A viral video captured Saroj Devi's post-achievement interview, where she gracefully addressed her emotions about her son's win. When asked about her feelings regarding his victory against Arshad from Pakistan, she eloquently stated, "In the field, everyone competes, and someone will definitely emerge as the winner. Nationalities, be it Pakistan or Haryana, don't matter in the sporting arena."
A reporter asked #NeerajChopra 's mother about how she feels about Neeraj defeating a Pakistani athlete to win gold.

His mother said : A player is a player, it doesn't matter where he comes from, I am glad that the Pakistani player ( Arshad Nadeem) won as well.

This whole… pic.twitter.com/imk3ZHyLrC

— Roshan Rai (@RoshanKrRaii) August 28, 2023
Aditi Ashok and Maheshwari 
Aditi Ashok, a prodigious force in Indian golf, has shattered barriers and rewritten records with her unmatched prowess on the greens. From becoming the youngest winner of the Ladies European Tour to representing India at the Olympics, Aditi's journey embodies grit, talent, and inspiration.
Aditi Ashok's journey in the world of golf is beautifully shaped by the pivotal roles her parents play, as she shared in her previous interview. While her father's guidance and technical expertise carve her path, it's the profound influence of her mother that casts a soothing light on her journey.
Aditi's reliance on her parents underscores the significance of their roles in her life, with her mother's nurturing and calming presence creating a sanctuary that allows Aditi to focus and excel on the course.
As Aditi continues to leave her mark in the world of golf, it becomes evident that her mother's role is not merely supportive but transformative. Her mother not only caddies for the Indian golfer, but her unwavering support forms a cornerstone of strength and inspiration, reminding us of the profound impact a parent's dedication can have on an athlete's performance.
Rameshbabu Praggnanandhaa and R. Nagalakshmi
While the world stands in admiration of Rameshbabu Praggnanandhaa's remarkable silver win at the FIDE Chess World Cup in 2023, it's his mother who emerges as the unsung hero behind this historic achievement. R. Nagalakshmi stood by Praggnanandhaa's side throughout his matches, with heartwarming images of her radiant pride as her son soared garnering widespread attention online. Commencing his chess journey at just five years old, Praggnanandhaa's ascent was nurtured by his family, particularly his father Ramesh Babu, sister Vaishali, and his pivotal source of support—his mother, Nagalakshmi.
Nagalakshmi, once a homemaker, seamlessly balanced familial responsibilities while dedicating herself to accompanying her son to international chess tournaments. Her unwavering presence, an embodiment of love, encouragement, and unwavering strength, became a steady beacon in his journey. Nagalakshmi's silent contributions, bolstered by her presence in every match, signify the profound impact of maternal devotion, illustrating how her support has been a cornerstone in shaping Praggnanandhaa's remarkable path to success.
R Praggnanandhaa becomes the second Indian, after Viswanathan Anand, to reach the Chess World Cup semifinals. The joy on his mother's face is just ❤️🥹 pic.twitter.com/fyU4ieQYsz

— Divya Gandotra Tandon (@divya_gandotra) August 18, 2023
---
Suggested Reading: Meet The Women Scientists Who Put India On The Moon