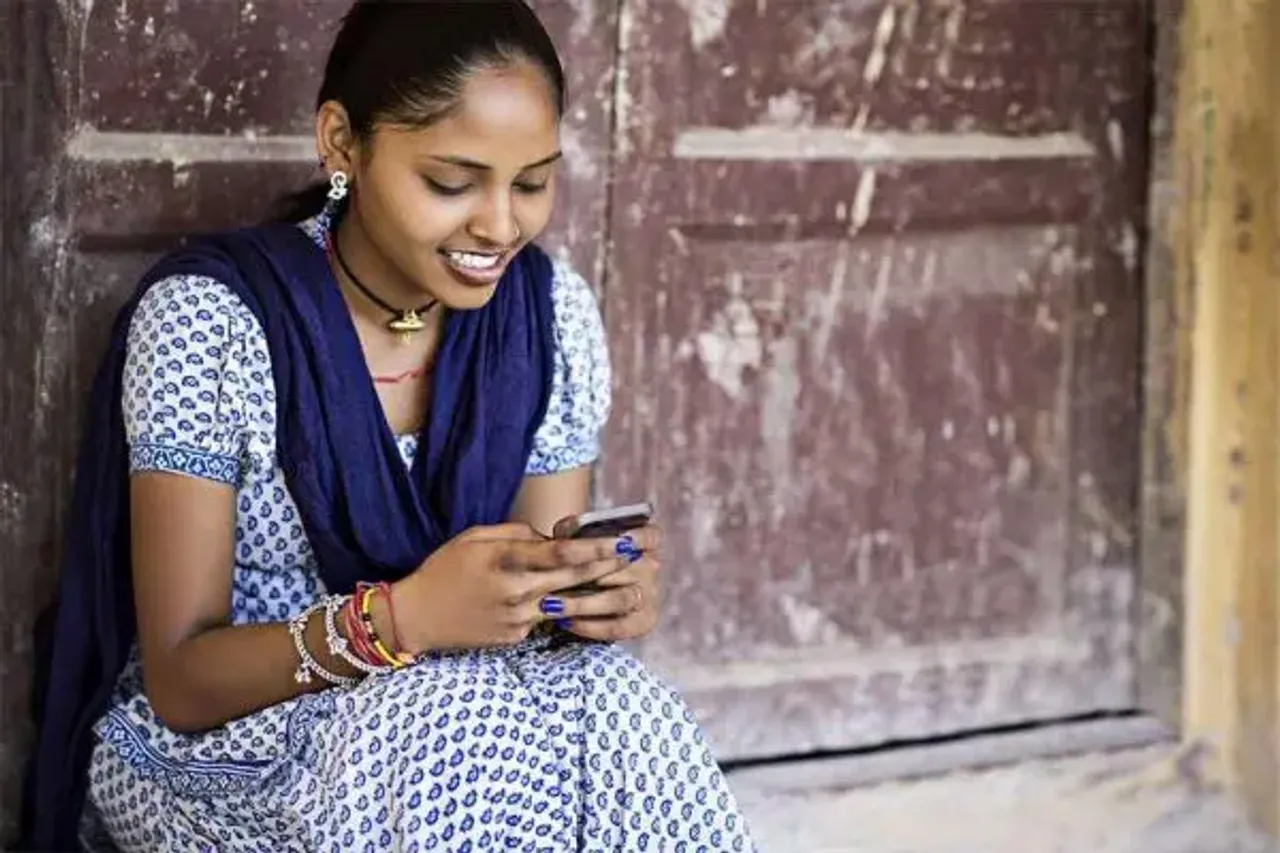 Bhoomi Rawal*, 22 years old, a resident of Shera block in Panchmahal district, was beaten up by her brother, and her father restricted her movements when they found that she was in touch with the young man with whose family her parents were talking about her marriage.
Bhoomi was given a mobile when she started interning with an NGO in her area. Her parents were angry that she was talking to the boy while the marriage talks were still going on. She had to discontinue her internship, but later she was able to resume it after women from the NGO came and explained that she had a right to keep a phone and use it as per her choice. Later, her marriage was arranged with the same boy who she was talking to. She will get married to him shortly, but twice she was beaten up for keeping in touch with the same boy via her mobile. 
Mobile Ban For Girls In These Gujarat Villages
Rupal, a 21-year-old young woman from a village in Devgadh Block in Dahod district, eloped with her partner but was brought back by her family, and her mobile was confiscated. She had to start living with her family, but there were many restrictions on her, and she was not able to get access to her mobile. She passed the class 12 examination and wanted to enrol in a nursing course of ANI during the Covid pandemic but was unable to do so as she didn't have a mobile and her father and brother wouldn't give her one. Finally, she joined the Devgadh Mahila Sangathan, a women's network and started working there. She was able to finally get a mobile which was necessary for her work, but she said life for a woman is not easy, especially with such restrictions. She felt that mobile phones were now a necessity.
Sarmista, 22 years, a resident of another village in Devgadh Block, had a mobile given to her by her boyfriend, but it was found by her brother, who took it away. She was then restricted in her house, but after sustained efforts, she was able to get her phone back. She has completed her graduation and has now started working as a health worker, and it was her job which helped her convince her father and brother to let her keep her mobile. Ironically, her brother eloped with a girl. He had also given his wife a phone and communicated with her, but there were different standards for men and women in her family and also in the village.
Pooja Vanzara, 21 years, from a village in Devgadh Baria, is a daily wage earner. She has six brothers and three sisters. All her brothers own and use mobiles, while she and her sisters don't have mobiles and are not allowed to keep one. She says she will remain without a mobile as she doesn't want to go against her family's wishes. She has completed her class 10 studies and would like to learn sewing in future, but apart from this, she wants to toe the family line. 
Even though the government of India is promoting the Digital India initiative in a big way and Gujarat, college students are even given electronic tablets to enable students to get digitally empowered, thousands of girls in hundreds of villages of several districts in Gujarat are banned from keeping and using mobiles on the pretext that it would spoil them. 
Taking away agency 
This ban is being applied in villages of Dangs, Panchmahals and Mahisagar districts which are all tribal districts of the state located on the eastern border of Gujarat. There are a total of 14 tribal districts in Gujarat out of 26 total districts, and most of them are lagging in various development parameters like life expectancy, child mortality, maternal mortality, infrastructure development, having good hospitals, colleges and other facilities, etc. 
This mobile ban is adversely affecting girls whose agency has been taken away from them, and if they are found with mobile phones, they are often beaten up, restricted in their houses and the mobile phones taken away from them. In some cases, their studies are discontinued, and they are married off early.
Parents and village elders believe that their girls are getting spoilt by mobiles as they are using them to get in touch with boys and elope with them, so there is a collective decision in all these districts to not allow girls and young women to use mobiles. They don't want the girls to bring shame to their families, say village elders.
In an extreme case three years ago, a 17-year-old Adivasi girl from Kuva village in Devgarh Baria block of Dahod district committed suicide by consuming poison on June 8, 2020. It is reported that her parents found that she had a mobile, so she took this extreme step. Ironically, the mobile was not hers but her friend's. The other girl had given it to her for safekeeping so that her parents would not find her with the mobile. 
Whenever a mobile is found with any girl, it is always assumed that she has been given a mobile by a boy with whom she is having an affair. Though in some cases, this is true also, most of these girls are adults, and they have a right to decide who they want to talk to or have a relationship with. 
Interestingly, there is no such blanket ban on girls owning and using mobiles in the Saurashtra region of Gujarat which is in the western part and also in Central and Southern Gujarat. 
It must be pointed out that there is very good internet connectivity and, therefore of, mobile connectivity in all districts of Gujarat. 
Also, most girls and young women in these districts have accepted the mobile ban, and most feel that it is for their good. There is hardly any protest against this ban, this correspondent found. In fact, here, village elders control all aspects of their lives, including marriages, education, jobs, etc. There are a lot of patriarchal practices in these villages. The families decide who they will marry. Sometimes if a girl elopes with her boyfriend, villagers hunt the couple and bring them back to their villages, where they are separated, and the girl marries off forcefully. So often, couples who want to get married and face family opposition commit suicide together. Their bodies are found hanging from trees. Dozens of young men and women have taken this extreme step in these districts. 
As per police records, as many as 149 persons committed suicides in Panchmahals in 2020 and 117 in 2021, while in Dahod, 103 committed suicides in 2020 and 82 in 2021. Many of these were found hanging on trees as couples. 
"It is not as if we will use the phone only to talk to boys. Mobiles are needed as we have to travel out of the village daily to go to college or to work. If we are not able to get transport in time, we need to inform our parents. Also, we have to talk to other students or friends, so mobiles are a necessity now," said Sarmista, who felt that such a ban is gender discrimination. She is among the few girls who oppose the mobile ban.
Confirming that such a ban exists in his village, the Sarpanch of Padardi village in Shera block of Panchmahal district, Premsinh Mohansinh Baria, said, "We have a 50 percent ban, we allow girls of good families to use mobile for studies only. But other girls, we feel, will get spoilt, so we don't allow them to have mobile phones. But they can use their father's or brother's phone if they need it for studies".
He, however, was not able to explain what he meant by girls from good families. Padardi village has a majority OBC population with families from Scheduled Tribes and Schedules Castes also residing there. Baria also said that they could also ban it for boys if they are found to be misusing the mobiles, but such a ban has never been implemented. When asked what he meant by misuse, Baria said, "Girls could be talking to boys, so they will be spoilt that is why they are not allowed mobiles."
Baria's own daughter studies in class 12 and uses her father's phone if she needs it for education purposes.
Another Sarpanch elected for his first term in Asaydi village, Devgadh Baria block of Dahod district Ratnasing Sabubhai Patel also said that there was a ban on girls using mobiles in his village. He said, "People fear that girls will be led astray if they use mobiles, so there is a restriction on girls to use mobiles. I know that mobiles are a requirement these days, and the government is also encouraging people to get digitally empowered." 
"We have not yet thought of removing the ban, and there is no such discussion in the gram panchayat as yet," said Patel when, as if there was any move in his village to change the status quo regarding the ban on mobiles for girls. At 33 years of age, Patel is a young sarpanch.
Meanwhile, the local MLA from Dahod Kanaiyalal Bachubhai Kishori said that there is a need for awareness to be created at the village level. "People in some of these villages still live in the past, but whenever I go for a public meeting, I try to address such issues. They need to be made aware that mobiles are now a necessity, and they can't beat up the girls who are using mobiles. This is wrong." 
However, as Neeta Hardikar, Executive Director of Anandi, an NGO working in Dahod and Panchmahals in Gujarat for 28 years, said, "I think control on mobile usage has become such a social surveillance system, a new norm of patriarchal control on mobility, information, and autonomy of young girls and women. In my experience, it is about patriarchal control in the garb of technology. Access to mobile phones for girls and women has not changed the mindset of society, urban or rural." 
Movements and activities of women have always been controlled in patriarchal societies, and in the digital age, technology is being used to control women and increase the wide gender disparity. As it is, the National Family Health Survey-5 found that only around 48.8 percent of women own and use mobiles in Gujarat, but this figure further dips when it comes to rural women. 
But such patriarchal control is regressive in modern India, where connectivity is such a crucial component of progress. 
Note: Names have been changed, which is marked by *, to protect the identity of the girls who spoke to this correspondent. 
The author is a Laadli Media Fellow. The opinions and views expressed are those of the author. Laadli and UNFPA do not necessarily endorse those views.   
---
Suggested reading: How Gujarat Women Farmers Forge Their Identity As Economic Contributors