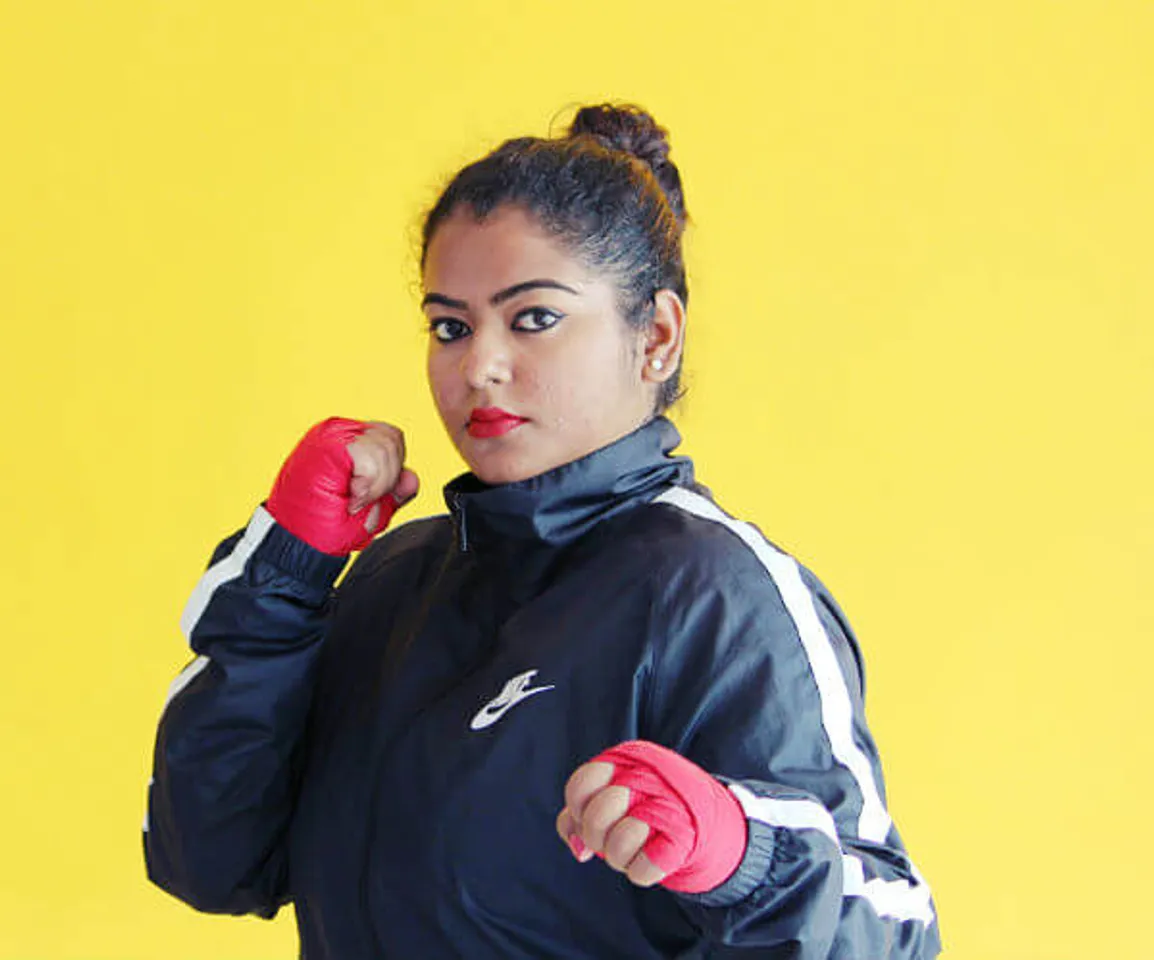 When Hari and Janaky Das welcomed their daughter they probably couldn't have imagined Pooja Harsha growing up into the fierce one in the family. Pooja is transforming a sport that one would think twice before getting into.
The 27-year-old, Mysuru-based woman set a new record late last year. She was selected as the first South Indian woman to be the national coach (beating 200 counterparts) in the World Association Of Kick Boxing Organisation (WAKO) India. The kickboxing national medallist is also the first woman in South India to be selected as an International Referee/Judge in Ring Sports who introduced kickboxing in schools under WAKO.
Before starting kickboxing in 2010, Pooja also dabbled in kick karate.
Pooja's achievement at the national level got her a ticket to become the first woman from Mysuru to be awarded the Black Belt Second Degree in K1 Style under WAKO. "The biggest inspiration of my life, my father, has raised me to be a sportsperson. Never seen bias in the family just because I was a girl. He raised me to be confident, to never be frightened because there is certainly nothing a woman cannot do," says the Chief Instructor Of Academy Of Self Defense (ASD) to SheThePeople.TV.
READ: Meet Nadiya Nighat, Kashmir's First Female Football Coach
Pooja belongs to a family of unique and avid interests in sports. Her younger brother Pruthvi who is in Class 12th has got a black belt in karate too. Her husband Harsha Shankar, the founder of ASD, and an International Referee is also an Asian Bronze medalist.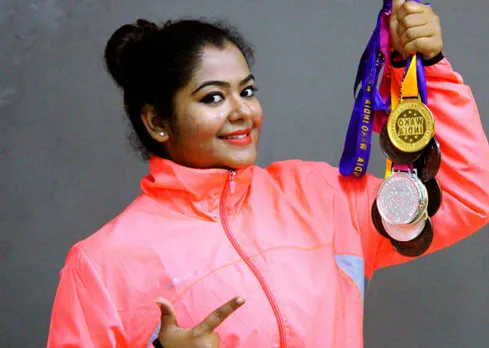 The Inspiration: A Feminist Dad
My strongest inspiration in life is my father Hari Das. My dad was an ardent fan of martial arts. We used to enjoy watching the martial art movies together. I grew up watching Bruce Lee and Jackie Chan.
My dad was the one to sow the seed of my love for martial art.
When I was seven, my dad would wake me up at 5 am and walk with me for 8km every day to take me to the classes, wait and bring me back home. He made sure that I never miss a single class. Initially, it was very difficult for me to walk that far and then practice karate, go to school and then on the weekend take up classical dancing and music classes. I have practised yoga for four years.
Coming back to my karate classes, I still remember the first day. My master Krishna Prasad was so excited seeing one girl standing in a class full of 80 boys.
Also Read: 8-Yr-Old Kashmiri Girl Bags Gold In Kickboxing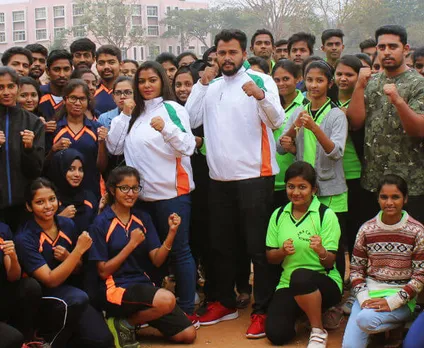 Pooja Harsha, The Kickboxing Coach
My teacher never told me to set back my dreams just because I was a girl.  He always tapped my shoulder and supported me to participate in all the championships. He never differentiated between a girl and boy. Again, the best part was he used to make me fight with the boys.
The Learning Stage
Initially, I used to be so nervous and they used to defeat me very easily, but there also I never wanted to quit. I lost many matches against boys, but then I practised harder, I made up my mind to defeat them and slowly started to knock them down. As I was sparring with boys, when I used to fight with female fighters it was very easy for me to defeat them.
After practising karate for about 13 years. I wanted to explore and learn a new form of martial arts and that is how I choose Kickboxing.
In my 20 years of martial arts journey, I represented my state for the first time in the national karate championship, which was held in Kolkata and won a gold medal. I have represented my state for more than 60 times. I have won 43 gold, 28 silver and 19 bronze medals in the national, state, and district championships. And, I was 14 times national champion.
My 4-year-old daughter is the youngest fighter in Karnataka. We introduced her to Kickboxing when she was just three. So Proud!
Girls & Kickboxing
Many girls in my batch were afraid to take up kickboxing thinking that it's a manly sport. My husband encouraged me to take up kickboxing. He has been my coach and was the one to introduce me to kickboxing in 2010.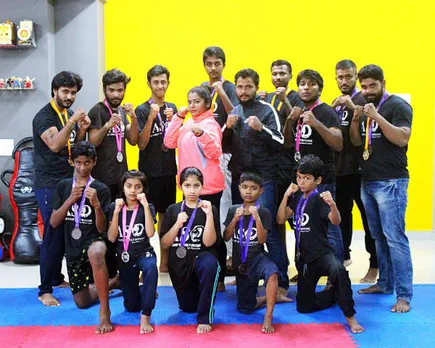 In the beginning, it was a bit difficult for me to learn the sport because I had a very strong background in karate. I had practised and mastered in semi contact sport and all of a sudden had to change it to full contact or combat sport. I practised for hours and adopted and got used to it. All thanks to my husband cum coach.
Harsha would take care of my daughter for weeks when I had to travel for championships, seminars and meetings.
If all the women get a father and husband who are so supportive then definitely women can achieve whatever we want in our life.
Women in martial sports
I honestly think more women need to get involved in the martial arts community. Unfortunately, it seems like not enough women are encouraged to take up the sport because of the gender issues or discrimination.
Women can be as good as men. Women should never settle for less and "fight like women" to satisfy the male ego.
I encourage all my friends, but especially my female friends and young girls I know, to at least try martial arts.
Sports, liberation for women
Women have a strong intuition, they easily retain proper balance and can generate immense power too. Women are quick to sense weakness in opponents. So, they should not forsake the arts that can benefit the smaller person versus a larger.
A woman should not train to become a man, she should train to become the woman she is.
It is a known fact that kickboxing provides children with a good dose of self-respect and self-esteem. Besides increasing their self-worth, it will also help children to learn important lessons in life. The advent of the internet and the increased popularity of the smartphone mean that the child always has one foot in the virtual world. They forget the many benefits of silence and stillness.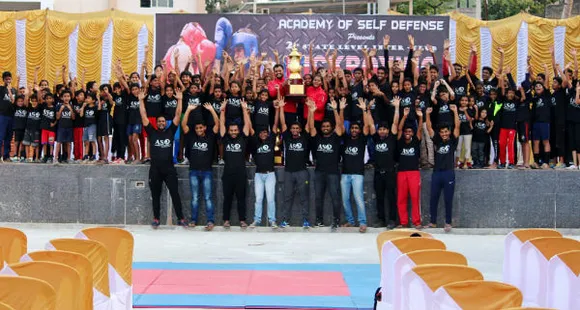 The absence of screens and technology in martial arts classes will help children concentrate a lot better. Kickboxing involves taking hits from your opponent. One hard thing in life is to take a hit and then regain composure to get up and fight again. The problem is that many children do not learn these lessons, and lose hope at every failure they face. The practice of Kickboxing means that a child will fail a lot- and then the child will also learn how to get back up. This will only make the child a stronger person, both physically and mentally. They will fail, they will learn and they will succeed.
Motto In Life
As a self-defence instructor, my main motto is to share my knowledge and experience. I want to introduce these kids to kickboxing because they can't afford high-class training and these kids miss out on honing their skills. I want to train all the girls who desire to excel in the field of kickboxing for free. Also, I wish to cover every single government school in Karnataka.
Challenges
The problems I am facing is unsupportive families of the girls who may initially allow them to practice, but tend to stop it as soon as the prospect of them participating in a championship crops up. And many think that kickboxing is a 'manly' sport. I try my hardest to make them understand that their girls deserve the same opportunities in life. But they will only grasp the truth when they feel it.
My ultimate aim or mission is to get all the girls in the boxing ring. I always felt that women are capable of doing anything that men are…!
READ: Meet Soliha Yousuf, Captain Women's Rugby Team, J&K