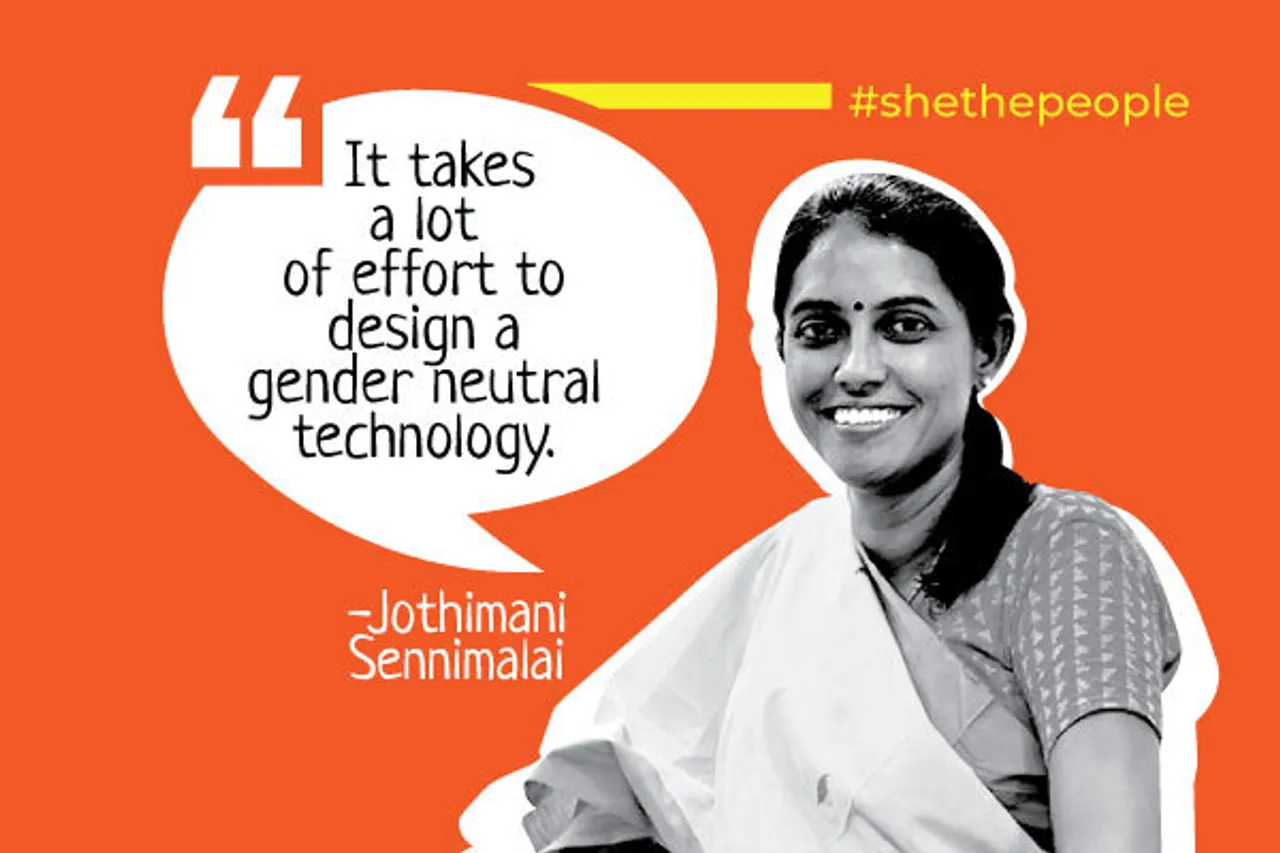 Jothimani is an Indian politician, writer and social worker, who is a member of the Lok Sabha from Karur (Tamil Nadu). She joined politics as a young woman, contested at the panchayat level in 1996 and was the Councillor of K.Paramarthi panchayat for two consecutive terms. Then she joined as a member of the Indian Youth Congress, and contested for the 2011 Tamil Nadu Legislative Assembly as a candidate of INC. She was elected as an MP from Karur district in the 2019 General Elections. Jothimani has also served as the member of the Tamil Nadu Censor Board from 2006-09. She has also authored multiple books including, Chitirakoodu, Ottarai Vasanai and Neer Prakummun.
Jothimani came in as a panellist on a discussion, "Technology, Women & Politics: Post-COVID elections, digitisation and women politicians" organised by NETRI Foundation in partnership with SheThePeople.TV under the "Women Who Lead Series". The series is an effort to bring to fore discussions around women politicians and issues pertaining to their journey and participation in politics. NETRI Foundation is an organisation committed to building the capacity of womxn to help them run for elections, starting at the grassroot politics.
On the subject of the technological access in her constituency, Jothimani points out the massive tech divide between her constituency and other urban centers with efficient tech. Kannur barely has any connectivity and direct one-to-one communication is the most practical means of reaching the grassroots. She emphasised on the importance of direct communication, " I visited 4800 out of 6900 villages of my parliamentary constituency post the elections. Also, I have used social media as part of my election campaign and it was very effective."
Also Read: Women And Young People In Politics Can Change India In 20 Years: Atishi Marlena
She shared an incident pointing towards the gender-divide in tech access, "During the lockdown, we were campaigning against the opening of liquor stores. We reached out to 30 lakh women for voting their opinion on the campaign. 89 percent supported our demand. When we tried to find the reason behind 11 percent of women who did not support it, we found that in this voting, in some places men were voting on behalf of women." This shows us the faultlines of access to technology prevalent in society. She says, "the younger generation is using social media apps in her area, and she uses Twitter for discussing and putting forth her opinions."
While the tech divide persists, Jothimani has actively campaigned and worked on a grievance tracking system with her team which helps her maintain the record and check the status of grievances put forward by the people. Another one of her digital initiatives includes the development of a portal for education and employment in the district, which has unfortunately paused due to COVID-19. Although Karur is one of the largest export cities in the country, it faces an employment problem.
Also Read: Gap In Access To The Internet Has Suppressed Women's Voices Further: Charu Pragya
During the discussion, Jothimani emphasised on the impact of social media on a politician like herself and the support it could gather for her campaign. Although, she adds, "in a country where elections are fought through money and muscle power, despite social media, it is better to have a direct connection with people." When it comes to women and tech, she makes a distinction between older and younger women, where younger women have relatively more access to technology. In rural households, which form a majority of her constituency, women are often busy in agricultural work and child-care responsibility which leaves them no time to learn. The problem is also financial, as one household can only afford one tech-gadget and it goes to the boy as a matter of preference. She further cautioned, "With growing cases of violence inflicted on women through the use of technology, like rape threats and intimidation, in rural areas specially we need a certain level of smartness and assertiveness to use technology."
Despite this, she says, "I feel tech can bridge the gender gap and empower women, reach out to decision making spheres, and knowledge gaps can be built. But in my personal experience, in Tamil Nadu context, women have a strong knowledge of their socio-political situation. You can fool general people through WA but women in the ground cannot be fooled, the way they voted and the mandate they chose despite lack of tech access is very interesting." Jothimani has a well-informed opinion on technology and its design. She points out, "Tech, science, maths are dominated by men and this creates a gender bias in technology too. It takes a lot of effort to design a gender-neutral technology."
Also Read: Stories Shape Our Perception About Women Politicians: Yasmin Kidwai
As a champion of women's rights from rural areas, she points out that it is imperative to address tech concerns for women from the school syllabus itself. While they should be given more access, they should also be informed of malpractices in tech and social media. Alongside, the school system needs to lead the build support and engage in conversation with young buys. All schools need to have student counsellors to assist students through their problems and experiences. As a parting message to young women, Jothimani says, "Do join politics, politics is everywhere, women are oppressed, so get into the place where you can make decisions. Go and run the elections, after completing the age of 21, I did the same 23 years ago. Don't think of politics as a dirty word, rather it will help you understand yourself better."
NETRI Foundation helps women fight grassroots elections. Interested in other recommendations that came from Ms Jothimani? Read key takeaways here.
Kanksshi Agarwal, is founder at NETRI Foundation and a policy researcher working at the intersection of technology, gender, society and politics.