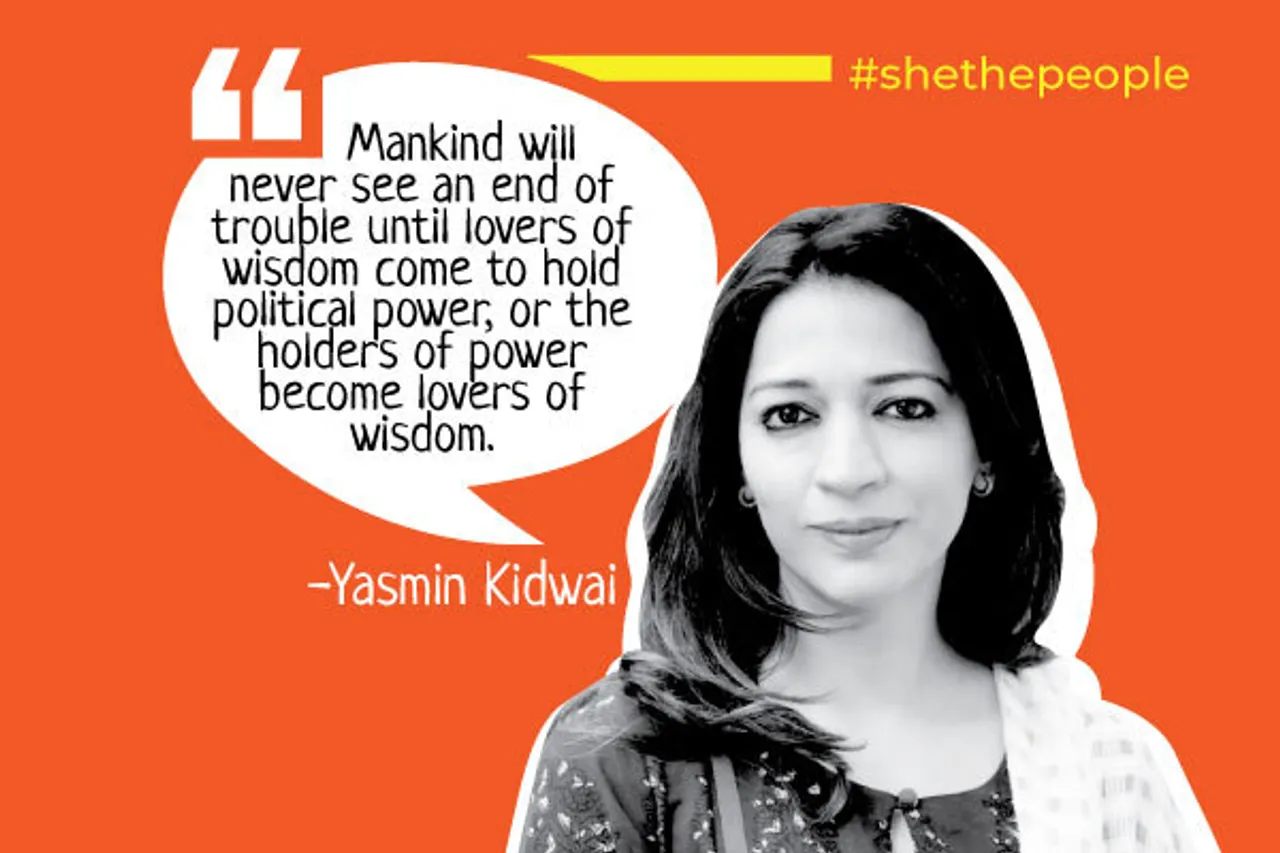 "I don't think empowerment is a pill you take and you are empowered right after, it is a gradual process that takes time," says Yasmin Kidwai, the municipal councillor from Daryaganj (New Delhi) on the subject of women's emancipation. She came in as a panellist on a discussion, "Who gets the limelight? Women Politicians and Indian Media" organised by NETRI Foundation in partnership with SheThePeople.TV. NETRI Foundation is an organisation committed to enhancing women's political participation at all levels of representation.
A filmmaker and politician, Yasmin is one of the youngest politicians in the country and supporter of the INC. As a documentary filmmaker, she has worked extensively on social issues including women, development and sports. Her documentary, Her Own Sky documents the importance of education and reservation in the lives of women. Her favorite on the other hand, No Problem! Six Months with Barefoot Grandmas is a work that documents the lives of women of Barefoot College (Tilonia) who have travelled all the way from Africa to become solar engineers over the course of six months. Her work distinctly showcases her understanding of social issues and the placement of gender within it.
Also Read: Indian Women Politicians Face 10,000 Abusive Tweets Per Day: Study
Kidwai belongs to a family of politicians and traces her legacy back to her grandmother, a Kashmiri woman who grew as a politician through her struggles. After much deliberation, Yasmin stood as a candidate for Municipal Councilor in 2017, and won. Since then, she has dedicated herself to the service of the people of her constituency as their elected representative.
Politics, for Yasmin isn't only about an assertion of her ideas, but also a means to represent women who have, for far too long, lacked representation and a councillor who prioritises their concerns. On the topic of grassroots politics and the role of media within, she points out the lack of awareness and exposure with regards to grassroots initiatives at the Municipal and Panchayat levels. She emphasises how women finally have the opportunity and means to participate in politics in the urban bodies through fifty percent reservation, but the media still chooses to ignore these stories. Women politicians need more coverage than their male counterparts because women are often first-time politicians who deserve to have their stories and efforts highlighted. Not only are these women the elected representatives, but they also represent the section of our population that has remained unheard for a long time. As someone who has worked in media, Yasmin points out the discrepancy in the increase in the number of women in media in comparison to the stories written about them – media spaces still lack the space for women's issues. Even though social media provides women politicians like herself the opportunity to express themselves, the absence of a safe space over digital platforms is still a pressing issue.
While Yasmin finds the basis of her politics in her concerns for the society and attempts to create an impact as a filmmaker and politician, her identity as a Muslim woman also plays an important role. In recent times, she describes during the discussion, the media has constantly tried to bracket the community into groups and stereotypes. Historically, the entire Muslim community has been marginalised, in terms of education and access to spaces. She emphasises that the media needs to support Muslim women and embrace their diverse stories that'll help other women find representation in the mainstream. Yasmin says, "The images of women I grew up with were strong women who worked and led, and that built the perception of women in my consciousness. This is why stories are important. That can shape how people perceive others." And this is also why representation is important. Politically, she believes that she has to represent the people in her constituency and bring up more women's issues to the mainstream discourse.
Also Read: Politics Can Be Human-Centric And Not Populistic: Ukrainian Politician
Interested in recommendations that came from Yasmin Kidwai? Read key takeaways on women politicians and Indian media here.
Kanksshi Agarwal, is founder at NETRI Foundation and a policy researcher working at the intersection of technology, gender, society and politics.