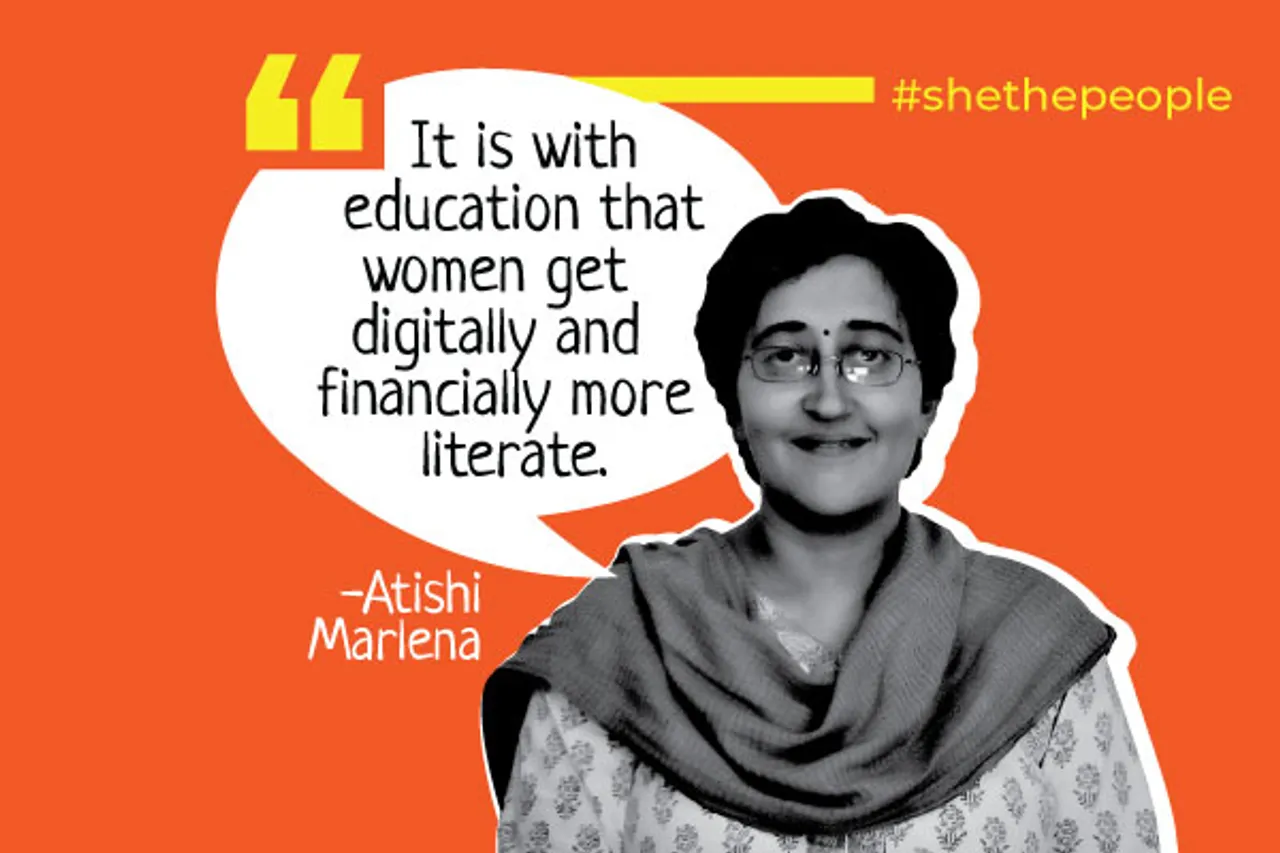 Politician Atishi Marlena says that "It is education that is going to give access to social mobility. It is with education that women get digitally and financially more literate," when asked about the impacts of education, particularly as a means to bridge the gender-divide existing in technological access. Atishi is a leader of the Aam Aadmi Party, and a member of the party's Political Affairs Committee. As an advisor, she has played a pivotal role in revamping education at government schools in Delhi. She is a devoted activist who has worked extensively in Madhya Pradesh on the issues of organic farming and education systems. She is also a Chevening and Rhodes scholar from Oxford University.
Atishi came in as a panellist on a discussion, "Technology, Women & Politics: Post-COVID elections, digitisation and women politicians" organised by NETRI Foundation in partnership with SheThePeople.TV. NETRI Foundation is an organisation committed to enhancing women's political participation at all levels of representation.
Also Read: Stories Shape Our Perception About Women Politicians: Yasmin Kidwai
In the recent decade, technology has proven to be an effective tool for the articulation of the vision and opinions in the political sphere. While talking about her personal experience in using digital technology during her election campaign New Delhi, Atishi says that technology has proven useful, but the usage and impact of the same depends upon the region as well. She shares, "As a politician from Delhi, my access to social media is much greater than many other politicians in the country. Even though the technological mediums have greatly furthered the political discourse, the digital divide is a concerning issue. How many people from the marginalised sections have access to the technology? If we bring up the example of COVID, private schools are carrying out online classes, but the same isn't possible in government schools since more than half the students don't have access to internet or technology. Even within the marginalised groups, the gender-divide exists. If a family owns a smartphone, it is likely to belong to the man of the house. These divides impact the political consciousness of people, which is why face-to-face politics is a preferred means in the current scenario. It ensures that everyone's opinions are heard."
She further adds, "During political processes, the lack of access to technology can render women at a disadvantaged position in comparison to men, but the democratic voting processes also make sure that the politicians are cognizant of the demands and interests of women. The system of accountability checks that women are not left vulnerable in the electoral process and we ought to strengthen it further." Women organising themselves is an effective means of ensuring their politics is accounted for.
When asked what are the reasons that women have not emerged as a consolidated voting bloc and what role technology can play in bringing them together for politics, Atishi emphasises that the differences in collective action also varies from groups belonging to different caste and class locations. The organisation of women is stronger in areas with lower-income families since women are often the breadwinners in their families. As a tech-sceptic, Atishi adds that the tech-divide is so deep that the people from marginalised groups have more means to organise in-person than access technology.
Also Read: Gap In Access To The Internet Has Suppressed Women's Voices Further: Charu Pragya
On the subject of education, Atishi points out that education is the means to independence, particularly for women and marginalised groups. Small scale industries and co-operatives in rural areas are likely to increase substantially if women are educated. For the solution of the digital divide or any social inequality that exists, education has a key role to play. It is access to knowledge and education that is the way forward for bridging the gap. As a message to young people, Atishi says, "I think it is extremely important, the youth of our country, especially the young women of our country, to come out of their homes and have the courage to make the decision to enter politics. I'm sure as more young people and women participate in politics, I believe India would be a very different country in 20 years."
Interested in other recommendations that came from Atishi Marlena? Read key takeaways here.
Kanksshi Agarwal, is founder at NETRI Foundation and a policy researcher working at the intersection of technology, gender, society and politics.