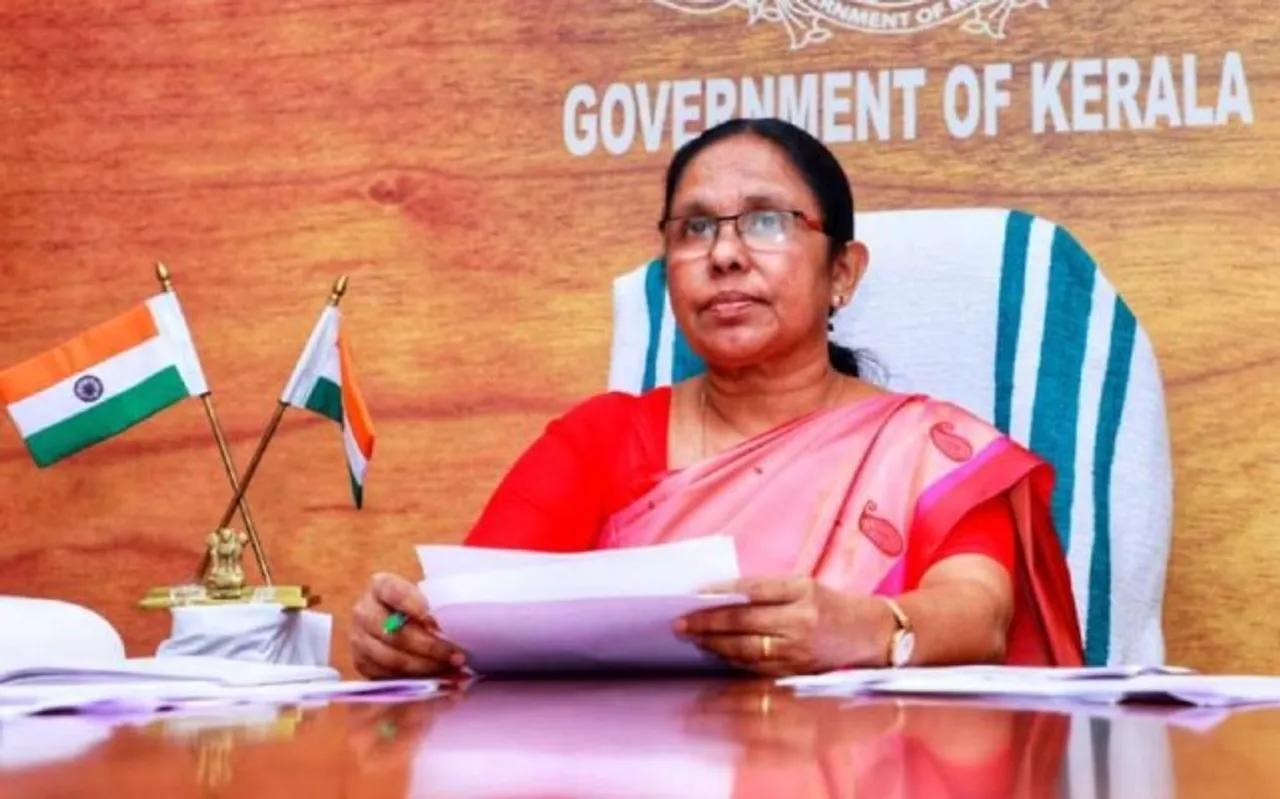 As Kerala battles a fresh surge in coronavirus cases, the state's Health Minister K K Shailaja has found a way to beat her stress. In an exclusive interview with The Indian Express, she confessed, "My granddaughter shows me her drawings on video calls. Talking to her helps me manage my stress."
It has been over six months since the first COVID-19 case was reported in India. Initially, Kerala was leading the race in curbing down COVID-19 cases. The number of confirmed cases has grown almost four times in the last month alone. The state's caseload is rising at 4.01 percent per day, much faster than the national rate.
Also Read:105-Year-Old Kerala Woman Becomes The Oldest Person In State To Beat COVID-19
India's first COVID-19 case was reported from the southern state on January 30 when a medical student who had returned from Wuhan in China tested positive for novel coronavirus. The second and third cases were also returnees from Wuhan.
Kerala Health Minister's Work During Pandemic
Last week Shailaja said in a video campaign that Kerala is likely to witness a sharp rise in COVID-19 cases in August and September with daily infections expected to touch between 10,000 to 20,000."Experts have opined that during the months of August and September we may witness a surge in Covid-19 cases. We may report between 10,000 to 20,000 cases per day." She further added, "We must also understand that the death toll will increase with the rise in the number of cases. So, we need to put a hold on the rise in cases. For that, the people must cooperate."
What You Should Know
K K Shailaja is the Health Minister of Kerala.
She hasn't met her family for more than two months. Shailaja's stressbuster is her granddaughter's drawings.
She is affectionately called as Shailaja Teacher by her followers.
With cases at an all-time high, it becomes important for the health minister to take care of her health. When asked what kind of precautions she is taking, Shailaja replied, "I had 25 staff members at office, but since the pandemic hit, only half of them have been coming. The office is sanitised every day. While holding daily meetings with the health secretary and health director in person, I practise social distancing. The meetings with the district authorities are conducted online after 7 pm and can go on till 10 pm."
Shailaja has time and again advised people to adhere to social distancing norms and has even held campaigns to bring down the numbers in the state. She has herself followed all the directives that she has urged people to follow. She said, "Since we have launched the 'Break the Chain' programme, I am very particular about not flouting any protocol. I maintain physical distance, wear mask, wash my hands and use hand sanitiser frequently."
Kerala as at the time of filing this report had above 58,262 confirmed cases, 20,330 active cases and 223 deaths.
Also Read:Kerala Woman's Gold Earrings Lost in Paddy Field Found After 20 Years
Sanskriti Tiwari is an intern with SheThePeople.TV