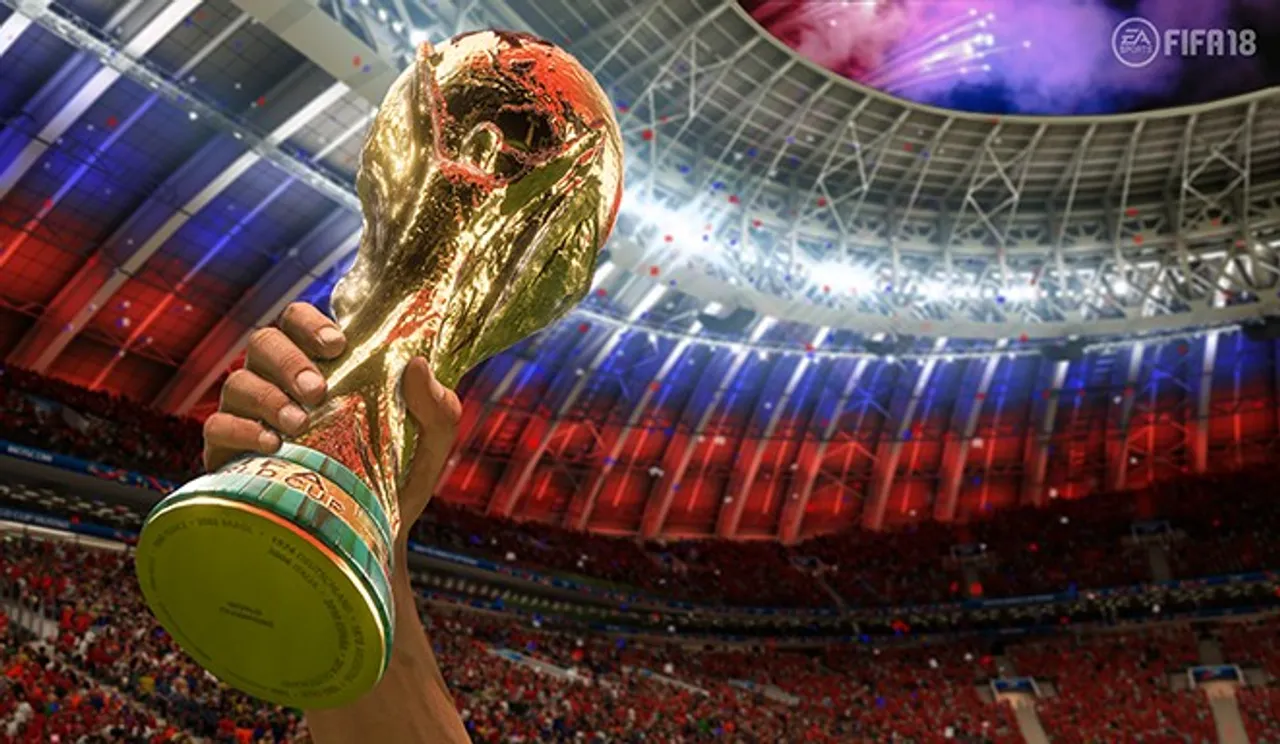 In the very first week of FIFA 2018, football aficionados saw hectic action on field with favourites biting dust and lesser fancied teams coming into their own. Football in India has always played second fiddle to cricket, but now it seems that the millennial, both boys and girls are turning to the quick pace of football as their preferred sport.
SheThePeople.TV reached out to women football fans across age groups, SECs and geographic locations to understand what is it about the game that fascinates them.
---
"Sport is always a unifying force. People forget their differences, religion and other barriers. The football World Cup is a treat because we celebrate some of the great sportsmen, but would like to see some excitement around women's tournaments too whether it is football or otherwise. And let's not overlook that during these mega events, human trafficking is on the rise. Let's enjoy but not at the expense of anyone else. May the best team win, wishes ElsaMarie D'Silva of Safecity
---
How Excited Are The Millennials
Dalima Chibber, 20, says she is thrilled and the performances of the teams so far has been overwhelming. The India women's national football team's player argued, "The level has raised so much that we see everybody as equally good on the field. You never know the result. It is performing your best on a given day and all the teams from Iceland to Mexico have performed and received the results on their given days."
World Cup Means Watching Game Together
Kikam Bhutia, 29, believes World Cup is one of the few events which brings people on a unifying platform. "Love the spirit of the game. Surely this World Cup will be the World Cup of the underdogs! Cheers!"
Author and journalist Deborah Grey calls it a family festival. "World Cup Football was a daddy-daughter thing, just like Wimbledon. Dad loved Argentina and I have always been a die-hard Germany fan. When Germany won in 1990, dad and I danced together to celebrate! And though he is no more, I dance every time Argentina wins."
Also Read : Football Fever: Lingerie Firm Introduces Vibrating Underwear
Football More Than Any Sports
Pooja Harsha, a Kickboxer, is a huge fan of Lionel Messi. "I enjoy watching football more than any sports. It is most followed game in the world and talking about women, I think we have less knowledge about football in India compared to European countries. We need proper guidance. With this World Cup I hope football will reach greater heights and much more popularity," hopes Pooja.
When Football Beat Art 
Madhuri Banerjee, a bestselling author describes how her affection towards football grew with time. "My father took me to Paris in 1998 for the first time. I had begged him because I wanted to see the art, history and culture. But every evening when we were sitting for dinner there were gigantic TVs and the entire restaurant becoming an animated audience for The World Cup. And soon art and history were left behind for football," she recalls.
---
Until then I'd never seen football. I only knew about love for cricket and tennis. But after watching a few matches with the French, I was hooked. The euphoria when their team won, the disappointment when the others scored and the pride they felt for each player was magical. It was like this enormous, all-encompassing, ecstatic group energy that I'd never experienced or felt with anything else in my life - Madhuri Banerjee
---
Rooting For Underdog
"Quite ironically, I owe my love for football to cricket. I was absolutely crazy about the sport -- I still am. However, when it came to playing cricket for my college, I was unable to convince the girls to play the long drawn out game. Instead, they convinced me to become a goalkeeper for the football team! Unfortunately, I wasn't a natural player, and to help me understand the nuances of the game better, my coaches got me hooked to watching Manchester United games on the TV. 'Just watch what Edwin van der Sar, the goalie is doing, and do exactly that on the field,' they would tell me. No prizes for guessing, I quit playing football after a couple of disastrous years, but my love for Manchester United didn't wean," Journalist Nishtha Kanal beaming with happiness recalled her stint with football.
"From rooting for those unbelievable underdogs Iceland to wishing my favourite player David de Gea's team Spain would win, I love to do it all. When I'm watching my team Man Utd play, I'm nervy and anxious. But with the world cup, I'm simply screaming at both teams to do well. It's a whole different experience," she added.
This FIFA I'm in my own home in Mumbai and watching it. I still feel the thrill when a team almost scores. I can't believe that Coutinho did that kick. And for all the sleepless nights I'll be having, I'll always remain a FIFA WORLD CUP fan.- Madhuri Banerjee
READ:When Sportswomen Made Us Proud In 2017​
Favourite World Cup Moment
When asked Nida Haji about her favourite moment from World Cup, she recalls Ronaldo's infallible quote from the 1998 World Cup final between France and Brazil -- "We lost because we didn't win."
"I vividly remember Ronaldo's spirit, even after losing 3-0. I remember laughing aloud... and my love story with football was sealed that day with both laughs and tears (I was supporting Brazil you see). I am football crazy! My son is called "Zizou", named of course after my all-time favourite football player Zinedine Zidane aka Zizou. I can't think of any birthday party that hasn't been football themed yet for Zizou!," she declares her love.
Journalist Sudatta Mukherjee, was just a few months old when West Germany defeated Argentina in the 1990 World Cup final. "I come from Calcutta and my side is from East Bengal and everyone knows their rivalry against Mohun Bagan. As I grew up, it became a part of our lives - fighting, arguments, debates about which team is better - Mohun Bagan or East Bengal," she indulged into memories. "Even in cold winter rains, we have played football and Independence Day celebration was incomplete without a football match," she added.
Craziest Thing Ever Done During World Cup
For Sudatta it has to be "when a few of my classmates and I painted the classroom with team colours - Argentina, Brazil, England, Germany. I have stayed awake till late in the night watching some of the biggest moments in football take place and I was ecstatic when Germany lifted the cup last time. It was like living a part of my childhood through my mother's stories. Earlier, I would only watch important or popular team matches, but now I watch all of them."
---
One time I watched FIFA when I was shooting for the film Boom with Kaizad Gustad. During breaks, a few of us would dive into restaurants to watch the game. I remember standing next to Mr Amitabh Bachchan in a small restaurant in Dubai when Brazil was playing. And I was more interested in my team winning than taking a picture with him. When Brazil won the World Cup, beating Germany 2-0 that year I kind of remembered that both Amitji and I had prayed for them and we made them win together! - Madhuri Banerjee
---
READ: Meet Nadiya Nighat, Kashmir's First Female Football Coach
Vaishali Mitra says, "Puyol visited Delhi last year and I came to know about it quite late. He was about to leave the very night, after meeting his fans in the JLN stadium and I just couldn't miss the opportunity. It was 8:30 in the evening, I wore my jersey, rushed to take a metro and ran as fast as I could. I came to know from the officials that he left just five minutes back and I just sat down, and cried like a crazy. That was the saddest day of my life.
---
I think the craziest thing I've done for football would definitely be taking two trips to Manchester to watch my team play. I failed to score tickets the first time, and so I waited it out for a good two years to go back, and watch Utd take on the same team I had missed watching the first time around. I think, subconsciously, I've started planning all my holidays around trips to the UK to first watch a live football game -- no matter how miserly I have to live for the rest of the year, to save money! " - Nishtha Kanal
---
Keeping The Football Spirit Alive
"Football fandom has been running in our family since like forever. Partially because of being Bengali and as they like to say, Bengalis cannot do without three things- Fishes, Politics and Football," shares Vaishali. "It all began from the 2008 Euro Cup. I saw Andrés Iniesta Luján and instantly became a fan. I followed him furthermore to realise he plays for FC Barcelona and started following the club ever since. I was barely 10 back then. And since then, there has been no stopping for me to support the Blaugrana team and of course, football," Vaishali added.
"Watching football boosts up my morale every time I'm low. 90 minutes, one break and you let all of yourself gluing on the television. In fact, I even write about football on my blog and have covered salient articles about a lot of topics. Crazy would be an understatement to describe my fandom."
Well, whether these women are fighting over who wins or how the game changed their monotonous lives, the game is rising. This is a big triumph.
Feature Image Credit:  EA Sports