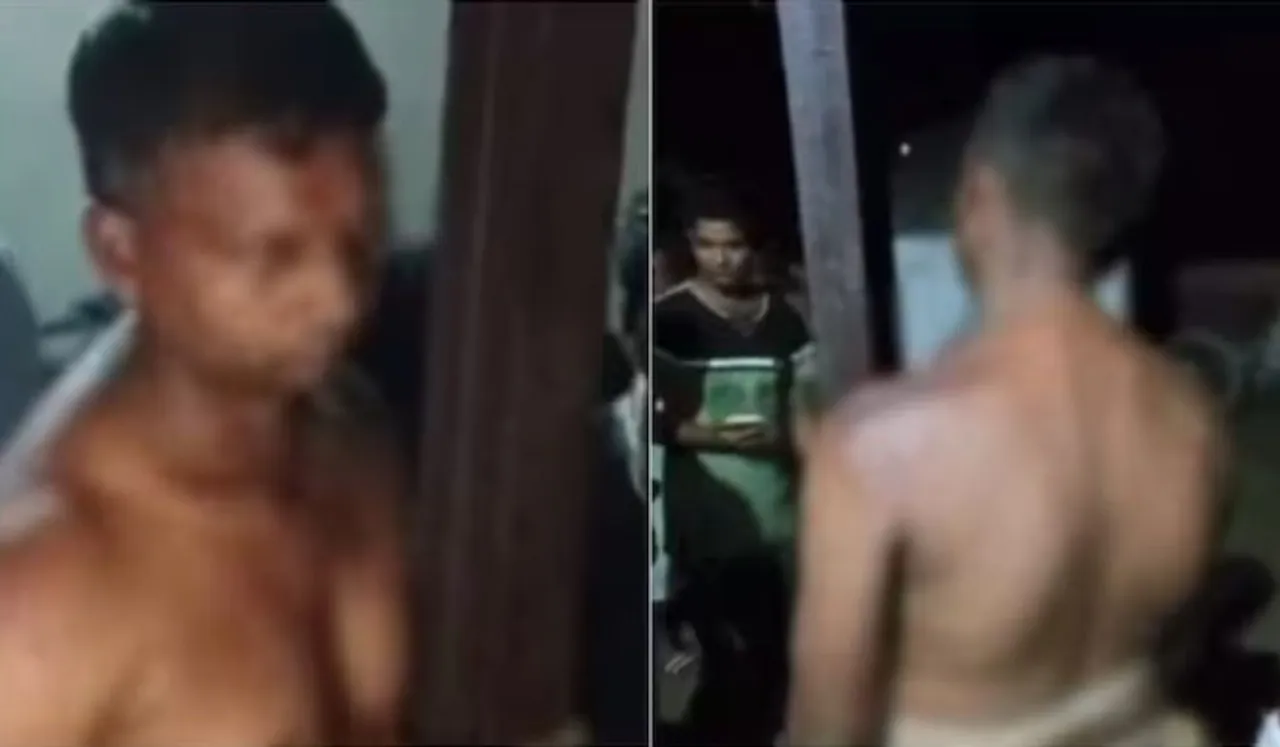 A police officer was allegedly stripped, tied to a pole, and thrashed on Sunday in Agra, Uttar Pradesh, for reportedly getting caught while trying to break into a woman's home to assault her.
The villagers stripped the police officer, tied him to the police, and thrashed him severely. The assault was recorded on camera and posted on social media, which subsequently went viral.
Cop Stripped Assaulted By Villagers In UP
Upon learning of the incident, Agra's Police Commissioner immediately issued a suspension order to the police officer and initiated a departmental inquiry against him.
Also, a case of rape had been registered against the sub-inspector based on a complaint lodged by the woman involved in the incident. Villagers protested, demanding action against the sub-inspector on Monday.
The accused police officer was identified as Sandeep Kumar, who joined the police department two years ago. He reportedly denied the allegations and claimed that he had visited the house of the woman for an investigation when he was attacked and beaten by the villagers. The matter is currently under investigation.
Maharashtra Constable Outrages Modesty Of Woman
Earlier in August, a police constable in Maharashtra's Dharur was booked for outraging the modesty of a woman under the influence of alcohol in a Beed district village. Villagers sought stringent action against the accused police official. Police filed the FIR based on the woman's complaint on August 1.
The accused head constable, who was in an inebriated state, went to one of the villages, barged into a house, and allegedly misbehaved with a woman. Responding to the incident, Additional Superintendent of Police Kavita Nerkar told the Times Of India that an FIR has been filed against the accused and an order to suspend the accused head constable has been issued. She assured that the authorities would look into the matter and take action.
Chhattisgarh Traffic Cop Assaults Woman
In March, a traffic police officer in Chhattisgarh's Raipur city allegedly assaulted and abused a woman staff member of a private hostel. The women and the hostel owner approached the senior police officials and filed a complaint, following which the traffic police officer was immediately placed under suspension.
According to the suspension order, the woman claimed that the traffic police inspector who arrived at the hostel abused and assaulted her. The hostel owner stated in an interview with the press that the traffic police assaulted the woman and made derogatory remarks about her.
---
Suggested Reading: Mangaluru Cops Assault Girl, Child Rights Panel Seeks Explanation