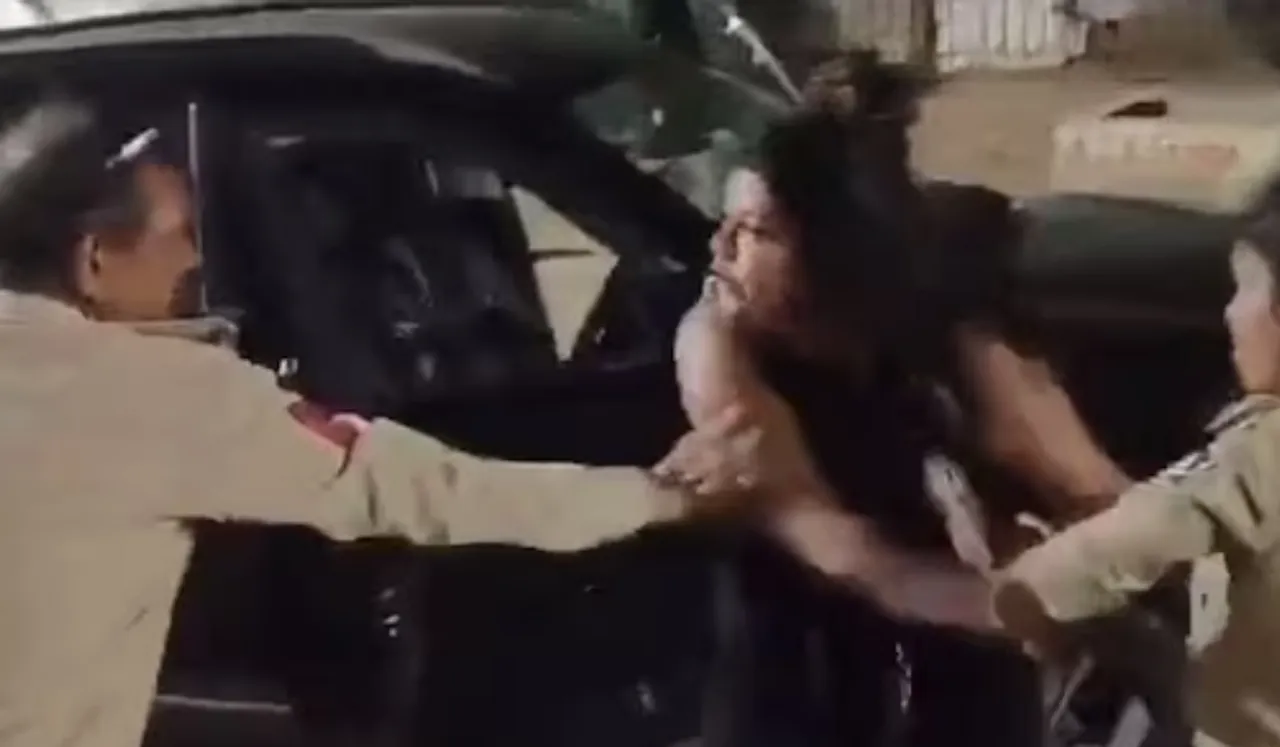 A video currently circulating on social media captures an inebriated woman from Vadodara engaged in a heated altercation with law enforcement officers. The woman was allegedly drunk and driving a vehicle. She has now been booked under the relevant sections of the Indian Penal Code (IPC) and the Prohibition Act, reports News9.
The video depicts her verbally abusing and attempting to assault the officers on the street. Despite being confronted by a female constable, her behaviour remains defiant. She persistently tries to assault the officers, escalating the disturbance. The incident unfolded when she was apprehended for driving under the influence of alcohol.
Drunk Woman In Vadodara Abuses And Attacks Cops
It is to be noted that Gujarat has enforced a sumptuary law that prohibits the production, storage, sale, and consumption of alcoholic beverages. This law has been effective since May 1, 1960, when the Bombay State was divided into the separate states of Maharashtra and Gujarat.
At present, a legal case has been registered against the woman.
Watch the video here.
Drunk women from Vadodara attacks cops - Drink and Drive
by u/arxym in vadodara
Since its upload, the video has rapidly gained traction across social media platforms, eliciting numerous reactions. Reports indicate that initially, the woman attempted to record a police officer who had pulled over her vehicle for inspection. Subsequently, a female police officer instructed her to cease recording. However, the woman disregarded the instruction and persisted in filming the police officer. This sequence of events led to the police officer taking possession of the woman's mobile phone, sparking a confrontation.
Similar Incident In Delhi
Separately, an earlier viral video from this month only depicted a woman striking an on-duty police officer while on the road. The video generated significant attention on social media, though the exact cause of the altercation remains unclear. The footage showcases a woman, purportedly from Delhi, striking a police officer.
Watch the video here.
Kalesh b/w A Woman and on-Duty Police officer on Roadpic.twitter.com/lMIaX3eSk6

— Ghar Ke Kalesh (@gharkekalesh) August 8, 2023
Despite the initial action, the woman remains undeterred and continues her assault even as bystanders attempt to intervene and discourage her.
The videos depicting confrontations between civilians and police officers in public spaces have stirred deep concern and unease. These unsettling incidents, now widely circulated on social media, offer a stark view of individuals openly defying and even engaging in physical altercations with law enforcement personnel.
---
Suggested Reading: 'I Am Handicapped," UP Teacher Justifies 'Slap' Incident After Outrage