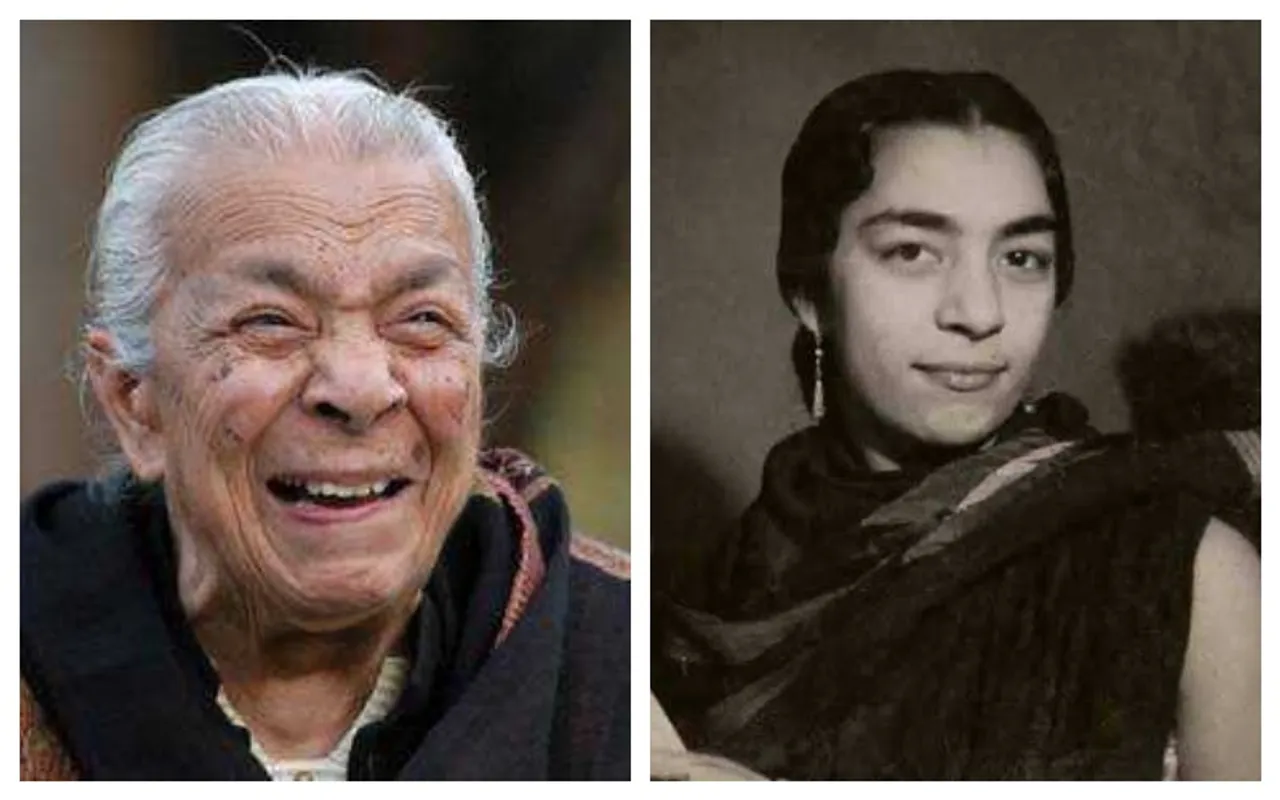 Zohra Sehgal, the legendary film, theatre and television actress, was named Laadli of the century and doyenne of Indian theatre. In a career spanning seven decades, during which she attained great fame worldwide, Sehgal was conferred with numerous awards for her contribution to Indian cinema and theatre. India's National Academy for Music, Dance and Drama presented her with its highest award, the Sangeet Natak Akademi Fellowship for lifetime achievement. She was also awarded the Padma Shri in 1998, and the Kalidas Samman in 2001. She also received the Padma Vibhushan, India's second-highest civilian honour, in 2010. On her death anniversary, let's look at her journey to the big screen and beyond.
Read Also: Women Characters From Bollywood Who Have Shaped My Feminism
Early Life and Education
Zohra Sehgal was born on 27 April 1912 in Rampur, Uttar Pradesh as Sahibzadi Zohra Mumtazullah Khan Begum. She was the third child among seven siblings. Sehgal described herself as a tomboy, who enjoyed climbing trees and playing outdoor games.
Following the death of her mother at an early age, Sehgal and her sisters were enrolled at Queen Mary College, Lahore. Later, Sehgal's aunt encouraged her to apply to Mary Wigman's ballet school in Dresden, Germany. Sehgal passed the entrance test and became the first Indian to study at the institute.
She met dancer Uday Shankar at a performance of the Shiv-Parvati ballet, which he had choreographed. Shankar promised her a job, and did follow it up.
Career
On 8 August 1935, she joined his troupe and danced across Japan, Egypt, Europe and the US, as a leading lady. When her mentor moved back to India in 1940, she became a teacher at the Uday Shankar India Cultural Centre at Almora.
Zohra married Kameshwar Sehgal, a young scientist, painter and dancer from Indore, and eight years her junior, on 14 August 1942 despite opposition from her family. The couple then moved to Lahore and started Zohresh Dance Institute.
Due to the growing communal tension preceding Partition of India, the couple moved to Bombay, with their one-year-old daughter, Kiran. Sehgal joined the Prithvi Theatre in 1945. In the same year, she joined the leftist theatre group, IPTA, and acted in several plays, and made her film debut in IPTA's first film production, directed by Khwaja Ahmad Abbas, Dharti Ke Lal in 1946; she followed it up with Chetan Anand's Neecha Nagar.
 Neecha Nagar became the first Indian film to win a Palme d'Or at the Cannes Film Festival, a remains the only Indian film to do so.
After her husband died in 1959, Sehgal moved to Delhi and was appointed, as the director of the newly founded Natya Academy. She then moved to London on a drama scholarship in 1962. She worked as a dance instructor at a Chelsea-based school led by Bharatanatyam dancer Ram Gopal. Sehgal got her first role for British television in a BBC adaptation of Rudyard Kipling's story The Rescue of Pluffles, in 1964. She also appeared in four episodes of Doctor Who between 1964-65. She also anchored 26 episodes of BBC TV series, Padosi.
Zohra also appeared in The Courtesans of Bombay, directed by James Ivory in 1982. She played Lady Chatterjee in the television series The Jewel in the Crown (ITV, 1984) which was adapted from a novel by the same name. She also appeared in other series such as The Raj Quartet, Tandoori Nights, My Beautiful Laundrette.
Return to India
Following her return to India, she performed poetry at a memorial of Uday Shankar organised by his brother, Ravi Shankar in 1983, and soon became famous; she started getting invited to perform poetry at various occasions.
At the age of 92, she performed a play Ek Thi Nani which was staged in Lahore for the first time, featuring Zohra and her sister Uzra Butt. A performance of its English version A Granny for All Seasons was held, at UCLA in 2001.
She became very active Bollywood from 1996, with frequent appearances as a grandmother in films such as Dil Se, Hum Dil De Chuke Sanam, Veer Zara, Saawariya and Cheeni Kum.
In 2008, at the United Nations Population Fund (UNPF)-Laadli Media Awards in New Delhi, she was named Laadli of the century. In 2012, to celebrate her mother's 100th birthday, her daughter Kiran came out with her biography, Zohra Sehgal: Fatty.
The grand old lady of Bollywood died on 10 July 2014, aged 102, after suffering a cardiac arrest.
Read Also: Bhopal Owes Debt To Its Legendary Queens And Begums: Vertul Singh 
Ritu Yadav is an intern with SheThePeople.TV