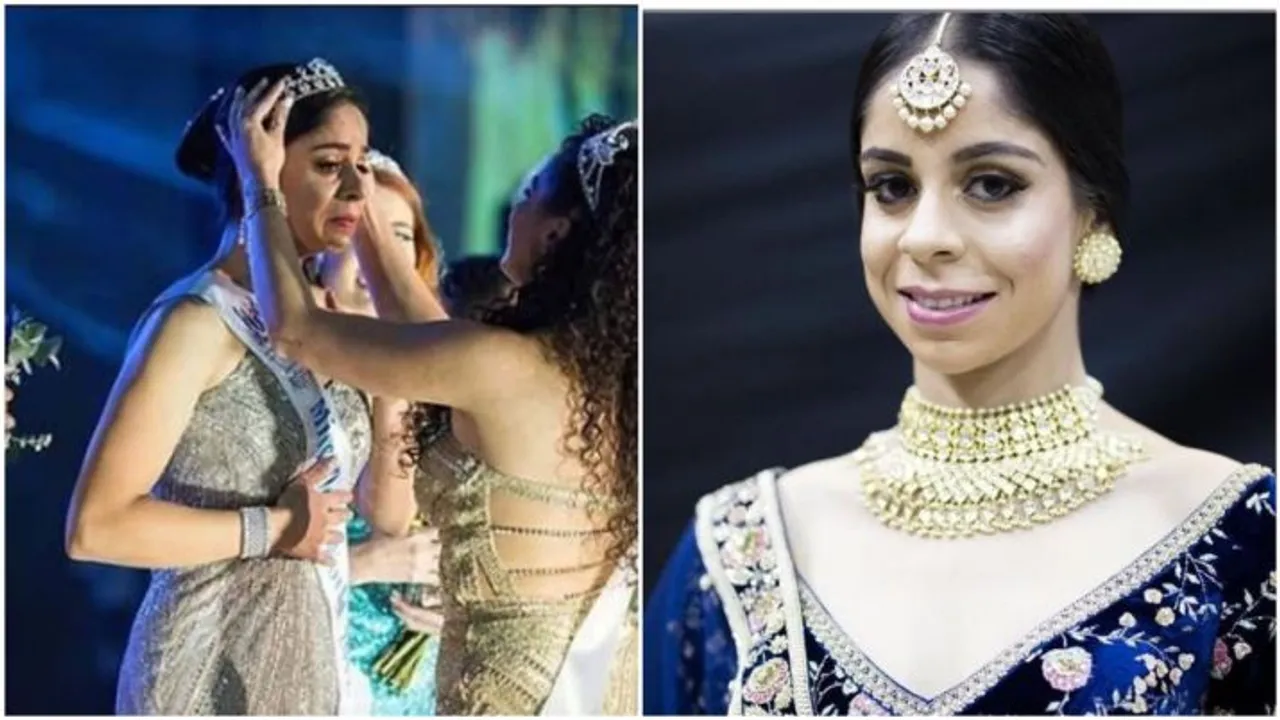 Vidisha Baliyan, 21, a girl from Uttar Pradesh's Muzaffarnagar city was just crowned Miss Deaf World 2019, held in Mbombela, South Africa. Thus, she became the first Indian to win this crown. Vidisha, who is a modelling student of Asian Academy of Film & Television, was honoured on July 22. She was chosen among the 11 finalists from 16 participating countries in the final round. She was trained for the pageant in Gurugram and Noida.
A former international tennis player, Vidisha has also represented India in the Deaflympics. She participated in the beauty pageant despite having a severe back injury, defeating a South African contestant who was crowned as the runner-up. She even won a silver medal for tennis at the international deaf Olympics.
Vidisha is battling through hearing-impaired conditions. Talking about her win she wrote on Instagram, "Winning the title is just the beginning of the dream. There are many people with hearing-impaired conditions who are extremely talented and deserve opportunities. As Robert Frost famously said, 'Miles to go before I sleep'."
Also Read: Creating 'inclusive' fitness fashion: Arshiya Kherani of Sukoon
https://www.instagram.com/p/B0VRq19Aj4e/
"I was inspired to participate in the pageant to gain confidence and develop my personality. Through this platform, I also want to motivate the deaf community to focus on the talent they have, and not be upset about what they don't have," she said after the win.
https://www.instagram.com/p/B0Sprn8gqDt/?utm_source=ig_embed
She had won Miss Deaf India title in February and was being trained since April by India's first female Paralympic winner, Deepa Malik, and her team, to participate in the international contest. "I'm grateful to Deepa Mallik for mentoring me and for providing access to all resources," she said.
Vidisha has been provided with all resources for preparation and participation by Wheeling Happiness foundation, co-founded by Devika Malik. It is an initiative that empowers disabled people.
Sharing a video of her "crowning moment," Vidisha wrote, "My crowning moment...My tears here are telling more than any words could express. The joy, the pains, the hard work, the belief, the early mornings - all are worth it.
Being crowned as the first Indian to win in the Miss Deaf World Category. Feeling surreal. Thank you God."
Interestingly, during the talent round of the pageant, the UP girl performed Tandav and shared pictures of herself performing the graceful routine. "Performing tandav, which is a vigorous dance form by Hindu God Lord Shiva. Since my young age I've loved dancing though I couldn't hear the rhythm, melody or sounds clearly. To dance, one needs fire in their heart and soul, and music in their spirit," she wrote.
READ: Meet Lt. Garima, A Former Beauty Pageant Winner Joins Indian Army
Hats off to you, Vidisha!
Feature Image Credit:India TV