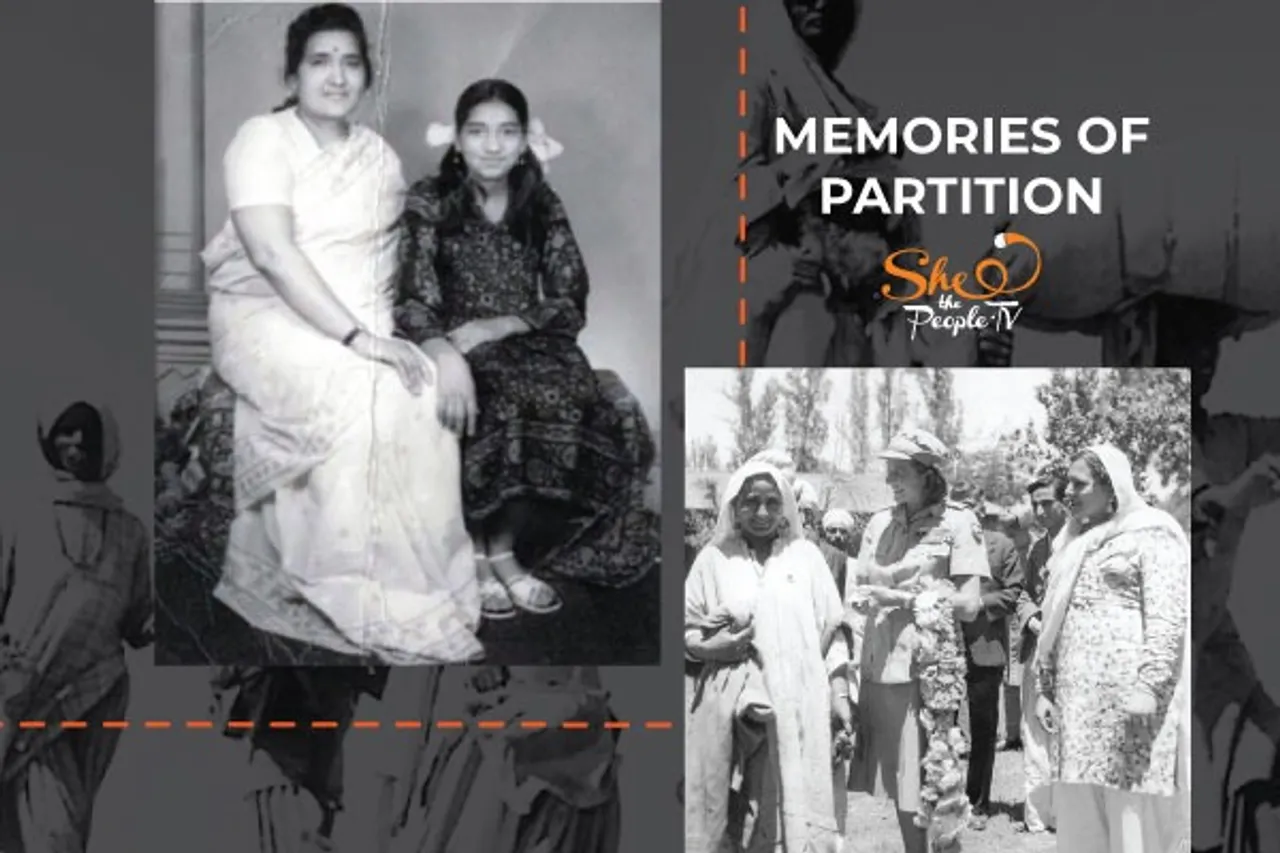 From 1947 till today the dawn of 15 August ushers in with the deafening shouts of 'Jai Hind' and 'Jai Bharat'. Among this cacophony, there are citizens, of the same independent country, that is taken back to the trauma and havoc that accompanied the independence. The harrowing storm of Partition 1947 that uprooted and dislocated people based on religion is still traumatic to recall. The legacy of the disrupted life, bloodshed and division among people is the religious riots happening till today.  The Partition brought with it an independence that came out a lot of blood, hatred, dislocation, loss of everything that was own, and a life-long traumatic memory. Through this article, we are reliving  memories of women who lived through Partition and Independence
Explore the narrative of a few women with common lives that have an uncommon experience
As India is going to celebrate its 73rd Independence day, it is important to locate where this independence is coming from. The personal memories of Partition that survive and haunt till today are the truest source of understanding what independence also brought us. Celebration of Independence is incomplete without recognizing the cost of it. Independence day is not only about hoisting the flag followed by a national anthem. But remembering and recognizing the huge cost paid for it, some through blood while others through the change of land and identity one was born with.
Also Explore stories of women of Partition
Here is a narrative of a few women with common lives that have an uncommon experience and memory of partition and independence we celebrate today. Some have feeble memory of the factual detail, while others remember each detail and feelings vividly. What is common is the sense of terror and loss that is unforgettable. The experiences recorded are based on a conversation with these women in a series of telephonic interviews.
Read Also: Women Of Partition: At 8, Shakuntala Left With Her Grandfather, Burying A Pot Of Gold
 Dr Kiran Kumari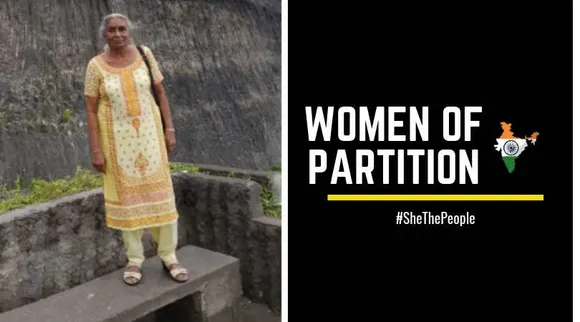 Kiran Kumari, Picture Credit: Kiran Kumari
Presently, she is a gynaecologist. Born in 1945, she was barely two years old when all the uprooting and dislocation followed the Partition of India. Recollecting memories from her toddler years and the stories she heard from her parents, she says, "I was born in 1945 and was only two years old when Partition happened. I do not remember much of the details of what happened except what my father told me about it. My father was an active participant of the freedom movement, along with Gandhiji. We were in Allahabad when partition happened so we did not have to personally experience the dislocation and loss. However, I do have a faint memory of two of my neighbours who had migrated from Pakistan. Mr.Mehta has still preserved the keys of his house he left behind in Lahore. Besides, Mr Bharadwaj was a good practitioner and had a well-built house in Lahore.
Also Read: How different women view Independence through partition
However, after partition, he had to leave behind everything, enough for the new Muslim family to have an affluent life for years. According to me, Partition should not have happened. Especially, the divide based on religion.  It caused many riots and loss of lives in both countries. Besides, it was not even entirely a division based on religion. Only the Upper-Class Muslims migrated and received a respectful status in Pakistan. Other Muslims, of Bihar and UP, for example, who wanted Partition remained in India. The religion-based issues that happen today are truly the result of the Partition that divided people based on religion. What were Nehru and Gandhi's thoughts behind allowing the Partition of India, I don't know? But all I know is it should not have happened."
Nalini Chugani
A retired Principal of a Mumbai University-affiliated private early childhood education teacher training college, she is 81 years old today. Recollecting the memories and feelings of the Partition she said, "I was a nine and a half-year-old then, living in Karachi. About 20 days after Independence we decided to move because my grandfather saw two people being killed. Mentally, we were all prepared that we may have to leave because things were deteriorating. There were blackouts, power would go off suddenly. I remember very strongly the feelings of fear. There were a lot of rumours of rioters attacking men, and taking away women and girls. My mother somehow managed to keep a capsule of Potassium Cyanide with her. If anything happened, women could consume that and end their lives. This was the kind of fear and dread we had."
Also Read: Financial independence is key for women empowerment
Recalling the journey to India, Nalini Chhugani said, "We left Karachi carrying utensils, clothes and some necessities. All of us thought that we will come back in a few days when the situation is under control. We left by train, with proper tickets. The train was getting crowded with too many people getting in at every station. I remember the feeling of suffocation during the journey. Another thing was fear. At every station the train stopped, there was this fear of being attacked. When the train crossed the border, we were finally relieved that we are safe now. We stayed in the empty bungalows of British people in Udaipur. Each room was separated into units for different families where we stayed there for about six months. Another major thing I remember is my youngest uncle who was studying engineering and part of RSS. The RSS people made bombs to destroy the Pakistani government. My uncle was arrested and put in jail for one such attack. It was a very traumatic incident for us. Though he was released after a year, he never talked about what happened in jail."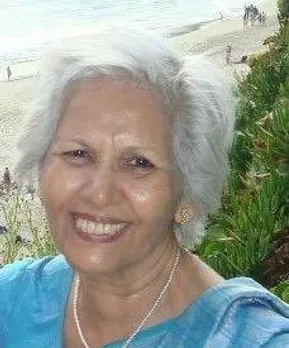 Nalini Chugani
She further said, "The partition was a negative and traumatic experience until we reached India and started a pleasant life in Udaipur. As a child, I did not suffer much, except the fear in the initial days. I can say Partition should not have been done. We had connections and were educated and that is why settling down was not very difficult for us. But for those who had nothing, it was very difficult. They suffered a huge loss. My mother's family stayed in tents as refugees for a long time. I did not hear or know of any violence against women in my immediate family but it did happen to other women. I am happy that India is free today, but freedom has come at a great cost. Partition need not have happened; there could have been a better way of solving the issues."
Kaushalya Chaudhari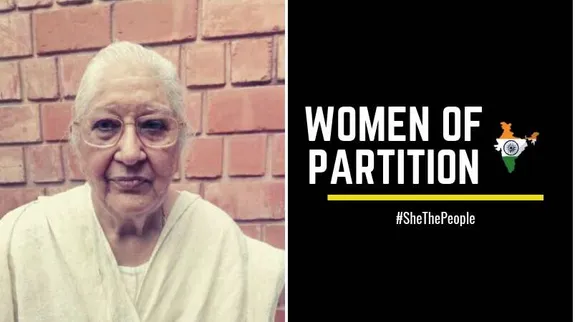 Kaushalya Chaudhari Women of Partition talk of Indian Independence
Eighty-year-old Kaushalya Chaudhari,  lives in Delhi with her family. She has two children and is a grandmother of two. She was barely seven-years-old when the storm of Partition knocked on the gates of her house in Lahore. Remembering her childhood memory, she recounts:
"I was seven-years-old when Partition happened. I used to live with my grandfather in a house in Lahore. It was a three-storey building in Sadar Bazar in Lahore. I can still remember the interiors of the house in Lahore. When the riots of Partition was going on in Lahore, I, along with my mother, my younger brother and sister was at my grandmother's house at Sirsa. While returning, we got down at Hisar station to catch the next train to Lahore. Suddenly, there was a stampede at the station. A Muslim brother came over to us and said that there is a riot happening between Hindus and Muslims. He took us to a Hindu dharamshala across the station where all the Hindus were hiding. He helped me and my mother to jump off the walls to reach the dharamshala. We left all our things at the station itself and hid inside the dharamshala without clothes for about 20 days. We were provided food and other essentials though. But since no one in my family knew about our whereabouts, my grandfather at Lahore had considered us dead and performed our last rites.
She further said, "I do not remember much details of the stay at the dharamshala. Except that we had no clothes and we slept on floors in small rooms. Only after we settled in India, which took a very long time, that I wore new clothes of my own. I vividly remember it was a green colour dress with red flowers on it. I used to lift the dress and look at it again and again. That dress was the signal that everything is fine now and that is why I remember it so clearly. I never thought that a trip to my grandmother's house was the last goodbye to my original home in Lahore. We never thought that we would never return back to Lahore. We could have been killed on that very spot at the Hisar station. But, luckily, we were saved and were able to survive the Partition and restart our lives."
Read Also: Women Always Find A Way Of Telling Their Stories: Author Annie Zaidi
Sabita Chuganee
She is a part-time Professor at Government Law College. She is originally from Larkana where her grandfather was a big zamindar. When partition happened, Sabita Chuganee was seven years old. Her father was a civil engineer with the Military Engineering Service (MES) of the occupational force in Indonesia and she was living with her mother and siblings in a house at Karachi. Recounting the experience of Partition, Sabita Chuganee says, "I remember very clearly that people were trying to break in through the doors of our house in Karachi. It was only me, my mother and four other siblings of mine inside the house. These were Muslim people who were attacking the Hindus and killing them. We had houses in a row in Karachi with each neighbour connected through a wall. When rioters were knocking at our doors, I remember climbing over the connecting wall and jumping into my neighbour's house to escape. Later, we moved to my maternal uncle's house who lived in a gated community in Karachi. There was violence there too.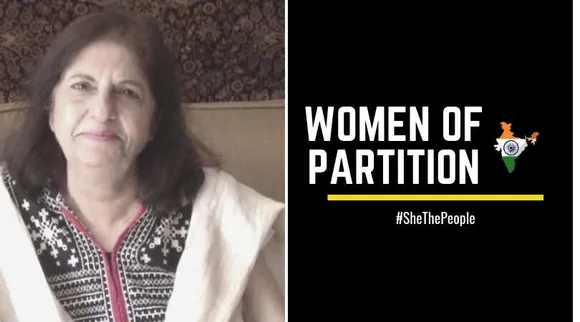 Sabita Chuganee Women of Partition talk of Indian Independence
Rioters threw burning cloth of kerosene inside the gate of the community. So finally we decided to move out to save our lives over money. The train journey to India is another thing I remember vividly. We did not carry anything with us. Only, my mother carried some jewellery in a pouch and stitched onto her undergarments. The train was so crowded and suffocating that people sat on the top of each other. It was scary to see people rushed and crushed like that. When we reached Udaipur, we settled in small rooms like refugees in a house arranged by my maternal uncle. I still remember that the room was so small and had grilled windows that monkeys could put their hands through it to take away the chapatti my mother was cooking."
She further said, "Though my father was not with us, my mother tried to manage and take care of us alone. Of course, we always had the support of our neighbours and my maternal uncle. Later when my father returned and got transferred to Pune, we all settled there. I do not remember of any violence that happened, except the riots, fires, whistles of police to drive the rioters away and hate slogans against Hindus. The fire was frightening because sometimes it was one of our neighbours burning in it. We used to put off the lights very early in the evening and sleep to pretend there was no one in the house. Everything was dark except the frightening shouts and fires burning. However, the danger to life was only until we settled in India when everything was back to normal."
Smt. Jamna Arjunsingh Advani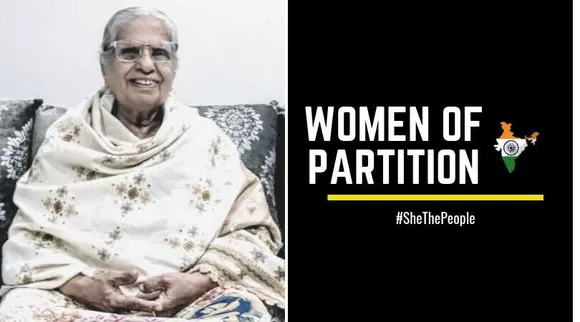 Jamna ArjunSigh Advani Women of Partition talk of Indian Independence
Born in 1941, she was barely eight when the mass migration stirred her life. She lived in Daherki, Sakhar District in Pakistan. More than 70 years have passed since then, but her fading memory still wants to visit the house she left behind in Pakistan. Reliving the vivid memories of Partition, Jamna Advani recounted:
"I was eight years old when Partition happened.  When the riots were still going on, we heard about a girl being taken away and thrown near the riverbank in an unconscious state. Everyone rushed off to the bank to see who she was. She was my friend and neighbour.  Later, when the situation worsened, we decided to leave Pakistan while the riots are on. With the help of our Muslim friends, we dressed up in their burkhas stuffed some jewellery in small secret pockets of undergarments and left for Lahore to catch the train to India. When we reached the station there was a brutal sight of violence and bloodshed that I cannot ever forget. We reached Delhi riding in one such train and started working for money. We rented homes and slowly and gradually tried to settle in India. The government provided enough help by providing clothes and employment for men, women, and children to earn some livelihood. We left Pakistan with the thought of returning back sometime after the riots are pacified. We never thought of leaving our land, money, and houses forever. Even today, I ask my children to take me back to Pakistan once so that I can see my house. I can never forget all the trauma, loss and violence that I saw during that time."
Dr Rabindra Kapoor
She is a retired medical superintendent. Recalling her personal experience of Partition when she was only 10-years-old, she says, "I lived with my family in Civil Lines at Rawalpindi which was comparatively a quieter area than those badly affected by riots. When the riots started in Rawalpindi, we moved to Dalhousie where we lived with our aunt for a long time. The major difference that I noticed was that my father while in Civil Lines was a lawyer and rich but in Dalhousie, he was a poor man with no money to support his family. We did not carry anything with us. My father was a lawyer; whenever he travelled he carried only books of law instead of anything else. Besides, we travelled to India in March, much earlier than August of 1947, and had planned to return back to our home when riots stopped. We did not face any riots on the train because we left that early. I was also admitted to a school in Dalhousie but later removed because there was money to pay the fees. We had lands and a big house in Rawalpindi, but in Dalhousie we had nothing. Even in Rawalpindi, when the riots started initially, every man in my house did the guard duty on the terrace with rifles and guns. My father worked really hard to support the family. Eventually, he started practising in Delhi court and we all settled there and everything was fine.  But until we reached India and fully settled down, things were very difficult and unsettling."
Roop Kaul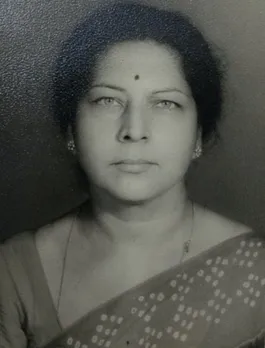 Roop Kaul
She has worked as a teacher and now runs a school of her own in Jaipur. When India got Independence and was divided into Pakistan and India, Roop Kaul lived in Kolkata with her family. Remembering the sights of violence she witnessed, Roop Kaul said,"I was not directly affected by the riots and Partition that happened in 1947. However, I did witness the horrible violence and its effects from quite far. I lived in Kolkata then with my family near the banks of the Hoogly river. As the partition happened and the riots began, I remember the sight of the dead bodies floating in the Hooghly river. We were so terrified by all the violence and riots happening, that we had to run away from our house in the bazar into the interiors to escape the danger of the Muslim attacking the Hindu families. Truly, Independence has been received at a great cost of bloodshed. Today, when we are about to celebrate this independence, I would say that it is important to respect the freedom and all the struggles behind it. We need to respect the sacrifices of our freedom fighters and the death of many innocent people. It is important also to sustain this independence through unity and do not repeat history."
Shanta Narayan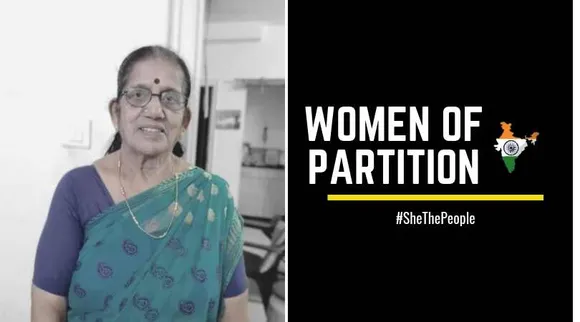 Shanta Narayan Women of Partition talk of Indian Independence
"My mother must've been a toddler. This was before Independence. My grandparents with their three children, including my mother, who was a toddler at the time, had to "run away" from Calcutta to Jamshedpur. My mom says the event was called "evacuation". In the crowded train, my mother got separated from her parents and was found by someone in another compartment. The man somehow traced her parents by announcing a "missing child" and handed her over to them. Mom says the times were good. She also remembers processions of trucks filled with people passing by roads announcing Gandhiji's assassination by Godse. Announcements were made via loudspeakers mounted on the trucks." As told to her daughter, Rajani Kumar.
Read Also: Pragya Bhagat's "Yarn" Chronicles Women's Journey Through Partition
What does Independence mean today?
The memories of Partition and Independence are as vivid as the burning fire in the darkness of the night. The fire was put off, gradually as the dawn ushered in, but the smoke, the eerie silence that smelt of unhealed wounds is still overwhelming. The "At the stroke of the midnight…" speech of Nehru certainly was a declaration, of independence and citizenship, and of eternal loss and nostalgia. When the tri-colour will be swaying with the wind and the Red Fort will be reverberating with the national anthem, somewhere in the corner a heart will again be reminded of those bricks across the border they haven't seen since 73 years. Indeed, we are independent today but the freedom bestows upon us a responsibility of understanding, respecting and sustaining it.
Rudrani Kumari is an intern with SheThePeople.TV
Read Also: How 11 Year-Old Mira Had To Leave Behind Her Life In Karachi