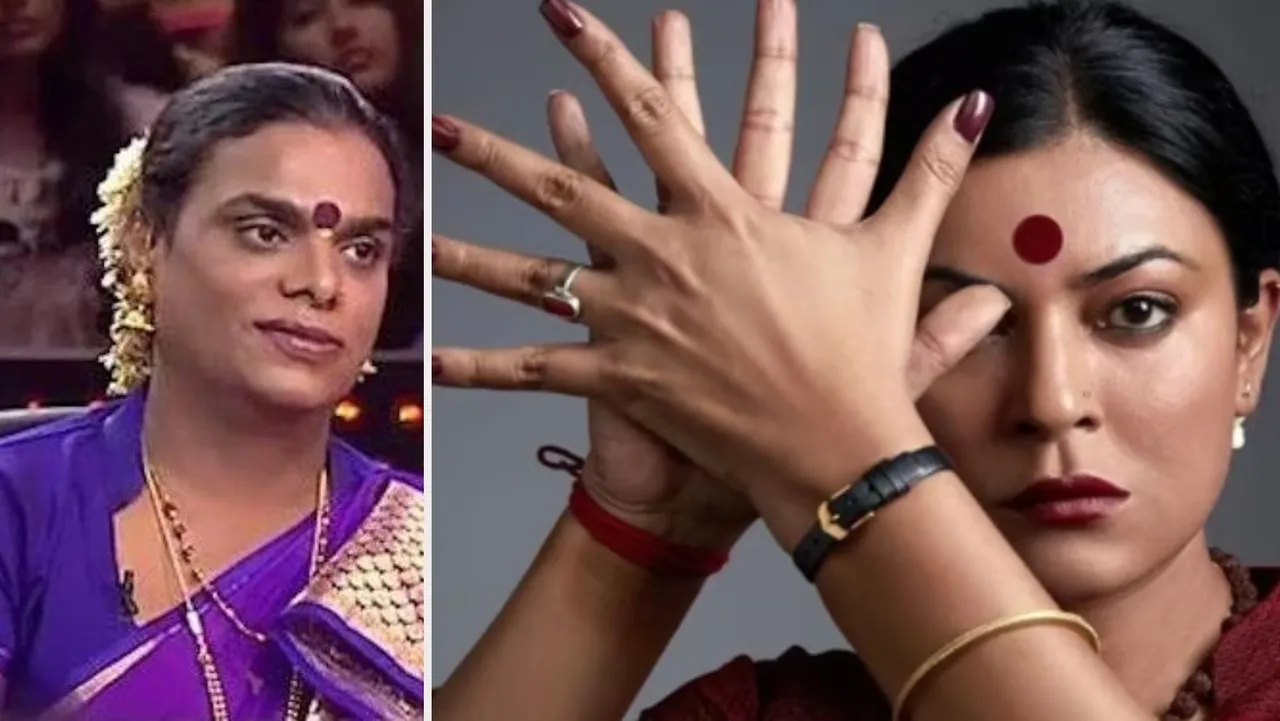 Former Miss Universe Sushmita Sen is set to unveil an entirely unprecedented persona as she takes on the role of transgender activist Shreegauri Sawant in the forthcoming JioCinema series titled 'Taali.'
The trailer for the show has been released, offering a glimpse into a poignant and impactful narrative of bravery. While the actor is being appreciated and praised for her acting, her looks in the film as Ganesh and Gauri both do justice to the story of the legend.
Sushmita Sen As Ganesh
In her role as Ganesh, Gauri Sawant's male persona, Sushmita wears loose shirts and jeans, with a layered bob haircut. With close to no makeup, her look does justice to the past male persona of the activist.
Gauri Sawant, acknowledging Sushmita's portrayal, said, "It is a gesture of honour towards the transgender community. The majority of us wanted to be feminine, which is why the choice to don a saree was significant. This is a mark of respect for us that a female actor is taking on the role, rather than the previously observed trend of male actors portraying such characters."
Of Sarees And Red Bindi
The transgender activist is differentiated by the big, bold red bindi they wear with the bold colour sarees. The look is perfectly captured in the series. Sushmita is seen wearing cotton colour-blocked sarees that reflect red and green in the base shades.
The red bindi is the story of courage, a fierce attitude, and the spirit to fight.
Apart from the sarees, Sushmita, in her simpler looks in the series, is seen wearing simple cotton suits, the outfit of the common woman of the nation and every mother.
Sushmita Sen As Gauri Sawant In Taali
After Sushmita Sen shared the first look of the film, she was heavily trolled on social media platforms. Sharing her experience, the actor recalls, 'The first poster of Taali had half my face and the clap. I remember that in the comment section, there were lots of nameless people, writing 'chhakka' repeatedly. I thought, How can they do that to me? I took it very personally because it was happening on my timeline. I, of course, blocked all of them.'
She further talks about how it made her realise the pain and struggle of the third gender. She said, 'It hit me that if a little trolling is making me feel like this, they're living with it every breathing moment of their life.'
About 'Taali'
The series, starring Sushmita Sen, is scheduled to be available for streaming on JioCinema starting on August 15.
Taali will focus on the unwavering efforts of transgender activist Shreegauri Sawant in her quest for recognition of the third gender in India. The series has been directed by the filmmaker Ravi Jadhav, a recipient of the National Film Award.
Suggested Reading: Kajol's Statement On Pay Parity Overlooks Systemic Concerns