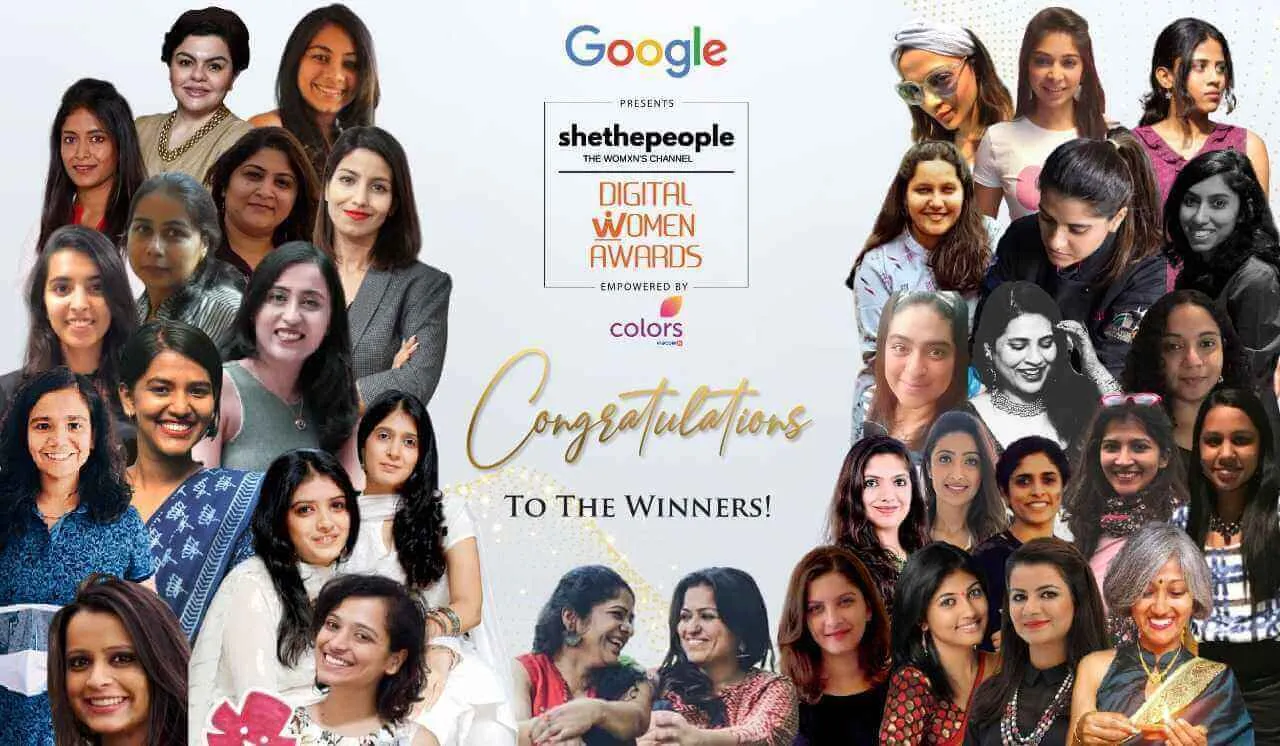 Innovators, game-changers, creators: that is what best describes the winners of SheThePeople's Digital Women Awards 2020. These dynamic women entrepreneurs are revolutionising the market with their unique enterprises, that aim not only at servicing the customer base but also at inclusivity. Inclusivity of the environment, forgotten artisans, grassroots cultures, and neglected communities. To education, handicrafts, policies, motherhood, and more, these women have brought immeasurable change that each day brings us closer to a better world.
They are doing all this and beyond without allowing society to hold them back by their gender. If anything, they have used gender to their advantage and set a precedent for other women who in the future, will look up to them and believe that women are capable - expertly capable - of everything they are told they are not. By making progress in the business world, that is to date populated by white-collared men, women have well joined the race with the statement that they are here to stay.
E-COMMERCE
Shwetha Nimkar, PAIO Shoes
Founded by Shweta Nimkar, PAIO is a local homegrown name that creates cruelty-free, sustainable, and conscious fashion with strong design elements. The platform provides sustenance to skilled karigars at the grassroots, who have been trained through generations in the art of handmade products. Nimkar's  love for shoes began as a doodle project, and this hobby-turned-passion for textiles, leather, and shoes has grown into a strong business.
Shirin Mann, Needle Dust Juttis
Shirin Mann, crime journalist turned designer, founded Needledust, the first footwear label to reinvent and redesign juttis bringing the Indian handicraft to international fashion. It offers a line of fine leather juttis, which are hand-crafted and hand-sewn by India's finest artisans. Mann has a deep connection with traditional Punjabi juttis and her aim is to revive the handicraft with a modern edge.
Swathi Sri Aravind, A Toddler Thing
A Toddler Thing is a brand founded by engineer-turned-entrepreneur, Swathi Sri Aravind, a new-age mom who believes in driving a change that impacts the lives of mothers and babies in India. Their unique baby care products ranging from cloth diapers to newborn essentials that are eco-friendly. They are dedicated to creating a culture of sustainable living for new parents and the environment.
Yasodha Sivaraman, Bloomy Brain
As a mum, Yasodha Sivaraman wanted to reach out to other moms in India through a digital platform. Her brand, Bloomybraintoys, is committed to bringing essential learning and developmental toys to children of 0 to 10 years of age through the appropriate learning material. Sivaraman stepped into entrepreneurship after the abortion of her second child and she says the brand has filled the void inside her.
Surbhi Bhatia, The Moms Store
Surbhi Bhatia is the Founder & CEO of The Mom Store, a mother and baby products e-commerce start-up that aims to celebrate the motherhood journey right from pregnancy to early motherhood. They have built a base of more than 50,000 loyal customers who swear by their products and have catapulted them to one of India's leading homegrown maternity and baby products brands today.
Pragya and Divya Batra, Quirksmith
Started by sisters Pragya and Divya Batra, Quirksmith makes handcrafted jewellery in silver and other metals. Their values and journey as women form the basis of their designs that speak to women on the path of self-discovery and self-love. According to the sisters, their brand identifies with the basic instinct of women to express themselves the way they want to with a little edge.
Roohi Bhatia, Little Looms
Roohi is a gold medalist from NIFT, Delhi. Her brand Little Looms handcrafts vibrant and playful rugs for kids for all age groups through skilled artisans, with attention to detail and quality. As co-founder of her brand, Bhatia looks into online sales and marketing of the rugs and is also the creative head of design at the company. As a full-time mother, she found value for her enterprise in the digital space.
Akanksha Arora, Tribe Amrapali
As the CEO of Tribe Amrapali, Akanksha Arora looks into innovation and designs, ensuring that the brand retains its heritage ethos while creating contemporary designs. Since the popular Amrapali Jewels did not have any digital presence, Tribe was formed with an idea of a having an online presence for the brand's jewellery to cater to a large audience.
Kirti Goel, Ptal
Kirti Goel is a design graduate from Pearl Academy in the year 2017, and directly after graduation began work on the project of crafts revival. Through Ptal, a handicraft e-commerce venture, she helps brass and copper artisans from Jandialaguru, Amritsar to create sellable designs through her brand. The craft she promotes was, she says, the only craft form to be recognised by UNESCO's list of intangible heritage culture.
DISRUPTION
Garima Tiwari, Kidz Creative Express
Garima Tiwari is the Founder & Chief Learning Officer at Creative Express, a brand that aspires to fill the minute gaps that exist in the education system and make learning fun for kids. They assist parents and teachers to come up with unique ideas that will work well for a child. Foresighted with intuitive business acumen, Tiwari has a proven track record of implementing new ideas and seeing them through to success.
Radhika Choudary, Frery Energy
Radhika Choudary co-founded Freyr Energy Services Private Limited on the principle of making solar energy affordable and accessible for everyone. A professional with a futuristic perspective, Choudary has won awards on many occasions for her innovation in the field of energy. She has over 13 years of work experience with notable names in the power and energy industry.
Anju Arora, The Period Hub
Anju Arora is the Director at The Period Hub, an exclusive platform that brings healthy and eco-friendly menstrual wellness solutions for urban women. Their line of products and services aims to revive traditional practices with a twist of modernism. Arora has been in the space of sustainable menstrual health since 2015 and has in-depth knowledge about period challenges, and with her venture is trying to dispel the stigma around periods.
SOCIAL IMPACT
Kamakshi and Vishala, Sound Space India
Sisters Kamakshi and Vishala Khurana started Sound Space India in 2019, with the objective of making Indian music accessible and more amenable to audiences through music healing. They were exposed to the world of Indian music at the age of 3, and as they grew up, they commenced formal theoretical training in classical music. They completed their 'Virashad' in music alongside degrees in Psychology, which gave them a better understanding of both arts.
Asha Vettoor, Swara Voice of Women
Asha Scaria Vettoor, the Founder and CEO of Swara, aims to bring innovation to sectors such as clothing and tourism by bringing jobs to the doorstep of India's female workforce. They manufacture sustainable clothing for the conscious urban consumer, alongside partnering with NGOs and offering special training to women tailors. Vettoor seeks to acquire the skills to pursue her goal of being a serial entrepreneur of inclusive businesses.
Saloni Mehta, Tactopus
Saloni Mehta is the co-founder and CEO of Tactopus, a platform that creates multi-sensory, tech-enabled learning experiences for children, with a primary focus also on children with disabilities. It is providing equal opportunity for all children in learning and education. Mehta is currently building inclusive learning solutions for children with vision loss and learning disabilities.
COVID IMPACT
Dimple Jangda, Prana
Prana Healthcare Centre, founded by Dimple Jangda, is an Ayurvedic healing venture that has been at the forefront of the COVID-19 pandemic by offering health solutions. Following a diagnostic process, experts at the centre formulate a step-by-step personalised treatment plan in accordance with the patient's diet, lifestyle, activity and seasonal effects.  Jangda has over 12 years of experience working in industries and is a gold medalist in International business.
Hetika Shah, 4SShield
Hetika Shah is a young, second-year student at the Entrepreneurship Development Institute of India (EDII), Ahmedabad, who has developed the 4S SHIELD mask. Her creation covers all four sensory organs - eyes, nose, ears, and mouth - and is aimed to assist COVID-19 frontline health workers in their jobs.
Malaika Shivalkar, Project Pahunch
A student at National Law University, Jodhpur, Malaika Shivalkar is the Co-Founder at Project Pahunch (stylised as पहुँच), a social initiative attempting to provide students from low-income families the access to online education during the pandemic. A lawyer by profession, Shivalkar has made education accessible to several students across India.
CONTENT
Kopal Khanna, Tape A Tale
Kopal Khanna is the CEO & Co-founder at Tape A Tale, is a virtual storytelling platform where people can submit audio stories they wish to share with the world. The platform organises offline events where storytellers can tell personal stories to a live audience. Her interest in entrepreneurship was born out of her own inclination towards poetry, stories, arts, films, and reading.
Leeza Mangaldas
Leeza Mangaldas is India's foremost sex-positive content creator, with a reach on YouTube and Instagram. Her aim is to normalise conversations around sexuality, sexual health, gender, and the body, with a prime focus on women's pleasure. She doesn't identify herself as a doctor or advisor, but as a content creator, is trying to reach out to people on sex and health to dispel the stigma that surrounds the subject.
Shradha Fogla, 2 Monkeys And Me
Founded by Shradha Fogla, a mother of two boys, 2 Monkeys And Me is a digital space for active parenting and for utilising children's learning and development process to its whole. Through tested at-home activities, games, science experiments, and DIY activities, she shares expert advice with other mothers across India so they can make well-informed decisions for their children. Her children are the reason behind her creativity, she claims.
Get To Know The Winners Of The Digital Women Awards 2020?
Meera Raina, Infertility To Motherhood
Meera Raina is a blogger and founder of Infertility To Motherhood, a journey that began when her own journey as an IVF mom did. Through her venture, she raises awareness about the process of becoming a parent through the Invitro Fertilisation process and breaks the myths surrounding this parenting method. Upon recently embracing motherhood through IVF, she realised the need for a platform that gives space to women battling infertility.
SOLOPRENEURS
Meghana Rao, Chlorofill
Meghana Rao runs an aspiring business of plants called Chlorofill. From succulents to other indoor plants and pots, her brand sells all kinds of plant gifts. Landscaping had always been her dream and Rao started gardening at the age of ten. From there, it took her to launch and establish Chlorofill. Read our profile on her here.
Nanda Balasubramanian, Amaze Kids Edutainment
Nanda Balasubramanian, founder of Amaze Kids Edutainment, is a seasoned e-commerce professional with over ten years of experience. During the pandemic this year, she launched the AMAZE KIDS app, a platform that encourages kids to ask questions and expand their imagination through interactive learning methods. The free app provides videos for children across ages on science, reading, stories, music, arts, etc. which have been handpicked by parents.
Nikki Thakker, Éntisi Chocolatier
Nikki Jain Thakker is the Founder & Chocolatier at Éntisi Chocolatier, a premium chocolate brand based out of Mumbai. Her time abroad gave her the realisation that India was short of a reliable chocolate brand that knew how to whip up basic chocolates that were popular and well-loved in other countries. With her formal training in chocolate making, Thakker is now producing exclusive chocolates and hopes to create a proudly Indian chocolate brand.
Vanita Agarwal, SagaaByVanita
Vanita Agarwal, the founder of Sagaa is an engineer turned designer who works closely with artisans to create unique, timeless pieces that resonate with all women. Her brand believes in handcrafted and comfortable clothing fused with contemporary sensibilities, with a zero-waste policy. It is committed to redefining the idea of luxury, comfort, and style, and is admittedly, an extension of Agarwal's own easygoing wardrobe.
Manasi Chaudhari, PinkLegal.in
Manasi Chaudhari is the Founder and CEO of Pink Legal, India's first and only website dedicated to women's rights and laws for women. As a lawyer, Chaudhari has assisted on three landmark judgments in the court - Section 377, Sabrimala Temple, and adultery. Her platform aims to empower women, reduce gender equality, and fill the gap between law and the public in India.
Leesha, Adah by Leesha
While working with multinationals, founder and owner of Adah, Leesha Agarwal realised there were large amounts of scrap fabric and waste going into landfills every day. She also noticed that workers were underpaid, so she decided to begin her own brand Adah by Leesha, which would source directly from handicraft artists. Adah has also been selling masks with leftover fabrics from their garment construction, to implement a zero-waste policy while fighting COVID-19.
Anumita Jain, A Clay Story
Anumita Jain began her brand A Clay Story with an aspiration to boost the significance of handcrafted ceramic and clay creations in a world that is increasingly relying on mass-produced factory goods. She believes in infusing a story and soul to each of her creations, imparting a personal touch to her aesthetic products. Made in a small artisanal workshop, Jain's ceramics give off a human feel with imperfections designed to reflect approachability.
Pooja Apte, Nemital
Pooja Apte, through her brand Nemital, is designing sustainable footwear out of scrap tire pieces. Her recycled products are aimed at reducing eco-waste and pollution, that would otherwise emanate from discarding and burning tires from buses, trucks, and other vehicles. Most of the footwear is focused on women, with a wide, stylish range from Kolhapuri chappals, sandals, mojris, and even heels.
Misha, Bobtail
Bobtail, founded by Misha Gupta, a fashion and graphic designer, is a kids' store focused on safe, organic cotton toys and plushes for little children. Relying on a strong sense of community, all toy products are handmade by women artisans attached to NGOs, who are being given a vocational skill training and livelihood. Gupta's brand gained recognition for its innovative nursing pillow.
Chanchal Badsiwal, Ethnic Chanchal
After a decade of working for corporates, Chanchal Badsiwal turned to entrepreneurship with her own brand called Chanchal, an enterprise centred upon Indian traditional art forms. She has travelled to various villages to research handmade weaves. The brand aims at promoting traditional art and craft while empowering the grass-root level workforce through environmentally-sustainable products.
MARKETING + LEADERSHIP
Shauravi Malik, Slurrp Farm
Slurrps Farm was co-founded by Shauravi Malik when she decided it was time for millets to be back on children's plates so they could eat healthy. As a mother, Malik understands the need for children's diets to be balanced yet delicious, so she dug out traditional superfood recipes from her grandmother's kitchen. Along with co-founder Meghna Narayan, she has made a brand loved by parents for their young ones.
Deepshikha Kumar, SpeakIN
Deepshikha Kumar is the founder and Managing Partner at SpeakIn, India's first and largest consortium of business experts. She works with speakers and global industry experts on building excellence in speech and is also an author of a book around the same theme. Passionate about education, Kumar serves as an honorary faculty for leading business schools.
Khushboo Jain, Impact Guru
Khushboo Jain co-founded the crowdfunding platform ImpactGuru.com and has since served as the company's Chief Operating Officer. She began her entrepreneurial career with a mission to help India's people find crowdfunding solutions for patients struggling to fund critical illnesses. ImpactGuru is now India's number one healthcare financing platform. Jain is actively involved in the company's marketing and communications strategies as well.
 Elisha Sehgal, ELSOL India Consultants
Founder & CEO at El Sol Strategic Consultants, Elisha Sehgal is a brand architect working to make companies and services into monopoly businesses. Her journey as a creative entrepreneur began two decades ago as a mass media student. She has come a long way to establish her own reputed brand consultancy and growth marketing company. ESSC merges imagination, knowledge, and technology to build brands and enable their digital transformation.
Views expressed are the author's own.