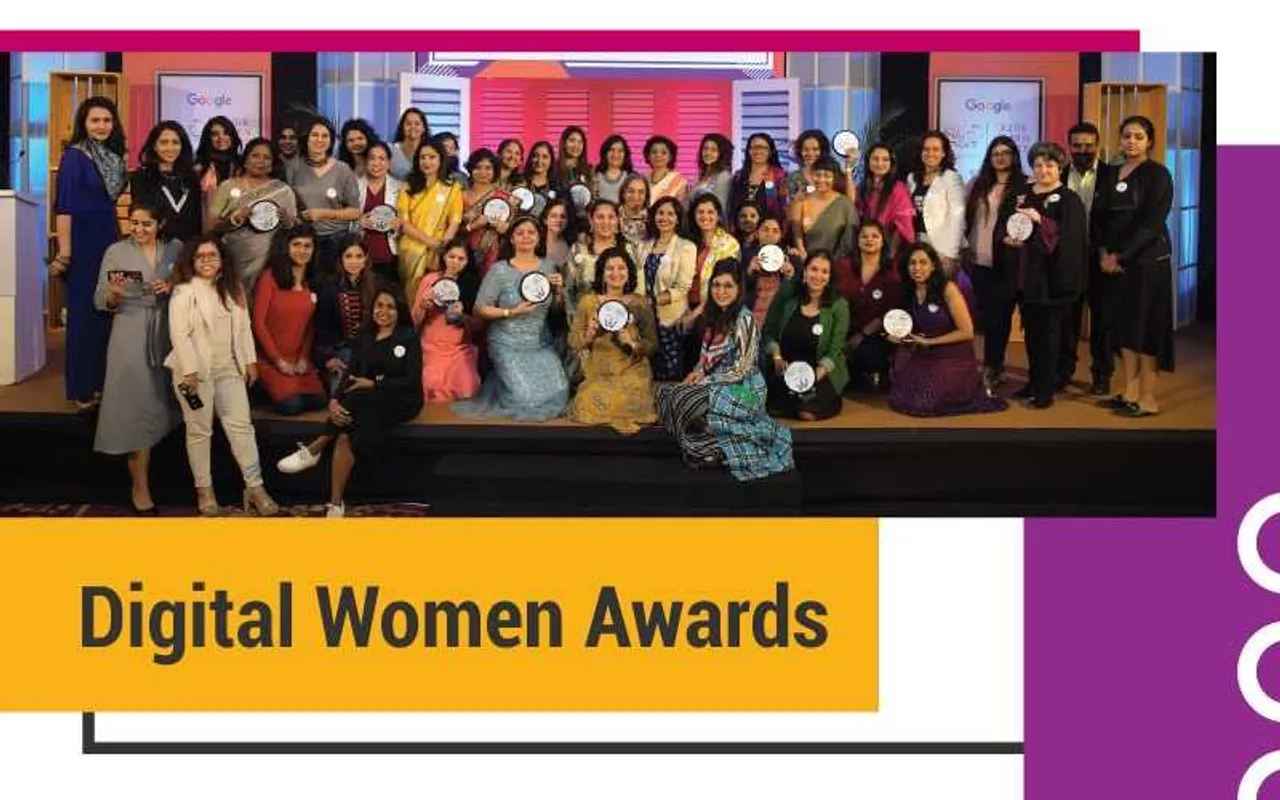 It was a glittering evening of woman power and positivity at the Digital Women Awards by SheThePeople.TV, presented by Google and Colors TV, on Saturday, Nov 23rd, 2019 at the Crowne Plaza, Gurgaon. The power-packed event saw India's top digital start-up stars came together to celebrate the finest women entrepreneurs who risked everything to launch a new enterprise by leveraging the power of digital.
Women entrepreneurs are breaking new ground with creative technologies, new innovation, and ideas and bringing solutions to problems India needs to solve. Among the awardees was a woman who used digital to create a mobile game to build ecological awareness among the youth of the islands of the Indian Ocean and across Africa. Another works with women stuck in a cycle of petty crime to get them out of their circumstances. One of the women created an online platform for film shooting locations and another who creates individually curated travel experiences and more.
Digital Women Awards Jury
The Jury for the Digital Women Awards was led by a panel of strong industry names such as Shivya Nath, Travel Blogger, Elsa Marie D'Silva, Founder Safecity, Akila Urankar, President Business Standard, Deepali Naair, Director (Marketing) at IBM and Shaili Chopra, Founder of SheThePeople.TV. The combined expertise of the jury members in the spaces of tech, digital and consumer offerings brought invaluable insight into the judging process. Each application went through a rigorous evaluation.
Elsamarie DSilva, a fellow from Stanford and Yale, and the founder of Safecity is on the Jury. She says, "We picked women who have resilience and perseverance to make their idea a reality."
READ ALSO: Digital Is Why I Am An Entrepreneur 
What The Winners Had To Say
The packed audience comprised of powerful women achievers, supporters of women's enterprise, corporate personalities and social influencers. The evening saw compelling panel discussions on subjects like how technology will enable the next billion, amongst others. This year's awards brought together champions of women such as Debjani Ghosh President Nasscom, Suresh Narayanan CMD Nestle, Sapna Chadha, Head of Marketing Google India and Southeast Asia, entrepreneurs Pooja Dhingra and Anavila Misra and many more.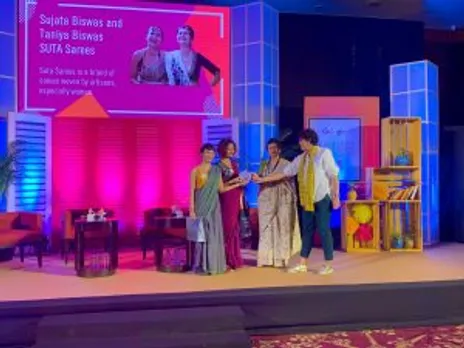 Image source: Twitter
Now in its fifth edition, the energetic Digital Women Awards was partnered by Google and Colors TV. All these women applicants are not just achievers but an example of breaking the glass ceiling and leading their organisations, leading from the front. Awardee Natasha Lorraine Founder of WordsEdge Bangalore, says, "To be a woman recognised in the digital field is such an honour. I am forever grateful to the team of SheThePeople.TV, Google and Colors TV."
Arpita Vyas says, "I founded The Wings to fly Foundation which works for women empowerment and child welfare as a rehabilitation project of the women of the marginalized communities in Gujarat Working to transform the women in Ahmedabad involved in bootlegging, theft and shoplifting," further adding, "We recognized five alternative professions which could provide long-term employment opportunities to these women, viz. Traditional Handicrafts, Jewellery Making, Paper Products, Stitching and Beauty & Wellness."
READ ALSO: Inspirational Quotes From Digital Women Awards 2018
"It feels great to win the award under the e commerce category. A big thank you to she the people for recognizing Mooibox's work and encouraging and motivating budding women entrepreneurs across the country!" says Sahee Wasaan of Mooi box who won an award in the ecommerce category.
The Future Is Female
SheThePeople.TV, India's largest storytelling platform for women is the force behind Digital Women Awards. Founder Shaili Chopra stated, "This is a proud moment for all women start-ups. Women are great examples of leadership, excellence and entrepreneurship, all of which SheThePeople.TV stands for. Our mission is to continue to build this platform for future leaders who will shape the Indian digital eco-system and the Digital Women Awards are just one of the steps in achieving that goal."
Women across the world are actively joining the workforce, asserting themselves on issues and networking to become a strong force.  "From leaders, game-changers, board members, executives and entrepreneurs, sportswomen and politicians and every woman engaging in her goals, we are changing the conversation about them. We believe we are an active positive part of that change," Chopra said.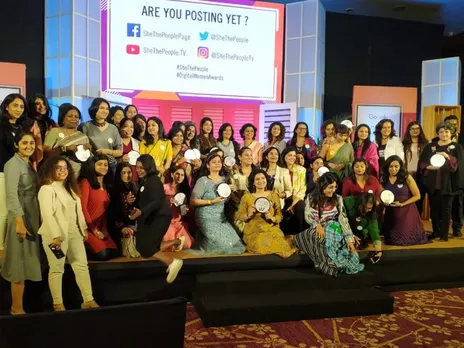 Here are the winners of the SheThePeople.TV Digital Women Awards 2019:
Impact
Veda Dean, EcoWarrior App
EcoWarrior app is a mobile game to build ecological awareness among the youth of the islands of the Indian Ocean and across Africa where there is a lack of or total absence of recycling and waste sorting solutions. The game teaches children of 6 – 12 years old, the process of waste sorting and the impact of plastic pollution on the environment.
Arpita Vyas, Wings2Fly
Works with chhara and other marginalized communities. These women were involved in illegal activities such as bootlegging, pick pocketing and brewing illicit liquor. In addition to dealing with stereotypes attributed to their community, lack of education, vocational skills and employment opportunities meant that these women are stuck in a vicious circle of crime.
Swarnima Bhattacharya, Thea Care
Bhattacharya's initiative is focussed on Women's health using interactive technologies like augmented reality and conversational chatbots.
Seema Prem, Fia Global
It's a model for financial inclusion that combines state-of-the-art technology and an extensive distribution network to bridge the huge demand-supply gap for banking in under-served geographies.
Leadership
Jasmine Khurana, Spoken Word Artist
Using the power of digital storytelling. Focus of Khurana's writings/spoken word pieces is to make the voices of women heard and celebrating their lives in every role.
Sujata Biswas and Taniya Biswas, SUTA Sarees
A brand of sarees woven by artisans, especially women."Through our sarees, through our stories, we feel connected to every woman involved in the process – who share the same passion, the same nostalgia, the same unified goal. Suta is not a brand it is a community," they say.
Pratibha Sharma, Rural Handmade
Rural Handmade is dedicated to connecting the urban citizens of today with the right set of finished, sustainable, meaningful and eco-friendly products from rural craftspeople.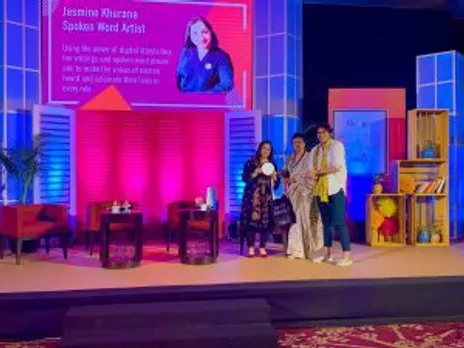 Image source: Twitter
Content
Sandal Jamal, Blogger
Her Instagram and blog, which is called blogsbysandal.com, define her business. She creates content and shares her experiences in order to help out her audience. Her content revolves around fashion, lifestyle, reviews and motivation and she believes that if you have the dedication and confidence to move in the direction of your dream, no one and nothing can stop you from achieving what you want.
Antara Pandit, Bubbly Blogcast
The Bubbly blogcast is a parenting website which addresses real and everyday parenting stories and challenges, integrated with Pandit's experiences. Her blog and articles featured globally are used as a platform for parents to share their voice.
Aishwarya Mahesh, Madrasi Bride
Madrasi Bride attracts visitors from all around the world who want a different perspective on wedding planning. Her readers share a passion for individuality in a world dominated by tradition. With this blog, Mahesh aims to inspire, intrigue and, motivate her readers to plan their weddings the way they want and to plan a wedding that reflects them and their love.
Priya Florence Shah, Naaree
Naaree.com is an online magazine for career and business women in India. They aim to help the new Indian woman break free of limitations, and disempowering thinking, get in touch with her own needs, and achieve balance and harmony in all areas of her life.
Disruption
Neha Rastogi, Agatsa
Agatsa innovates medical devices that can be used by an individual without much training and are equally accurate as any other medical device. The first range of devices are aimed at cardiac care and are called SanketLife. SanketLife is a digital IoT platform that consists of a miniature ECG device that is operated just by touching the sensors and a mobile app connected to the cloud.
Neha Kanodia, Go Ga Ga App
This mobile-based new age matchmaking plus dating app connects users to trustworthy people through human referrals. "Matchmakers" for every user comprises of user's own friends or external matchmakers who have agreed to make connections for the user for a fee. Users request their matchmakers to make connections for them by introductions to other singles in their network (friends or people who have requested to be matched).
Ivy Manohara, Filmapia
Filmapia is India's first online platform for Film Shooting Locations. It aims to bring alignment, create uniformity and standards in the chaotic space of shooting locations in the Film Industry. A network of location managers, line producers in a few countries who help implement your projects. Also provide branding consultancy for locations in films.
Poonam Choudhary, Vendaxo
End-to-end transaction marketplace for buying and selling used and surplus industrial assets like equipment, machinery and even whole plants. With a tech interface targeted at the manufacturers, they aim to help in discovery but also assist in deal closing and providing financing and logistics via their service partners.
Lakshna Jha, sRide.Co
sRide connects car owners and ride seekers going in the same direction and helps to reduce traffic, pollution, congestion. App aims to encourage ridesharing by connecting drivers and riders.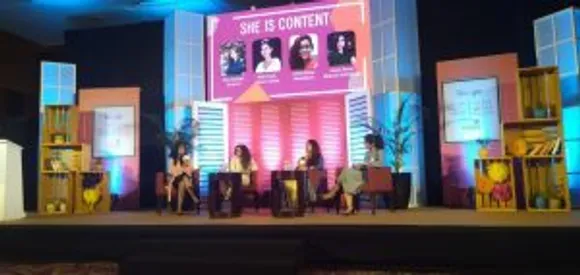 Marketing
Kritika Batra, Wanderbug
The Wanderbug is a travel service that designs beautifully curated travel experiences for wanderers all across India.
Pradnya Kakade-Singh, The Brand March
Offers branding and digital marketing services with special focus on retail, corporate, food, services, schools and varied industries.
Abhishree Bharti, Digital Pushp
Digitalpushp is Technology advisory private limited company based in Patna and provides solutions and services in the areas of Cyber Security, Application development, IT Ops and GRC management.
Suba Lakshminarasimhan, SLN Brand Studio
"As a personal branding strategist, I support working professionals, women with a break in their career, Entrepreneurs and students to create a personal brand," explains Suba. She has also launched 'Women Contentment Program.'
Shraddha Patil, Spoina
Spoina is an influencer marketing firm with a network of influencers and has executed many campaigns for various brands in skincare, health, food. They help brands design innovation campaigns with the help of their influencer networks.
Natasha Lorraine, The Words Edge
Creatively focused marketing company, developing strategies for global companies. With experience in building brands, they work with companies of all sizes, defining the marketing strategy for assured results. "Keep the funnel full for a predictable future' is our promise. We listen carefully, learn from our experiences, love our work, and go limitless in customer service."
#IAmRemarkable workshop by Google India. Image source: Twitter
Ecommerce
Sahee Wasan, MooiBox
MooiBox curates beauty and skincare boxes as per the customers' skin and hair type adding that much needed personal touch to every box. They have all-natural and organic beauty product boxes which is another USP of their brand.
Kusum Shukla, HelpForSure App
HelpForSure offer same day repair at affordable price. It has a digital face where customers can book services online with an instant quote.
Shagun Singh, Home Work
Homework by AM Services 24 by 7 Pvt. Ltd is a one-stop-shop for your home and office solutions. They provide the best and most professional maintenance and deep cleaning services in the city.
Pooja Doshi, Miraya Arts
Gifts and packaging solution selling online. Aiming to build an ecosystem of Indian artists and craftsmen including women artists by promoting their skills and products and helping to supplement their income.
Priyanka Bhattacharya Dutt and Payal Bhattacharya, Tura Turi
High-quality muslin swaddles are what made them a popular brand. Since then Tura Turi has introduced different bedding items like quilts and blankets for babies and older children. "Our USP lies in our unique, original designs as well as focus on soft, comfortable clothing," they reveal.