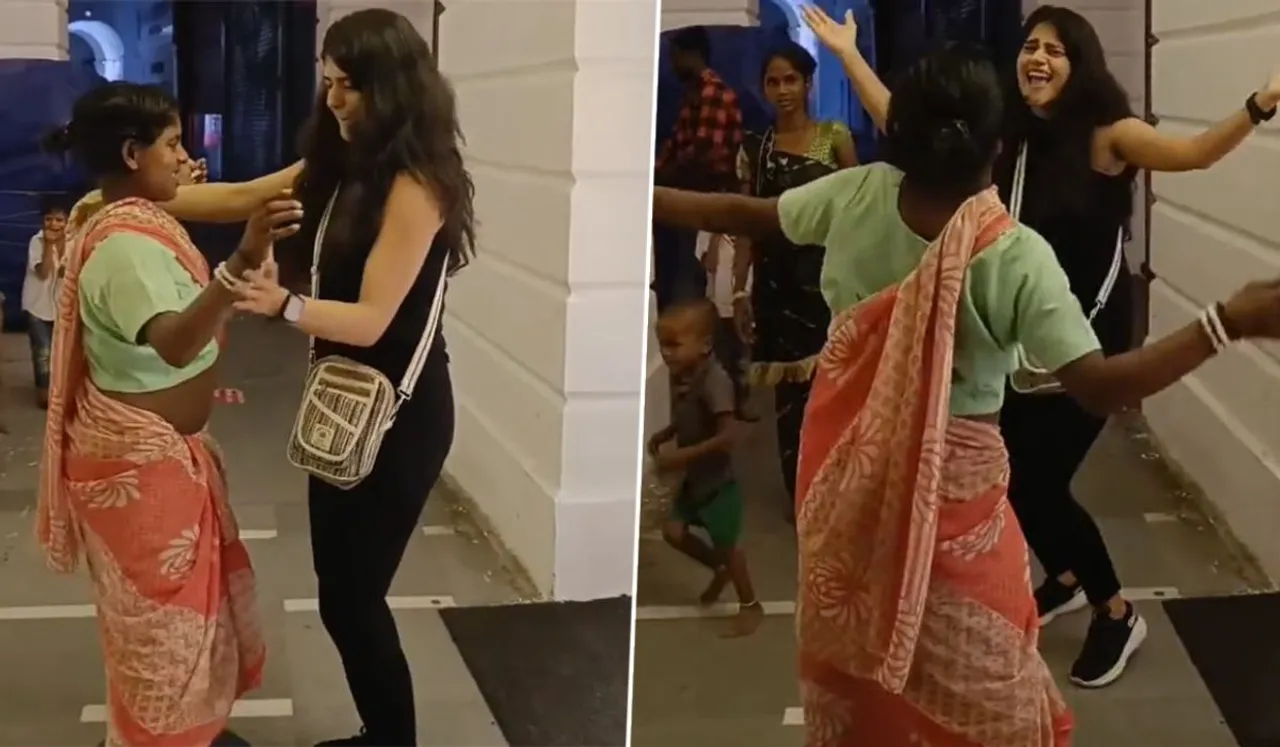 In Delhi's Connaught Place, a heartwarming video captures Anshika Awasthi dancing joyfully alongside a homeless woman near Warehouse Cafe. The duo shares a harmonious connection, and the clip concludes with Awasthi embracing the woman warmly.
A heartwarming video has taken the internet by storm, showcasing the power of spontaneous dancing and spreading joy. Anshika Awasthi shared the viral clip on Twitter. Filmed near Warehouse Cafe in Delhi's Connaught Place, the video features Anshika energetically dancing alongside a homeless woman. The duo shares a beautiful connection, culminating in her embracing the woman with a heartwarming hug.
Viral Video Of Delhi Woman And Homeless Woman Dancing Together
The caption of the viral tweet read, "Delhi is beautiful. You meet all sorts of people. And, the best ones are those who randomly join you in dance."
Delhi is beautiful. You meet all sorts of people. And, the best ones are those who randomly join you in dance. Happy Monday, everyone! 🤍#Dance #Delhi #vibes pic.twitter.com/ffOPZuyU2D

— Anshika Awasthi (@anshikawasthi) July 10, 2023
Anshika Awasthi's heartwarming video has garnered over 134k views and numerous reactions on Twitter, with many expressing gratitude for sharing such a delightful moment. 
Recounting the unexpected dance encounter, Anshika revealed that while leaving Warehouse Cafe in Connaught Place, Delhi, where the music was still playing loudly, two kids were dancing with balloons. Anshika and her friends joined in, and to their surprise, a homeless woman joined them in their impromptu dance. Anshika described the experience as cute and mentioned that they eventually hugged. When the woman asked for money, Anshika didn't have any cash, but one of her friends provided some, and they bid farewell.
 Anshika's posts garnered a significant number of comments, with users expressing their heartfelt appreciation. One comment read, "This is so heartwarming, Anshika. More power to you, my girl." The overwhelming response highlighted the emotional impact of the video and conveyed support for Anshika's compassionate gesture, amplifying the positivity and encouragement surrounding the heartening moment she shared.
Awasthi faced negative comments alongside positive ones on her post. However, she did not let the negativity deter her. Addressing the hateful comments, Anshika stood by her belief that the video was adorable and expressed her determination to continue sharing positive content online. Her response carried a strong message, stating, "You continue with your wrong deeds while I continue with the right." This showcased her resilience and unwavering commitment to spreading goodness despite encountering negativity.
---
Suggested Reading: Here's Why Women Turned Kolkata Local Train Into Battleground
---