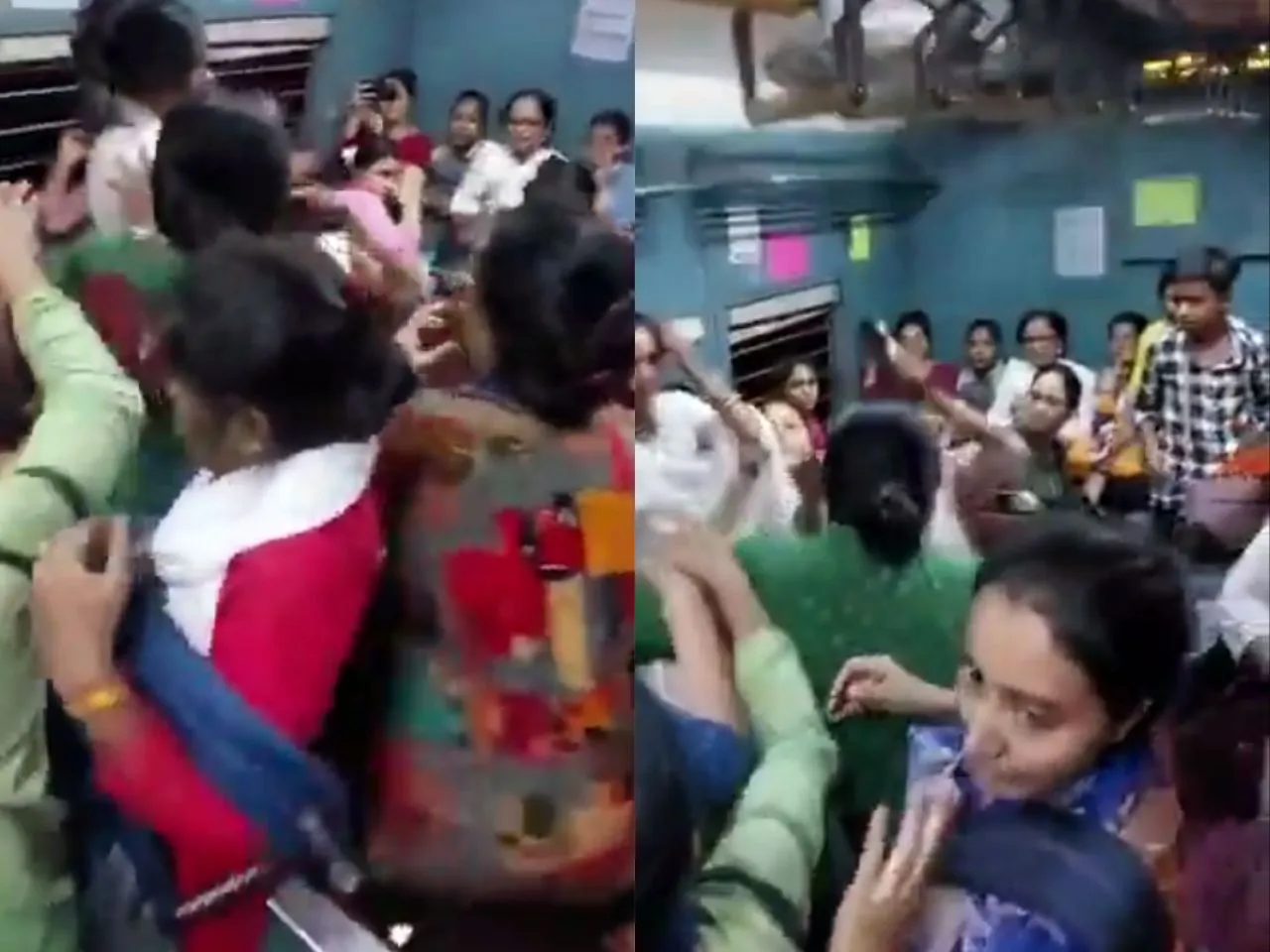 The prevalence of fight videos capturing altercations on public transportation has become a distressing and disheartening trend.
The most recent incident of a local train fight unfolded in Kolkata, where a physical confrontation erupted among a group of women. The incident was recorded on video and has since been circulating online. The incident was recorded on video and has since been circulating online, drawing attention to the concerning nature of such incidents.
An alarming incident unfolded on a Kolkata local train when a group of women became involved in a heated altercation that escalated into a physical fight.
A video capturing the intense confrontation has gained significant attention on social media, raising discussions about public behaviour norms in the country. The viral footage depicted a chaotic scene with women yelling, screaming, and resorting to slippers and punches in the ladies' coach of the train. However, the exact reason behind the altercation remains undisclosed, adding to the intrigue surrounding the incident.
Women Fight In Kolkata Local Train 
The footage depicts one woman using a slipper for defence while another holds an unidentified orange-coloured object. A woman dressed in green is seen aggressively pulling and striking the woman with the slipper. Despite the attempts of other women in the coach to intervene and diffuse the situation, their efforts proved futile as the fight persisted. 
Towards the end of the video, one of the women involved in the altercation throws an object at a boy standing nearby. The video, initially shared on Twitter by user Ayushi with the caption "Kolkata local" accompanied by a smiling face emoji, has generated significant attention online.
Kolkata local🙂 pic.twitter.com/fZDjsJm93L

— Ayushi (@Ayushihihaha) July 11, 2023
The video quickly gained viral status, captivating the internet and sparking a flurry of reactions from Twitter users. One user humorously likened the incident to a more intense version of Mumbai's local train experiences. Another user jokingly referred to it as a qualifying trail for women in the World Wrestling Federation (WWF). Meanwhile, a third user expressed bewilderment, questioning the mentality behind such behaviour.  
---
 Suggested Reading: 'Why Come Now': Woman Slaps MLA During Visit To Flood-Hit Haryana
---