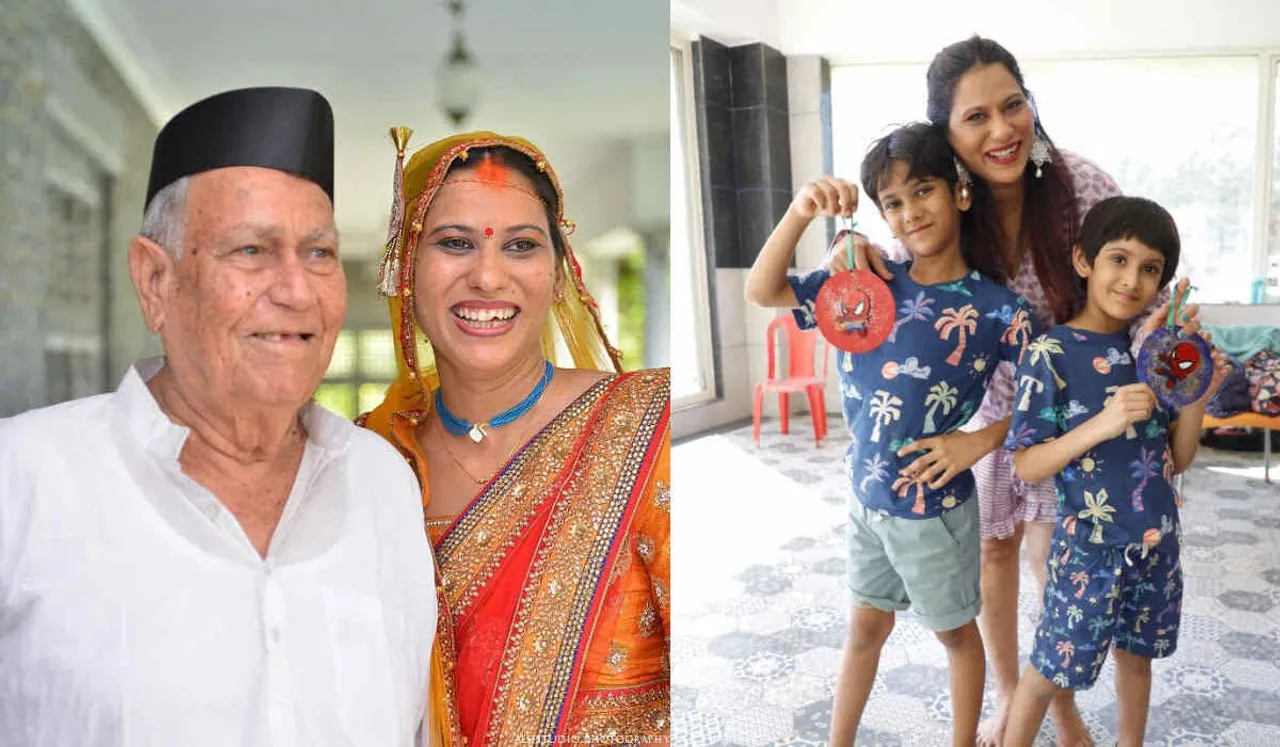 Vinny Jain grew up in an environment where women got equal respect in the family as men. For her to even think that she could end up being part of a family where women were dominated and disrespected.
In this conversation with SheThePeople, Vinny Jain Verdia shares her traumatic experience from her first marriage, how she mustered the courage to walk out with her grandfather's undeterred support, her beautiful second marriage, and how she lives a full life as a mother and entrepreneur today.
Vinny Jain Verdia Story
"I was born into a liberal family. Small-town girls do not stay away from home for education but my Dad was very particular about my studies. As for me, I always wanted a life in the spotlight! I dreamt of being on camera someday.
When I was 25, my parents found a 'suitable' boy and since I had no reason to say no, we tied the knot. I was excited but life had its own plans and before I could understand, things changed..in less than 4 days! From 'Maa ne kuch nahi sikhaya!' to MIL forcing my hand into the hot pan, 'Aise banate hain poori!' Life was miserable.
I was traumatised but could not gather the courage to tell Mom. Finally, it was Holi so I could visit my parents. Once home, I did not want to leave. 25 days passed and Dad grew sceptical. Mom thought it was home-sickness so she persuaded me and I was sent back to hell.
After a few days, out of the blue, my family showed up at my door along with Grandpa! Within no time, the conversation between both families got ugly. My In-laws started accusing and pushing me and my husband raised his hand at me. Daadu couldn't take it, he shouted, 'Stop!, you will kill my daughter'. He held my hand & made me sit in his car. I felt relieved!
Back home, everyone was discussing ways to save my marriage. I was the eldest daughter so the burden of my family's reputation was on my sunken shoulders. Maybe Grandpa had sensed something. He made sure I did not go back and he sent me to stay with my aunt.
Aunty nurtured me like a mother. I started focusing on my career. But, some scars don't fade easily. The old memories haunted me. All I did was self-blame. Finally, I started taking counselling & eventually left the past behind. God could not always be around, so he sent me Daadu.
8 years passed. One morning, Grandpa called me. He saw a matrimonial Ad and forced me to call that given number. Just for Daadu's sake, I went to meet Sunny and both of us thought we were incompatible. But fate made us cross paths again, we dated and soon got married. Guess what! I finally made it to the camera. Today I am an entrepreneur and mother to two naughty sons. Had Grandpa not held my hand, who knows I could have actually drowned."
 

View this post on Instagram

 
Suggested reading: Left Abusive Marriage To Give Daughter Better Life: Former Mrs India Varnika Shukla