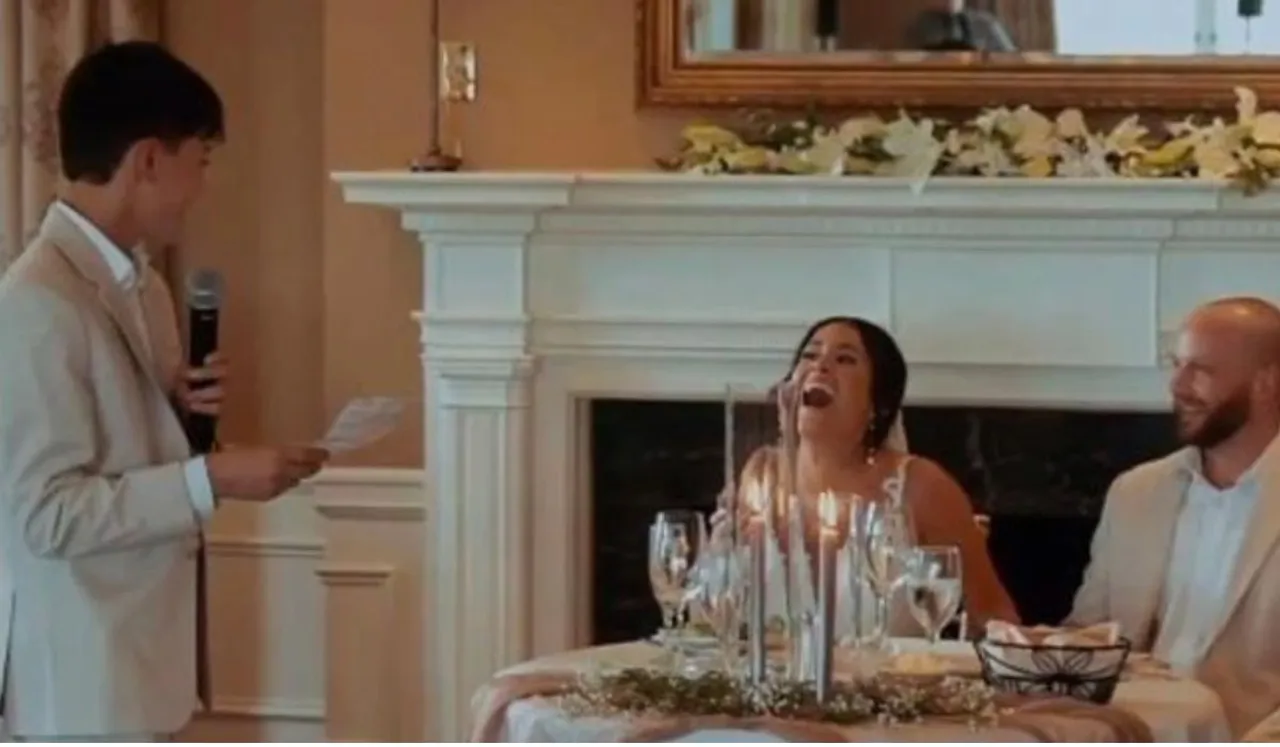 A heartwarming video has gone viral on the internet, showing a son giving an adorable best man speech at his mother's wedding. The speech was delivered by a teenager named Jordan, the bride's son, who was also the groom's best man.
The video was posted on Instagram, showing the teenager speaking sincerely while his mother and stepfather, Vinny, listen to his heartfelt speech.
The video was captioned, "Son's speech for his mom's wedding: I feel so lucky to stand by Vinny's side as he marries the love of his life, who's actually the first love of my life".
Son's Emotional Speech At Mom's Wedding
The video shows Jordan saying hello to everyone and introducing himself as the bride's son, the groom's best man, and now officially the groom's stepson.
He goes on to express how fortunate he feels because Vinny, the groom, is marrying the love of his life, who's actually the first love of my life. Jordan adding a little bit of humour to his heartfelt speech sparked some laughter among the guests.
The bride, groom, and the rest of the room crack into a laugh as Jordon goes on to say, "As many of you know, Vinny loves a good deal. It's very rare that he pays full price without doing some research first, which is probably why we're all here today."
Jordan's humourous speech doesn't stop with just that. He further adds that Vinny saw an opportunity with his mom with a "buy one, get one free sticker on it." The bride is seen wiping tears from her eyes from laughing so hard.
On a serious note, Jordan said that Vinny always saw him and his mom as a package deal. He thanked his stepfather, Vinny, for marrying his mother and for being a dad that any kid would be blessed to have. "You are the missing piece that me and my mom didn't know we needed, but I'm so happy we have you now."
In a message to his mom, Jordan thanked his mom for marrying Vinny and for choosing him not just for herself but also for them. He also thanked her for raising him, helping him grow up into the person that he is today, and for loving him.
Jordan concluded his speech by expressing his immense love for the newly married couple and wishing them a lifetime full of happiness. The video ends with the mother sharing an emotional embrace with her son.
The video was shared a day ago and has amassed almost 7 million views. The boy's speech left netizens moved, and several of them commented with affectionate messages. A user appreciated the young boy for writing a wonderful speech that made everyone cry and laugh at the same time and called the speech "beautiful and heartfelt."
---
Suggested Reading:'18 Pages!' — Video Of Groom Reacting To His Bride's Vows Goes Viral