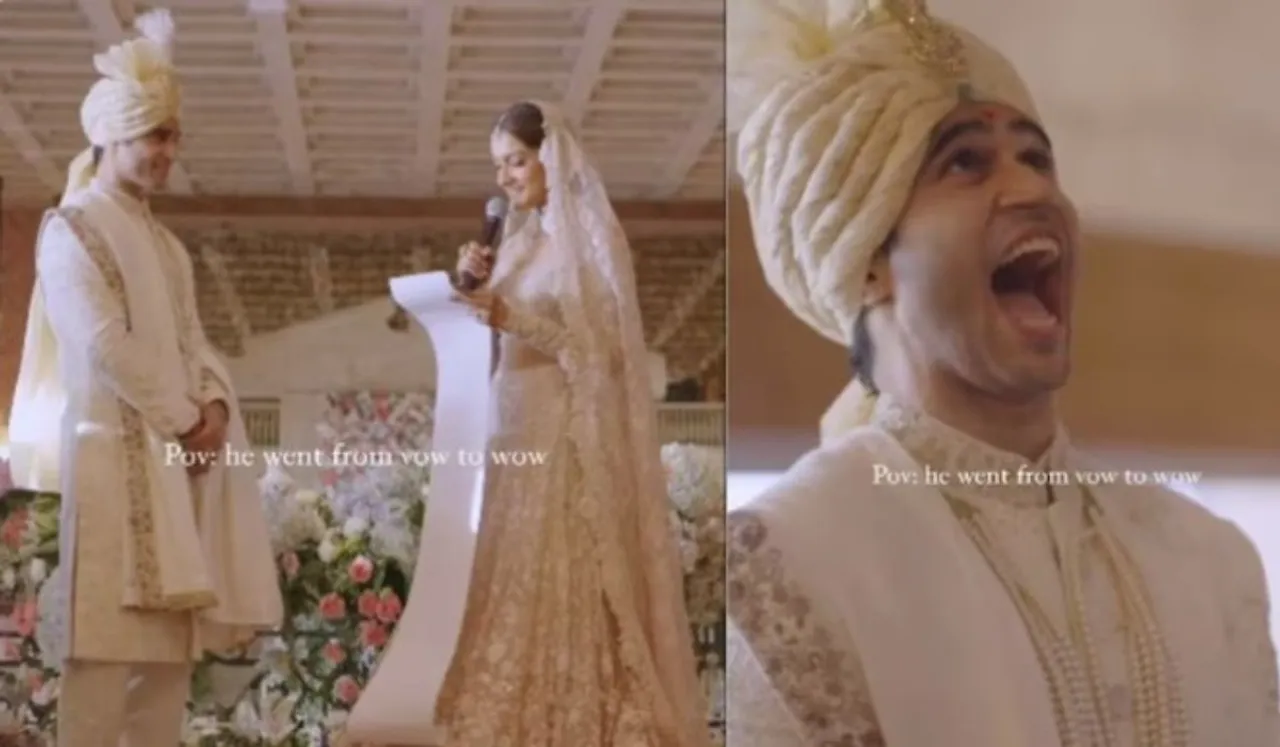 This is one of those wedding videos that we would all adore. The viral clip shows a groom's priceless reaction to seeing his bride read her vows. He didn't get emotional but was completely taken by surprise to see the long list of vows when she unrolled the paper.
The bride, named Sucheetah A. Mukerji, shared the video on her Instagram handle last week with the caption "18 pages, front and back." The video, which was shared on Friday, has gone viral in the past four days. It has reached over 18 million views so far and over eight million likes.
Desi Groom Reacts To Bride's Vows
The video shows the bride dolled up in a pastel golden lehenga. She rolled out the long paper roll where her wedding vows were written and began reading them on the dais. "It is not easy being the best thing that has happened to Nisarg Gagrani," she begins her speech with a cheerful laugh.
Guests at the wedding shout cheers and the groom goes all "wow" as his face is filled with smiles as the bride reads out her vows one after the other.
Since being posted on social media, netizens have shared the video. They were completely surprised and mesmerised by the bride's unique list of vows, and the groom's reaction won over several hearts.
A lot of women filled out the comment section, saying that they wanted to recreate such a moment during their wedding. One user joked that after seeing this, she wanted a man like the groom but then realised that she was married.
Another user jokingly asked Amazon to accept their order for this kind of groom. A third user called this "straight out of a fairytale." A lot of users conveyed their adoration over the video, and some even said they were manifesting for the same.
---
Suggested Reading: Watch: Bride Surprises Groom With Kiss, Makes Him Blush