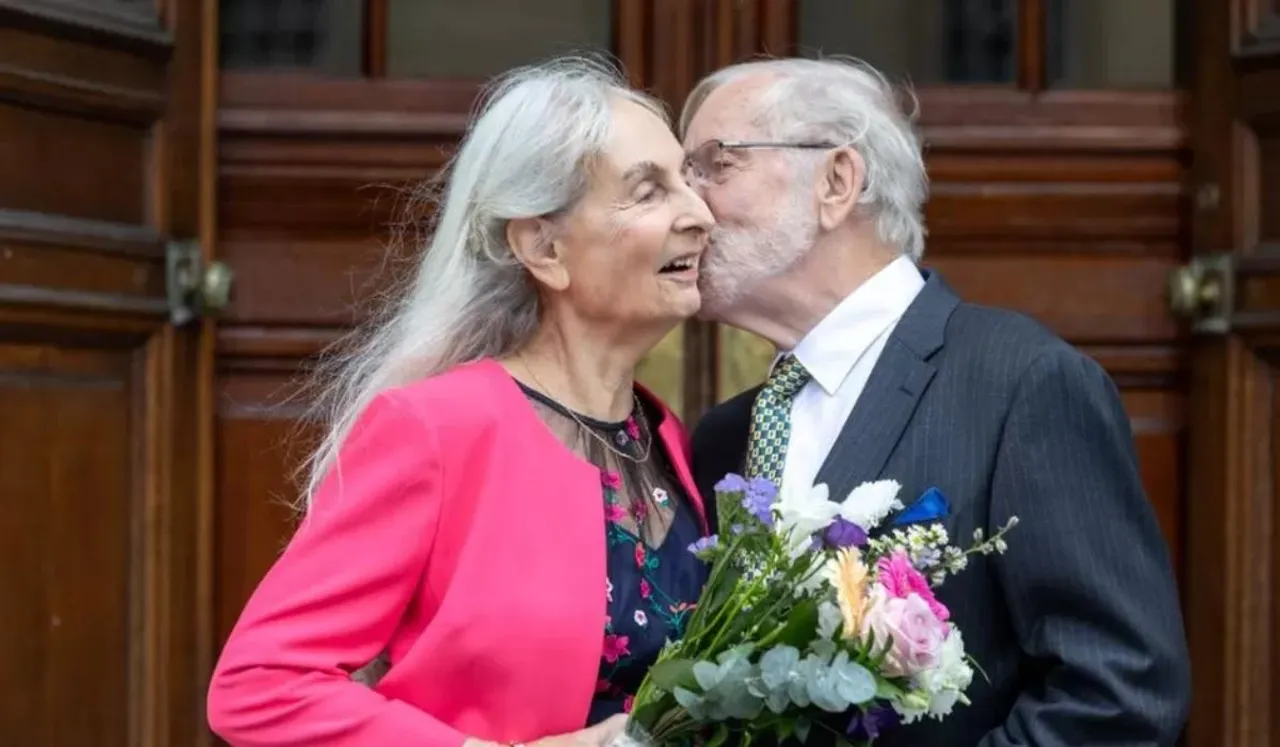 UK retirement home residents Christopher Streets (82) and Rosa Streets (81) got married 18 months after their first date in a dreamy wedding, turning their Italy vacation into a honeymoon.
The couple shared about their meet-cute in the retirement home.
UK Couple Marries in Their 80s After Meeting in a Retirement Home:
Love has no boundaries, age, rules, or restrictions. A UK couple celebrating love in their 80s just proves it right. Christopher Streets and Rosa Streets tied the knot 18 months after their first coffee date. The couple had moved to a retirement home in Britain after their spouses died, where they had their meet-cute.
Rosa Describes Their Meet-Cute:
Former nurse Rosa recalls the details of their first meeting in an interview with the BBC about when she first saw Christopher. She described that he was sitting next to a window while she was seated in front of him. "The sun was shining on him, and he was wearing a lovely pair of yellow socks that seemed to almost glow in the sun," said Rosa.
She then shared how he sat next to her on the couch, and they started talking, which eventually led to fondness for each other.
Rosa And Christopher's Love Story:
Rosa and Christopher soon after meeting in the retirement home got closer, discovering they had a lot in common and shared a love for art, theatre, music, history, and countryside leisure.
The couple also coincidentally lived 40 miles apart from each other in Zambia when they were in their mid-60s and did not know each other. Christopher was working as a mining engineer, while Rosa's husband was working as a teacher at the time.
The couple started dating after a few days of talking while they had their first coffee date, where Rosa described how she almost choked on a banana leaf. Rosa also revealed that she did not go on a date for years before that, and like an idiot," she choked on a banana leaf.
The couple later decided to go on a vacation in Northern Italy, where the idea of marriage came up.
Christopher Describes His Proposal:
Christopher, while talking to the media, shared about how he did not go on his knees to propose to Rosa as he was not sure if he could stand up. He joked that the proposal was not a traditional one and described it as "a bit of babbling," but said he was lucky that Rosa was laughing and said "yes" to him.
So the couple then set a wedding date, and that holiday became a honeymoon.
The Wedding:
The couple revealed they first decided to get married in their apartment, which made their friends laugh.
But in July, 18 months after their first date, the couple got married at Bath Guildhall in the UK. The wedding was attended by close family and friends, and it was an emotional moment for the couple as they saw their children and grandchildren together after a long time.
The groom also live-streamed their wedding to a relative in New Zealand. Christopher said, "We're both in our 80s, and we don't know how long we've got left, so let's enjoy it together."
---
Suggested Reading: Heartwarming Video Of Elderly Couple Being Photographed Goes Viral