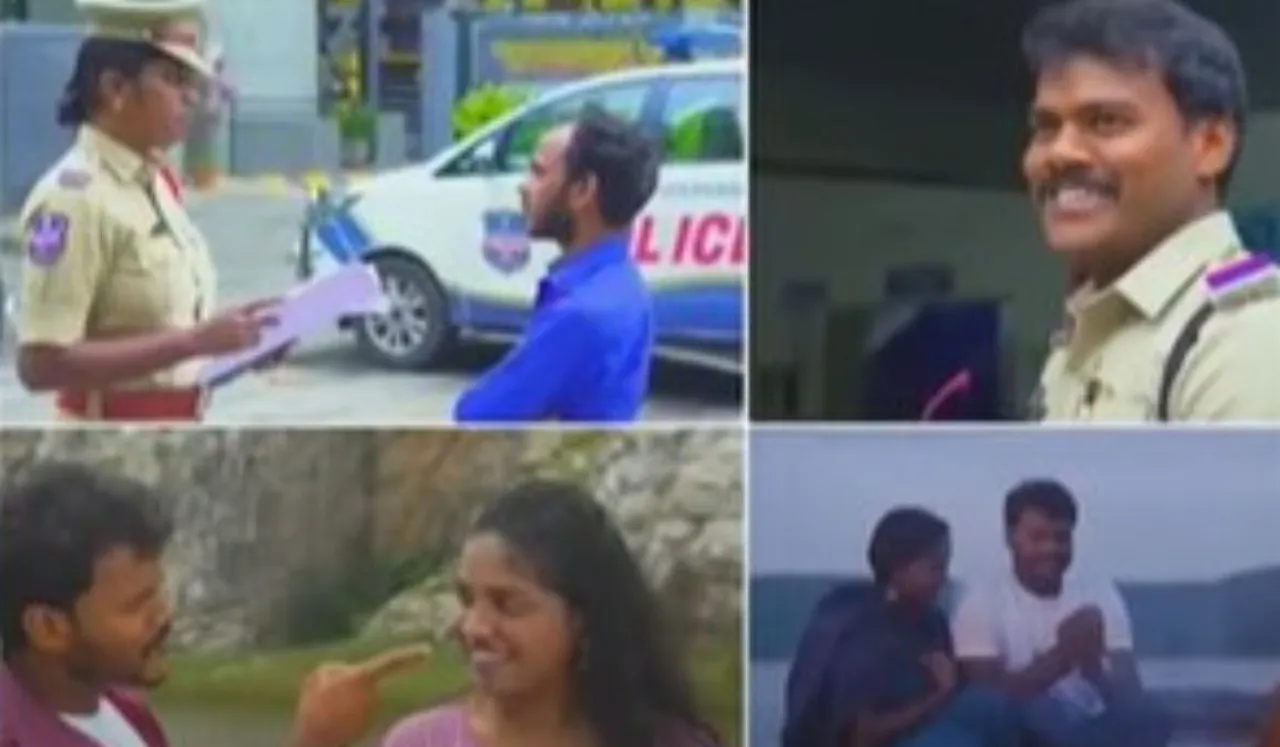 Pre-wedding photoshoots have become the new norm, especially in the past few years. The pre-wedding photoshoot of a Hyderabad police couple has now gone viral, receiving divided opinions from netizens for using police uniforms and police vehicles in their shoot.
The viral video is a two-minute song sequence featuring the would-be couple. It shows the would-be-wife female cop entering the police station in a police vehicle, wearing her uniform, and addressing a fictionally aggrieved man. Then comes the male cop, again in a police vehicle, clad in the official uniform. He looks at the female cop and then switches to a song sequence.
Social Media Reacts To Photoshoot
The video has gained wide attention on social media, and many netizens have conveyed displeasure over the cops using official symbols for their pre-wedding photoshoot. Senior cop and IPS officer CV Anand also reacted to the video. While one might think that he would have been angered over the misuse of authority, he rather dropped in a piece of advice for the couple.
While appreciating the couple's zeal and apparent love for their profession, IPS Anand admitted that the video was a "little embarrassing." However, he said that he was looking forward to meeting the couple and blessing them.
Senior Cop IPS Anand Reacts
Taking to his X (formerly Twitter) handle, IPS Anand wrote that he had mixed reactions to seeing this video. Noting that being a police officer is a very tough job, especially for women, and finding a life partner in the same department is an occasion for the police department to celebrate.
However, addressing the sequences in which the police uniform and police vehicle were used, he said that since they both are police officers, he didn't find anything wrong with using the police department property and symbols, adding that if they had informed us earlier, we would have definitely given them consent for the shoot.
He went on to say, "Some of us may feel outraged, but I feel like meeting them and blessing them, though they didn't invite me to their wedding. Of course, I advise others not to repeat this without proper permission."
I have seen mixed reactions to this .Honestly ,they seem to be a little overexcited about their marriage and that's great news, though a little embarrassing.Policing is a very very tough job, especially for ladies. And she finding a spouse in the department is an occasion for all… https://t.co/GxZUD7Tcxo

— CV Anand IPS (@CVAnandIPS) September 17, 2023
The video has garnered thousands of views on the social media platform and has been shared widely. Setting aside the comments that condemned the couple for brazen misuse of power, some netizens said that the Telugu cinema industry should "take lessons for the cop couple's pre-wedding shoot."
Watch the video here:
---
Suggested Reading: Kerala Couple's Heartwarming Maternity Photoshoot With Three Generations Of Family Wins Hearts