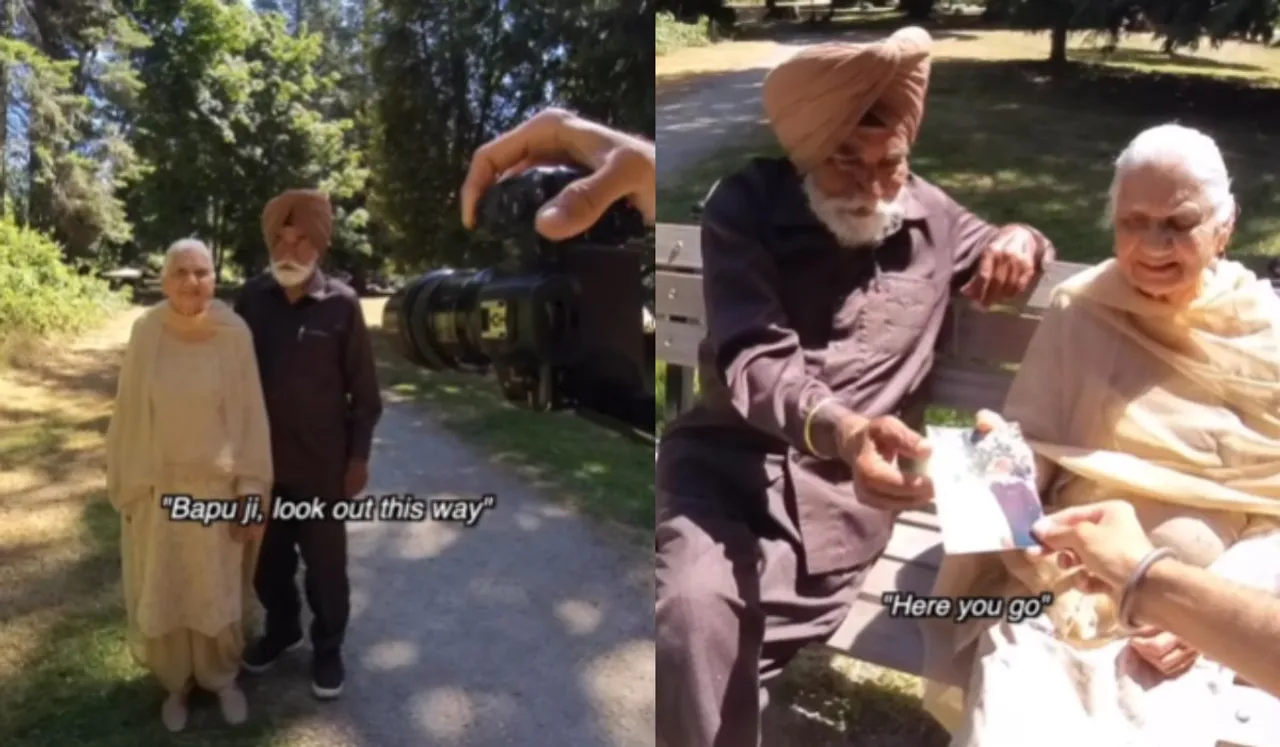 An adorable video that will make anyone believe in love was shared on Instagram by Photographer Sutej Singh Pannu. He approached an elderly couple sitting in a park and invited them for an impromptu photoshoot. The photo shoot was made extra special as the couple recreated their old picture.
In the viral video, Sutej Singh Pannu is seen approaching an elderly couple and requesting that they participate in a quick photoshoot. The couple obliged his request and posed for some photos. The video also shows Sutej engaging in some quick conversation with the elderly couple.
It was a sweet moment to watch the elderly man remember their wedding date and recall little details about his wife.
Elderly Couple Recreate Old Photo
Sharing the video on Instagram, Sutej's Caption spoke about self-awareness: "A self-aware being can turn failure into opportunity, misery into success, and hell into heaven. Self-awareness gives you the space to respond instead of reacting. As you become aware of your own unconscious triggers, you open to your inner, ever-present freedom. Anchoring yourself in the continuous realisation of the self as the one present in all will allow clarity and love to radiate around without any sense of doing. This state of nothingness and effortless living will play through you. The truth is within yourself, waiting to be revealed and experienced by yourself. Give yourself a chance to be free and healed."
In the video, Sutej is heard asking the couple about when they got married and if they had seen each other's photos before. The elderly man said that he was a teacher, and he had seen his wife on his way to work but didn't know it was her. A few months after the marriage was fixed, someone brought her photo, and he was delighted to see that it was the same girl.
Sutej then asked them if they had any old photos of themselves with them, and the elderly man pulled out a picture from his wallet. Sutej immediately suggested that they recreate it, to which the elderly couple happily agreed. They posed with excitement, and the outcome was some beautiful pictures.
The video ends with photos of the couple including some candid ones showing the couple joyfully looking at the photos. In the age of situationships, flings, and several other dating trends, this heartwarming video would make anyone want to fall in love and share their life with the right person.
Since the video was shared on Instagram five days back the video has amassed over 1.8 million views. Thousands of likes and several lovely messages filled the comments section.
---
Suggested Reading: Heartwarming Video Of Elderly Couple Being Photographed Goes Viral