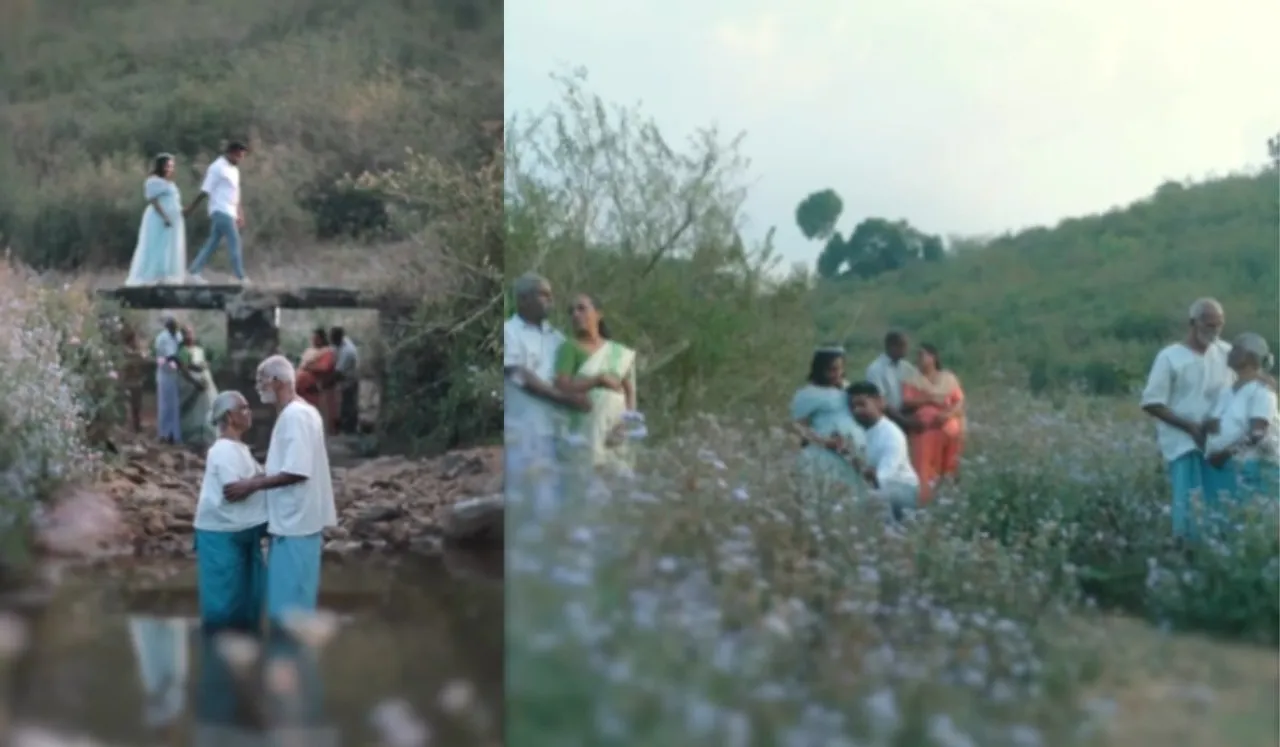 A Kerala couple's maternity photoshoot featuring their extended family in a unique concept has gone viral on social media. Photographer Jibin Joy came up with the unique idea of bringing together their parents and grandparents for the photoshoot while travelling with his pregnant wife, Chinchu PS.
The maternity shoot that was set behind the backdrop of Idukki's Vagamon featured couples from three generations of the family.
Kerala Maternity Shoot With Family
The video shows Jibin Joy's 87-year-old grandfather, George Chacko, lovingly placing a kiss on his 80-year-old wife as she affectionately looks into his eyes. Joy's grandmother, Chinnama, clad in Kerala's traditional attire, a chattayum and mundu, holds her abdomen fondly, like holding a pregnant belly.
The video then showed Jibin Joy's parents, Joy George, 60, and Thresiamma Joy, 59, and Chinchu's parents, Sabu PT, 55, and Sujatha Sabu, 47, striking the same pose.
Nine months pregnant Chinchu was dolled up in a gown and smiled brightly as her partner, Jibin Joy, showered her with adoration.
The video ended with a heartwarming photo of all three generations posing together. The song "Ottamuri Vakkumayi" from the film Romancham is playing in the background throughout the video.
In an exclusive interview with the Indian Express, Jibin Joy revealed that his grandfather, George Chacko, has been excited about the photoshoot. He had been interested in acting since childhood and had taken part in a number of plays. He has also acted in the 2022 film Jane Man, directed by Basil Joseph.
"I was extremely delighted to be a part of the photoshoot. Four generations have passed, and now we are waiting for the arrival of our youngest daughter-in-law's baby," said Chacko.
Jibin Joseph had been brainstorming for a unique concept for his wife's maternity photoshoot. This idea struck his mind when he listened to the song Romancham from the movie while travelling with his wife Chinchu. So he discussed the idea with his family and took them from Mundakayam to Vagamon in Kottayam for the photoshoot. The concept featuring the three generations expressing their love for each other has won hearts on the internet.
27-year-old Chinchu is overjoyed with the photoshoot and is receiving positive responses from people.
The video that was posted six days ago has gained over 1.4 million views and numerous positive comments praising the concept. One user wrote, "The most beautiful maternity shoot ever." A second user commented, "A concept that no one has come up with, Very beautiful. Great work, Keep going!" "Oh my god! This video made me feel so happy!" said a third user.
---
Suggested Reading: Kajal Aggarwal Shares Latest Maternity Photoshoot Pictures With An Emotional Note
---